Photos by Matt Benton
Pepperdine students took part in a protest regarding the lawsuit filed by ex-Pepperdine women's basketball players Layana White and Haley Videckis that occurred on the evening of Thursday, Feb. 5. Students gathered to communicate the importance of equality in love for all people.
The protest was inspired by the current lawsuit between a former Pepperdine student and the university. Layana White, a former basketball player for the Pepperdine women's basketball team, is suing Head Women's Basketball Coach Ryan Weisenberg and the university for unfair treatment that arose from suspicions of a lesbian relationship between White and another former player on the team, Haley Videckis. The lawsuit got much attention in December of last year.
White's brother, Brandon White, organized the protest and shared the story of the lawsuit from his point of view.
"My sister was a top player in the state. She was the first person to go to college in the family," he said. "She had one semester left [when she left Pepperdine]."
Seeing how his sister was crushed by the experiences she faced, he was inspired to organize the protest to bring awareness to the issues that have come from the lawsuit.
"[With this protest] we want to get attention and answers from Pepperdine," he said.
The protest was organized and spread through word of mouth and social media. It began in Malibu Bluffs Park at 5 p.m. on Thursday with White and a few of his family and friends from Lancaster putting together signs. At its peak, about thirty people–White's family and friends as well as Pepperdine students–attended the protest.
Senior and Layana White's friend since high school Mari Aguila was one of the first Pepperdine students to come to the protest.
"No one in our private Catholic high school questioned her," she said. "I didn't like how Pepperdine handled the situation."
Junior Hayden Paulsen was supportive of the protest.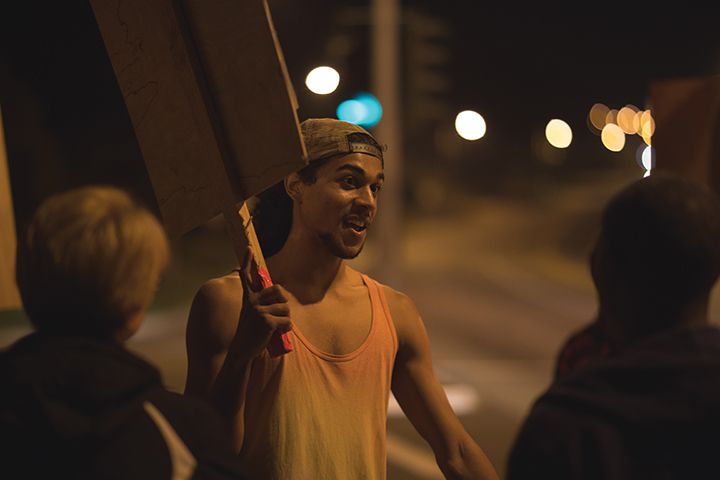 "Students are frustrated with the hypocrisy of the situation," he said. "We can't call ourselves Christians then turn around and discriminate the different kinds of people in the world."
The small group of protesters then moved from Malibu Bluffs Park to the intersection between Malibu Canyon Road, Seaver Drive and Civic Center Way. There, more Pepperdine students joined in.
Sophomore Bret Boatwright joined the protest after the move to the intersection.
"It was a gross violation of privacy. People are not suddenly going to change their sexuality," Boatwright said. "People need to get out of the bubble they live in."
Senior Dawid Kwapien spoke about the importance of integration.
"It's important to integrate all students regardless of race, socio-economic position, sexuality," he said. "We can integrate people with the grace of God. I hope Pepperdine sees this needs to be addressed," he said. "We need to live up to the Christian mission. We need to let people know that whatever they're going through that it's OK, and we can make sure they have support and are represented on campus."
Seniors and Amnesty International co-presidents Elijah Sims and Betsy Thompson joined the protest with a banner for their club.
"As a human rights organization, we thought this was a great opportunity to stand up for what we believe in," Sims said. "People are frustrated by the [LGBT Pepperdine] movement not being very specific. And I say 'movement' loosely."
Sims also said he hopes Pepperdine considers increased diversity training for staff and student leaders. "We want reform," he said.
Seniors Alexis Carrington and Carmen Izquierdo stood strong in the protest. "It's about time real action was being taken," Carrington said.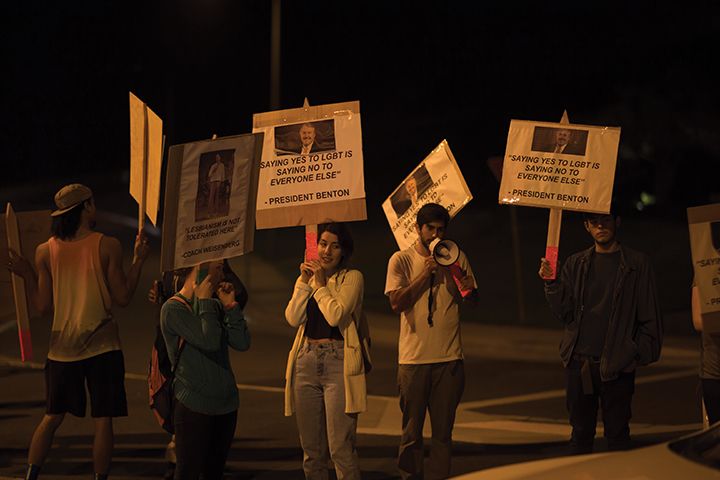 "This is the first protest of its kind at Pepperdine," Izquierdo said. "People are scared. They want to support but are scared to speak up. This needs to keep going. I hope it continues, and I hope that Pepperdine addresses the issue."
Izquierdo summed up the protesting students' answer to the warring issues of religious affiliation and the current issue at hand. "We are a Christian school, we should just love one another," she said.
The protest continued at the intersection until the basketball game at 8 p.m.
Brandon White said the protest went "extremely well" and was attended by more than 30 people in total. "Students that attended it said it was kind of a flame for the LGBT community at Pepperdine to get some recognition," he said.
The protest wave is not over, according to White. "We are planning to have a large [protest] that is more organized hopefully sometime next week," he said.
Layana White shared the goals she envisions for the protests. "This is not about changing people's beliefs. It's about treating everyone equally," she said. "I felt isolated by the situation and I became very depressed. I don't want anyone to go through that."
President Andrew K. Benton said he admired the use of free speech and the reasons for the protest; however, he warned of the historical context that Pepperdine faces.
"I admire support for one's sister. I have no quarrel with those who disagree with current conditions at a private, faith-based university, but in fairness I don't think anyone can fairly claim surprise. Pepperdine is a well-known commodity and students who come to school here either understood the historic environment or they were not paying attention," he said.
Benton also stressed the importance of a "truthful" exchange of ideas. "The protest is not as important to me as a fair, honest and truthful exchange of ideas. Just because one side yells louder than the other does not signal greater truthfulness or integrity. Listen to the quiet voices — that is my suggestion," he said.
__________

Follow the Graphic on Twitter: @PeppGraphic