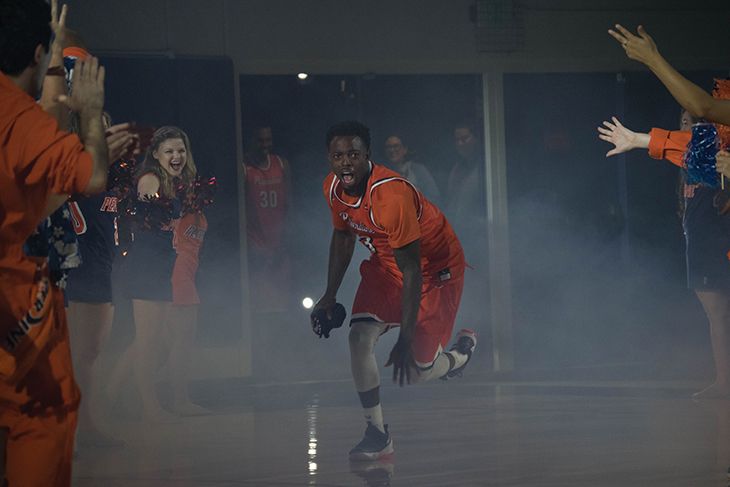 Photos by Brett Bean
The Talking Heads single "Once in a Lifetime" soundtracked my first Blue and Orange Madness experience. Two minutes before the DPS officers let hundreds of blue and orange-clad fans flood the lobby of Firestone Fieldhouse, I couldn't help asking the same question David Byrne asks throughout the song: How did I get here?
Better yet, how did it take me two years to attend my first Blue and Orange Madness?
Thankfully, I wasn't the only newcomer to the madness. Fourteen players on both of Pepperdine's basketball teams experienced their first Blue and Orange Madness on Oct. 14. Nestled in the opening night of a jam-packed Waves Weekend, Blue and Orange Madness was the unofficial kickoff to the 2016-2017 college basketball season with a vibrant potpourri of school spirit, music and of course, basketball.
Pep rallies like this are the unofficial kickoffs to the college basketball season, and the season can't start soon enough. Ask freshman guard Knox Hellums, who tweeted, "Can't wait for the season. COLLEGE BASKETBALL IS NEAR" back in September.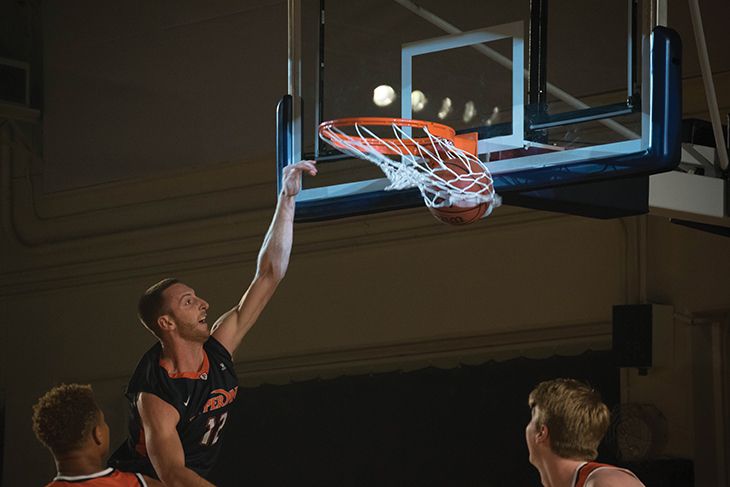 But for now, Pepperdine revels. Students flocked to Firestone Fieldhouse for the chance to snag a $16.95 Pepperdine Basketball t-shirt, but stayed for the Step Team. They stayed for Kameron Edwards' arms. They stayed for the unveiling of Pepperdine's throwback jerseys.
Granted, these preseason events are forgotten by the time the regular season starts, but this doesn't render the night useless. Blue and Orange Madness was quite fun — even though Drake didn't return to Pepperdine to airball a three like he did at Kentucky two years ago. Instead, homegrown celebrity Pepperdine Vice Chancellor-turned-LA Rams broadcaster Sam Lagana let his booming voice permeate the air. Blue and Orange lights swirled around center court, where jumpsuit-clad Riptide rally crew and Pom Squad members rallied the crowd. Former players Dana Jones, A.J. Lapray and Jake Johnson were in attendance as the women's team three-woman-weaved down the court.
Don't get me wrong: The men's scrimmage was the highlight of the night. Clad in Pepperdine's orange retro uniforms, the team of returners gave the crowd a taste of the familiar. Senior guards Jeremy Major and Amadi Udenyi showed off their jumpers and hurled lobs in transition to senior forward Lamond Murray Jr. and sophomore forward Kameron Edwards. Blue and Orange Madness isn't meant to be a defensive showcase; every defensive rebound sparked a fast break, which led to 56 points in a mere six minutes.
Some of the offseason's questions were answered in the scrimmage, but some still remain. Namely, who will be the Waves' fifth starter? So far, either senior Utah transfer forward Chris Reyes, or redshirt sophomore Nate Gehring seem to fit the bill. Reyes brings an inside-out game that would compliment Pepperdine's newer, faster style of play; whereas Gehring is more traditional center albeit with the ability to hit the outside shot (yeah, the crowd noticed that three-pointer on Friday night).
As for the newcomers on the men's side, three in particular stood out in the scrimmage's all-too-brief glimpse: freshmen guards Elijah Lee, Knox Hellums and forward Craig LeCesne will be vital pieces for the future. The future could be this season: In an interview with SportsWaves, Head Coach Marty Wilson confirmed that Elijah Lee would play quite a few minutes this season.
By the time the Step Team's took their final stomps, the crowd at Firestone Fieldhouse was more than ready for the season to begin. Unfortunately, that moment would have to wait. But at least I have a new Pepperdine t-shirt. Let's roll, Waves.
_____________________________________
Follow Kyle Cajero on Twitter: @kylecajero