Photo courtesy of Phi Beta Kappa Press Release.
The oldest, and widely-known as the most prestigious, academic honor society denied Pepperdine University a chapter for the fourth time.
Phi Beta Kappa (PBK) sent a rejection letter to Pepperdine on June 10, claiming the reason for denial was to do with faculty autonomy. The rejection indicated that, because promotion requirements are tied to religion, faculty could not make independent decisions in their teachings. The denial sparked frustration among administrators and faculty; it ultimately led to Dean of Seaver College Michael Feltner to write back to the CEO of PBK, Frederick Lawrence. Feltner's letter detailed his concern of PBK's ill-perceived understanding of Pepperdine and the university's Christian mission.
"This was, without a doubt, the most disappointing decision I have received," Feltner said. "I think part of what makes the decision frustrating is that the issue of faculty autonomy was never a focus in any of the prior three decisions. The items that were raised in the prior three decisions were not mentioned at all on this decision."
The Reasoning Behind the Denial
Tenure is the "right of a faculty member to continue to be employed by the University in the field of his or her specialization at the school," according to the university's Tenure Policy. PBK's letter highlighted a section in Best Practices for Tenure and Promotion Review issued by the Provost Office. In the tenure review, faculty applying for tenure are asked to explain their involvement in a community of faith, and how they support the mission and Christian values of Pepperdine. This tenure document was not a part of the 140-page application to PBK, Provost Rick Marrs said.
"We submit a lengthy packet of materials surrounding academics, diversity and more, and they found a reference that wasn't even part of what we submitted," Marrs said. "So a member, or members, had been surfing around the Pepperdine site, because they quoted a random page, saying that 'well clearly by having this paragraph in your hiring practices, you can't have academic freedom,' which is completely inaccurate."
Faculty who are applying for tenure are not required to be a member of a Church of Christ or of the Christian faith. Tenured Pepperdine Prof. Paul Contino, who is a PBK alumnus from Binghamton University, said he has never felt limited in his academic freedom as a Catholic professor.
"I think Phi Beta Kappa as an organization needs to address the fact that higher education is more diverse than they're giving it credit for being," Contino said. "If PBK is against an academic community that forms itself around religious ideals— if they're actively against such a community as being ipso facto against academic freedom — then I have real reservations belonging to the Phi Beta Kappa community. I don't think Phi Beta Kappa is truly affirming diversity."
Contino also pointed out an inaccuracy in the response from PBK. The denial letter refers to "Seaver Honors College as a strong and vibrant example" of student success. As both Contino and Marrs stated, Seaver does not have an honors college.
"Pepperdine takes faith seriously, but I don't know that Phi Beta Kappa is taking Pepperdine very seriously," Contino said.
In order to apply for PBK, a member of the organization must apply on behalf of the university to "shelter a chapter." In previous applications, Contino has been that member. For Pepperdine's forth application, Prof. Christopher Soper, a PBK alumnus from Washington University, led the application. The full application process can take close to three years.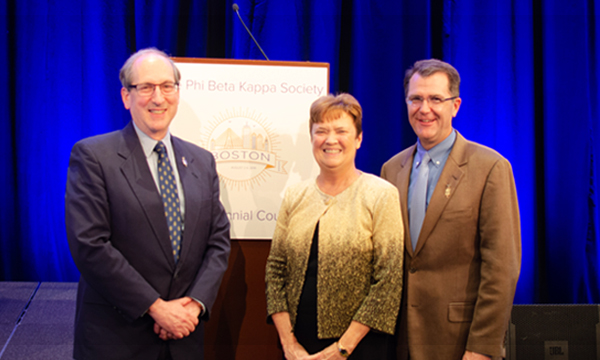 CEO Frederick Lawrence (left) with President Lynn Pasquerella (middle) and Vice President Peter Quimby (right). Photo courtesy of PBK press release.
Before going forward with the fourth application, Pepperdine administration and faculty took two trips in the summer of 2018 to visit PBK's Lawrence and discuss Pepperdine's progression.
In previous rejections, PBK's reasoning had to do with inclusion and diversity, specifically the lack of LBGT+ representation. Feltner said this was a topic of conversation when he, Marrs and then-Chancellor Michael Adams met with Lawrence in Washington, D.C.
"We were able to talk positively about all the changes that have happened since the time of that application," Feltner said. "For example, Crossroads didn't exist at the time of the previous application and exists now."
In PBK's most recent rejection letter, the committee recognized that Pepperdine has been successful in its efforts to better support diversity.
Soper and Contino met with Lawrence in Philadelphia that same summer to discuss the dynamic of Pepperdine.
"I wanted to talk with him about Pepperdine," Soper said. "I didn't want to go forward with the application if I felt that he was not amenable to the university. I left that meeting feeling like he was open and that he might even be an advocate. Based upon that, we decided to go forward with the application."
In neither of the two meetings with Lawrence was the issue of faculty autonomy brought forward, said both Feltner and Soper. Lawrence could not be reached in time for comment.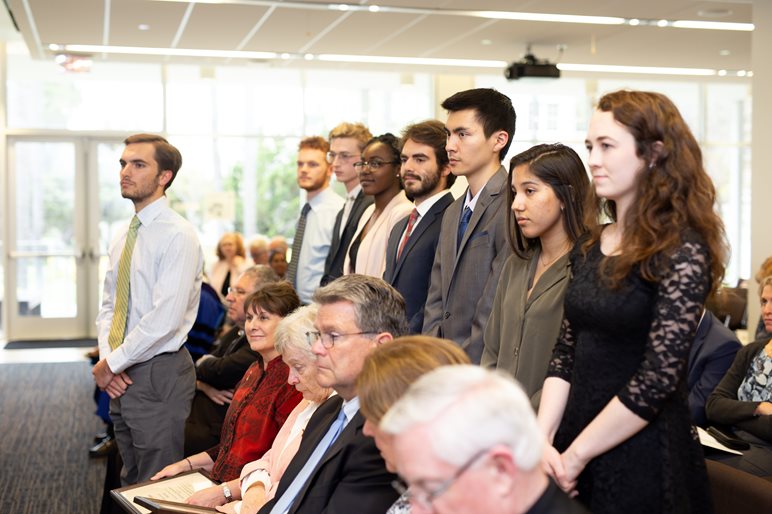 New PBK members at Loyola Marymount University. Photo courtesy of PBK press release.
There are other religious universities such as Loyola Marymount University and Baylor who have active chapters of PBK. Soper said there are two cases for this.
"The reality is that most of the religiously-based universities PBK has granted chapters to in recent years are ones that have made some different choices than Pepperdine," Soper said. "While they're still connected to their religious tradition, the connections are more tenuous — less apparent in the day-to-day life at the institution."
The second example includes universities that actively carry out religious traditions, but they were granted a PBK chapter decades ago.
"There are schools very similar to Pepperdine that have chapters, but those universities got chapters ages ago," Soper continued. "For example, Baylor is very similar to Pepperdine but at the time, Phi Beta Kappa had a different set of values about what the connection between religious, higher education and the liberal arts should look like."
Baylor University is a Christian university in the Baptist tradition. It charted a PBK chapter in 1976, according to Baylor's website.
Dean Feltner's Letter
Frustrated by another failed attempt, Feltner said he felt it was necessary to write to Lawrence and invite him to come experience Pepperdine.

"It's clear to me that Phi Beta Kappa does not understand how a school like Pepperdine can simultaneously fully engage its Christian mission and fully engage at the highest standards of academic excellence, as stated our mission," Feltner said. "That's why I invited Dr. Lawrence to come to see Seaver College, spend time with us and get to know us. It's an open invitation to any member of Phi Beta Kappa that wants to come."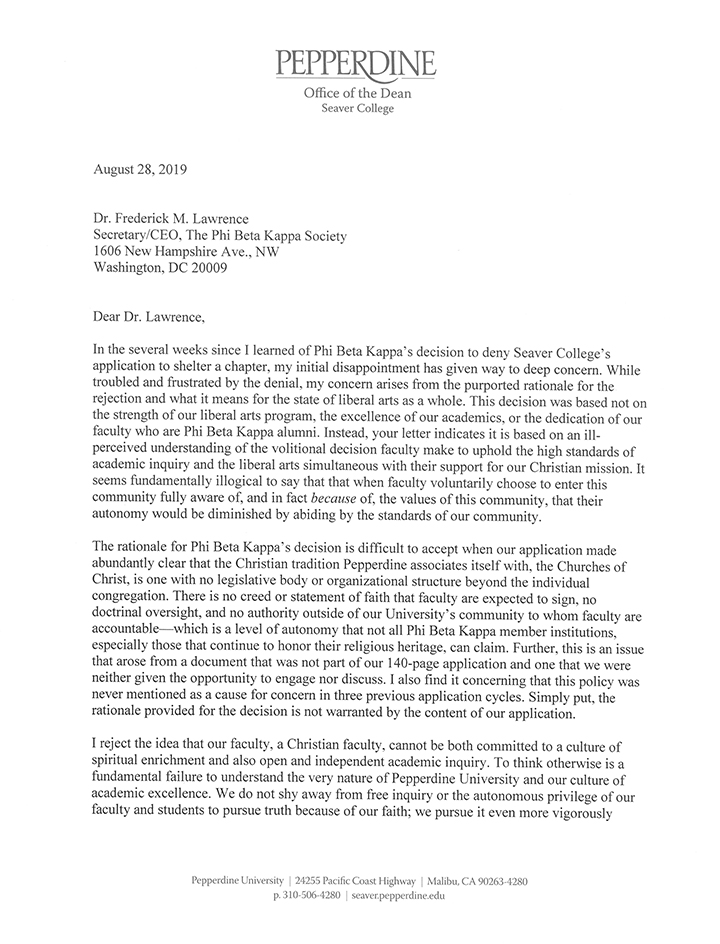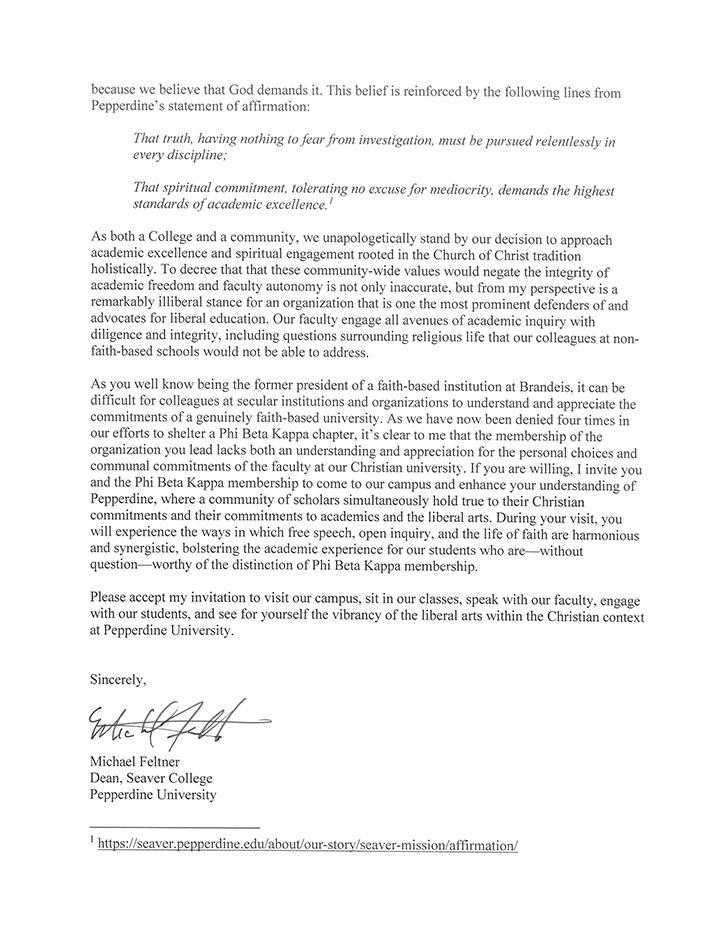 Feltner's letter to Lawrence. Courtesy of Feltner
In his letter, Feltner wrote that Seaver, as both a college and community, stands by the decision to approach academic excellence along with spiritual engagement. Feltner's letter, sent Aug. 28, has not yet received a response from Lawrence.
Both Soper and Contino said they would be willing to host Lawrence on campus. For Soper, he sees the denial as a lost opportunity for both Seaver students and PBK.
A PBK chapter not only brings a level of prestige to the university, but the organization also provides funding to bring speakers to a campus, Soper said.
"I still believe in what Phi Beta Kappa is working for — the promotion of liberal arts education," Soper said. "It seems to me that a place like Pepperdine could have been a valuable ally for Phi Beta Kappa, and in lot of ways, they need us more than we need them."
_________________________________
Contact Channa Steinmetz via Twitter: @Channa.Steinmetz and email: Channa.Steinmetz@pepperdine.edu