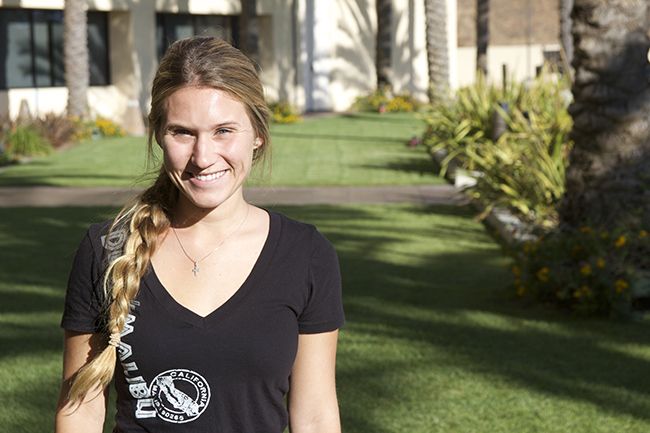 As I trudged on through the blistering heat, I could feel every pound of my backpack resting on my shoulders. My body ached in places I had never felt before, and I could feel traces of fresh blisters forming on my feet. I was fully convinced that I could not make it another step.
And then I saw a glimpse of a little yellow arrow painted on a tree in the distance — the same yellow arrow that was always there to show me the way — so I pushed through the pain and exhaustion.
This summer, 18 students, four faculty and I were part of the first Pepperdine International Programs group to complete the Camino de Santiago, a 500-mile pilgrimage across Spain. We went in with little more than the expectation that we were embarking on a challenging journey we hoped would change our lives.
Luckily, we had Brian Thomason, the university controller and our director, to offer some advice and insight. Having previously walked the Camino with his parents, Thomason had already endured challenges we could hardly imagine. He gave us a packing list of the bare essentials, a recommendation that we do as much training in our hiking boots as possible and a couple of words of wisdom for getting through the tough times.
With his advice in mind, we prepared for the Camino to be a physical, mental and spiritual challenge. I knew that those were what would ultimately break me down, so I could grow back stronger and wiser. I wanted to feel the soreness of my overextended muscles, the simplicity of only carrying with me what was necessary and the solitude one feels when there's nothing left to do but self reflect.
As I quickly realized, embracing those challenges was easier said than done, and no one can really prepare for the reality of walking an average of 15 miles a day for five weeks. Yet even though it was harder than I could've imagined, every step of the Camino was worth the lessons that it taught me.
It taught me that I'm stronger than I think I am and that pain is relative. It taught me to slow down and enjoy each moment and that there is value in spending time alone with my thoughts. It taught me that even the things that seemed so insignificant before can easily become "Camino miracles" that brighten even the toughest day. It taught me that deep, lasting relationships can develop when you go through an intense experience together, but that everyone at home may not understand what we're going through.
But the most important lesson I learned came from the little yellow arrows – that I need to trust God more in my day-to-day life because just like the arrows, He was always there to guide me along the way.
Without looking to God I wouldn't know which direction to take. Sometimes life is easy and my path seems clear, but most of the time it's not that simple. Attempts at self-sufficiency have led me to make wrong turns, but every time He's guided me back on track.
Following the yellow arrows led me to my final destination: Santiago de Compostela, the end of the Camino de Santiago. And I know now that I have to trust God to lead me and do the same.
__________
Follow the Graphic on Twitter: @PeppGraphic