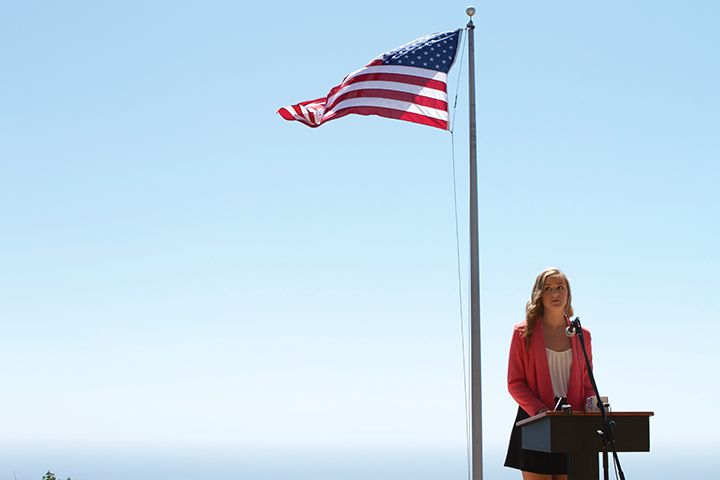 Photos by Marisa Padilla
Freshman Halley Burnett is the daughter of 9/11 hero and alumnus Tom Burnett, who sacrificed his life by helping divert Flight 93
"Don't worry, we're going to do something," were Tom Burnett's last known words before he helped bring down United Flight 93 over an open field in Pennsylvania on 9/11. His flight had been hijacked by terrorists and was probably headed toward either the White House or the Capitol building in Washington, D.C.
Two planes had already impacted the Twin Towers, with another plane being crashed into the Pentagon, and Burnett — to whom Heroes Garden is dedicated — was about to help organize a movement that probably saved hundreds of American lives.
It was on that mournful day that the lives of Burnett's family and the families of thousands of Americans would change forever. Burnett left behind his wife Deena and his three daughters, Anna Claire, Madison and Halley, who is now a freshman at Pepperdine. This is how she remembers that day:
"I remember that it was a school day, and it was really early in the morning; it was still dark outside. And I knew my dad was coming home from his business trip that day [from New Jersey]. And I remember my mom was making waffles. And looking at the television, I remember seeing a building smoking. And I remember my mom talking on the phone with him and asking if I could talk to him too, and she was telling me: 'No Halley, don't worry, he's coming home for dinner. We'll see him then and you'll talk to him then.' And at one point, I watched my mom talk on the phone with him, and she put the phone out in front of her and put her hand over the receiver and started screaming, 'NO!'
"I was really confused; I didn't know what was happening. I went to school that day, and I was wondering why a lot of kids weren't in school — because a lot of parents were pulling them out. Then after school I came home and I went upstairs to the second floor [of my house], and I looked out and I saw policemen and my neighbors pushing people off my lawn. They were reporters, trying to get to our door trying to figure out what happened.
"Everything else I remember from that day is just my mom telling us what happened. And she just sat us down and said, 'Girls, you remember me talking to your dad on the phone earlier this morning?' — my sisters and I were 5 [her twin sister] and 3 at this time. And she said, 'There were bad people in the airplane and the bad people took down the airplane and daddy isn't coming home for dinner.' It's only by the grace of God that we really understood what happened because we were so young, but I don't remember much else that happened that night. I just remember crying."
Halley said she decided to come to Pepperdine when she was a little girl. She was originally from Little Rock, Arkansas, but she moved to San Ramon, California, after she lost her father. Tom was a graduate student ('95) at Pepperdine's Graziadio School of Business and Management and is always wearing Pepperdine apparel in all the pictures and videos she has of him. When Halley was as young as 3, he would ask her: "Halley, where are you going to college?" Her response? "Pepperdine University."
Halley fulfilled that promise and is now well into her first semester as an undergraduate student. She is a part of the Delta Gamma sorority and spoke at this year's 9/11 memorial ceremony at Heroes Garden.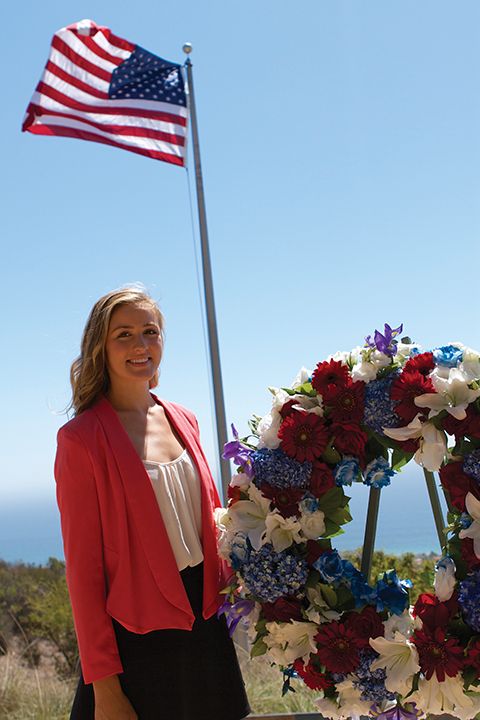 She said it was an honor to speak at the ceremony and that she feels Pepperdine does a great job in remembering 9/11 victims. "It's organizations like Pepperdine that make the day easier every year," she said.
Halley said that right after 9/11 happened, her family was never allowed the opportunity to grieve privately due to the overwhelming amount of press coverage. Even though she's lived practically her entire life under the public eye — both she and her twin sister were 5 at the time it started — she also sees the upside of it.
"While it may be hard having the press asking us so many questions, it's  good feeling people remember, people care, and people want to get this story out to everyone," she said.
She added that the lesson she learned from losing her father in 9/11 was, "Even if you can do the smallest thing to help someone, you should do it. To give back in any way you can and to serve other people."
Besides being a full-time student, going on hikes and being involved in a sorority, Halley said she enjoys helping others along with her family. The day before 9/11 this year, she helped build houses for affordable housing non-profit, Habitat for Humanity. "It's such a great feeling knowing that you're helping people for a long period of time, giving them something that will last and something they'll appreciate and love."
What's in her future? Halley said she hopes to enter the same career path as her dad, which is business. She mentioned going into finance as a possibility for the future and emphasized that people have high expectations of her because of who her dad was and what he did, something that makes her wants to meet and exceed those expectations.
Her life motto? Her father's last known words. "'We're going to do something.' That's what my entire family has lived by since then," she said.
__________
Follow Ricardo Avila Alvarez on Twitter: @RAvila27