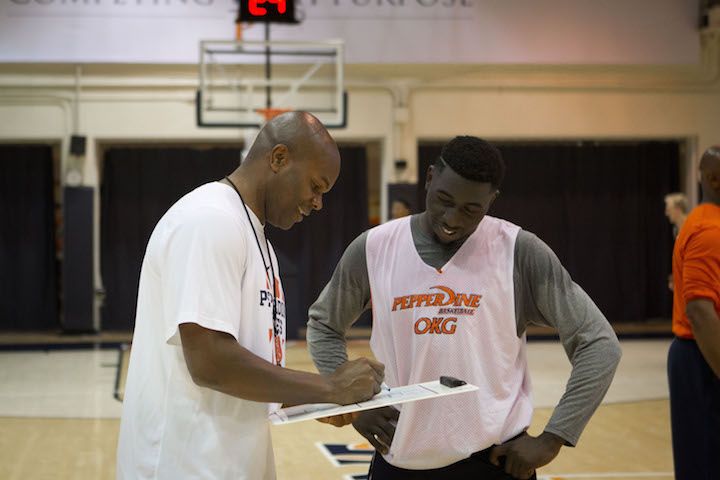 Photo by Zach Le
Marty Wilson first stepped his soles on the Pepperdine court in 1985, and his heart never really left. After four years on the court, Wilson stamped the record book as fifth (now ninth) in all-time assists before he transitioned to the sideline as an assistant coach for 21 years.
Most of his college years he played under his old head coach, Coach Tom Asbury. For the next 12 years, then-Assistant Coach Wilson helped San Diego, UC Santa Barbara and Utah onto conference titles and the NCAA Sweet Sixteen before his return home.
"Almost nine years ago Coach Asbury came back … he came out of retirement and he asked me to come back when I was an assistant coach at University of Utah. He asked me to come back knowing I would take over as the head coach, and that's every assistant coach's dream. So it wasn't very hard for me to come back home."
After two years, Wilson is now commencing his fifth season as head coach for the Waves. As the 12th head coach in Pepperdine's history, Wilson has moved the Waves to surpass WCC preseason coaches' poll ranked every year.
"Coach Wilson is a great coach," junior guard Amadi Udenyi said. "The main thing I really like about Coach is that he really cares about each individual's success in life after basketball. He has given us many different resources to be successful after college. And on the court, he demands hard work and that you compete at all times. He is shaping us up to be great men in life."
Wilson trained the Waves to a point where they were ranked No. 2 in the nation in three-point field-goal percentage defense (a school record 27 percent) last season. The Graphic was able to sit down with Coach Wilson and ask him about his vision for his team as they continue to gain momentum.
What has been your biggest focus since becoming head coach?
"Just to get our team better in every aspect: academically, socially. That was the first thing we needed to clean up, and then just getting better players — and we've done all three of those and that's hopefully been a sign that our program is getting better."
How is the team looking this season? What can fans expect to be the same and different from the past year?
"Guys are looking good. I think every coach in the country's concern is his athletes staying healthy. We've had some guys over the past month or so with bumps and bruises; that's the biggest challenge. I think having all the guys back from last year, adding Kameron Edwards to the roster this year, I expect our players to get better. I think fans will see we will still defend; that's something I firmly believe in.
We'll be tough and physical, and hopefully make it hard for teams to be comfortable in what they do. But I think on the other end we hope to be more aggressive, and offensively push the ball to be in more of an attacking mode. I think we have more athleticism this year; hopefully we play a more fun style of play, where there are some lobs and dunks and alley oops and more shot blocks where we're going to keep the fans engaged."
What matchup, if any, are you looking forward to this season?
"All of them. Every matchup is challenging, every game is different. A lot of people get caught up in the name and the jersey.
One thing we stole from Tim Ward, the women's soccer coach, last year, is that he doesn't say their name — he calls them vicious opponents, so vicious opponent No. 1 or vicious opponent No. 15 — they're all the same, so we don't worry about that. It's about the first game and, when we get through that one, to the next one."
What are your goals as a coach and as a team for this season?
"Number one is for us to get better. I don't necessarily put a number of wins to call it successful or not. I just want our staff to challenge our players to get better every day, I want our players to work hard, compete against each other, make each other better. And if we're doing those things, then eventually they're going to reach their goals.
I'm going to sit down with all of our guys individually and then have them sit down collectively, and they're going to write out their goals — and our job is to hold them accountable to those goals."
"What are our greatest strengths and areas for improvement as a team?"

Our greatest strengths are Stacy Davis and Jett Raines and their ability to score the ball inside and out. Although they're typically smaller or shorter than the majority of the opponents, their skill level, their quickness and their athleticism gives them an advantage, and we want to take advantage of those things and we want to put them in positions to use those things. I think the other thing is [that] Jeremy Major's quickness is something we want to take advantage of more. Then our wings — Atif Russell, Lamond Murray, Kameron Edwards — have their size, their length and their athleticism. Offensively and defensively, I think those things compared with everyone else in our league allow us a greater advantage in most of those games.
What do you advise the Waves to do when they are down in a game?
Well part of it just depends on the flow of the game. If we're not shooting well one thing I want is for us to be aggressive, attack the paint, post up hard. Maybe we draw a foul and get a couple of baskets that way. I think defensively, if a team is too comfortable we might change some things, so I'll challenge them to challenge each other. We lean a lot on [Stacy Davis] and his voice, but I challenge Amadi because he's probably the physical heart and soul of our team. I tell him all the time that when he speaks up I listen, so his team's going to respect that, and when he does speak up it changes the mindset of the team.
What are your expectations for your athletes? What sets them apart from the competition?
I think a big part that sets them apart is their chemistry. I mean, Stacy, Jett and Atif have been playing together for four years now so they know how and what each other likes. You throw in Amadi, Lamond and Jeremy; those guys are going in their third year together. So having that group of guys and that synergy is a big part of what makes us special … you add Shawn Olden and Kameron Edwards and A.J. John and A.J. Lapray — I mean the guys that have only been here for one year, it just adds to what we're capable of doing … The big thing is the character that we have, because they're a joy to coach. We challenge them, they understand that our job is to make them get better and they respond.
How does it feel to be on the court as a player versus coaching from the sideline?
Usually as a player you feel like you have more control, because you feel that you can impact the game in a number of ways. As a coach, you just hope that in your preparation, in your practices, in your video sessions, in your coaching and teaching that the guys heard and understand all that you expect — and then just during the flow of the game, the adjustments that you make that they understand it to be able to make that change. I think the similarities are just being competitive as something that drives and motivates coaches, but there's a big difference about being a player because you feel like you have more physical control than you do as a coach.
What do you enjoy outside of basketball?
I enjoy my family, my wife my two kids. I'm a homebody — I enjoy my extended family, all my brothers and sisters, but when the season's over, if I have time to unwind, I enjoy fishing. I don't do it enough; I wish I would make more time, because you've always got basketball in the back of your mind, but I really enjoy fishing.
_____________
Follow Stasia Demick on Twitter: @sdemick12