Photos by Joanna Cabalquinto
Robinson-Bacote put up 31 points with 10 rebounds against Portland on Thursday, Feb. 1 for her eighth double-double of the season. Her strong offense continued into Pepperdine's next game against Pacific two days later on Saturday, Feb. 3, during which she scored 31 points again with eight rebounds.
With her display of both offensive and defensive skills, Robinson-Bacote was named WCC Player of the Week on February 5, 2018 (Week 13) for the second time in her career. She was also named Player of the Week on Nov. 20, when she averaged 22 points on 53 percent shooting and 12 rebounds during the second week of the season.
"It's really exciting just to know that my hard work is being noticed," Robinson-Bacote said. "The team played really well this past week so to get recognized individually is great."
During the two-game week, Robinson-Bacote averaged 31 points, nine rebounds, 1.5 steals and one assist. She shot 61.1 percent from the field, including making both three-point attempts. With her performances, her points-per-game averages jumped from 16.5 to 18.5 (as of Saturday, Feb. 10).
"My mentality is to just go out and play my hardest in order to put my team in the best position to win and be successful," Robinson-Bacote said. "When things like player of the week come along it's just an addition to what I've been trying to do. I don't go into games thinking about things like Player of the Week."
Since being named Player of the Week, Robinson-Bacote has kept up her stats. During their game against San Diego, her 19 points led the Waves.
Robinson-Bacote has led the Waves in scoring in all of the games played during the season. She also scored a total of 15 points against LMU, continuing her trend of putting up double digits in 21 out of the 24 games played. Additionally, her defensive play of six rebounds during each game helped keep the Waves in a position to win.
"My mindset going into every game is to be aggressive," Robinson-Bacote said. "I know what I'm capable of doing, so when I get out on the court it's just believing in myself and giving myself a chance."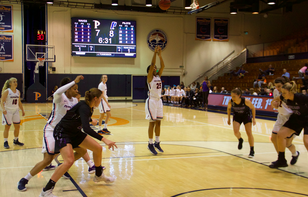 Senior guard Peyton Langston joined the Waves this year after playing for Evansville for three years. Through practice and a mutual love for basketball, the two got to know each other better. Langston adjusted to the team dynamic with the help and leadership of Robinson-Bacote.
"Yasmine works extremely hard and is very gifted, so it's fun to play with somebody like that," Langston said. "She gives it her all every game so I think she deserves to be Player of the Week."
Langston also talked about Robinson-Bacote's impact on both sides of the ball when she steps onto the court.
"Fans can expect a double-double out of her every game," Langston said. "Not only is she great offensively, but she grabs a lot of rebounds too. She does a lot of work for team, giving us a chance to win."
Junior forward Megan House has played with Robinson-Bacote for three seasons. The two arrived in Malibu and braved back-to-back seven-win seasons, in which the Waves finished several games below .500 in West Coast Conference play. Since then, House and Robinson-Bacote have maintained a bond, both on and off the court.
"Just to see her grow as a person and as a basketball player has been an honor," House said. "There's no one more deserving of being Player of the Week. She's one of the best players I've ever played with, if not the best. I'm happy she's getting recognition for everything she's worked for her entire life."
Even with two WCC Player of the Week Awards, Robinson-Bacote goes into every game with a competitive mindset and specific set of goals.
"The goal is to just go out and compete," Robinson-Bacote said. "If we win it's great, but that doesn't always happen so it's also about losing competitively and knowing that Pepperdine is not a sweeper team. We're a team that has to come in every game and play our best because we do have the ability to win every game that we play."
The lightheartedness that comes with the way Robinson-Bacote plays made House enjoy sharing the court with her and look forward to her performances every game.
"She's just getting started," House said. "She's only a junior so she has her senior year ahead of her. This is definitely not her peak. She has so much more to give. She's going to put on a show every time she steps on the court. She has so much more to show everyone."
There are only a few opportunities left this season to watch Robinson-Bacote in action. Catch the Waves for their last two home games against Gonzaga on Saturday, Feb. 17 at 1 p.m. and Saint Mary's on Thursday, Feb. 22 at 7 p.m.
___________________________________
Follow Pepperdine Graphic on Twitter: @PeppGraphic