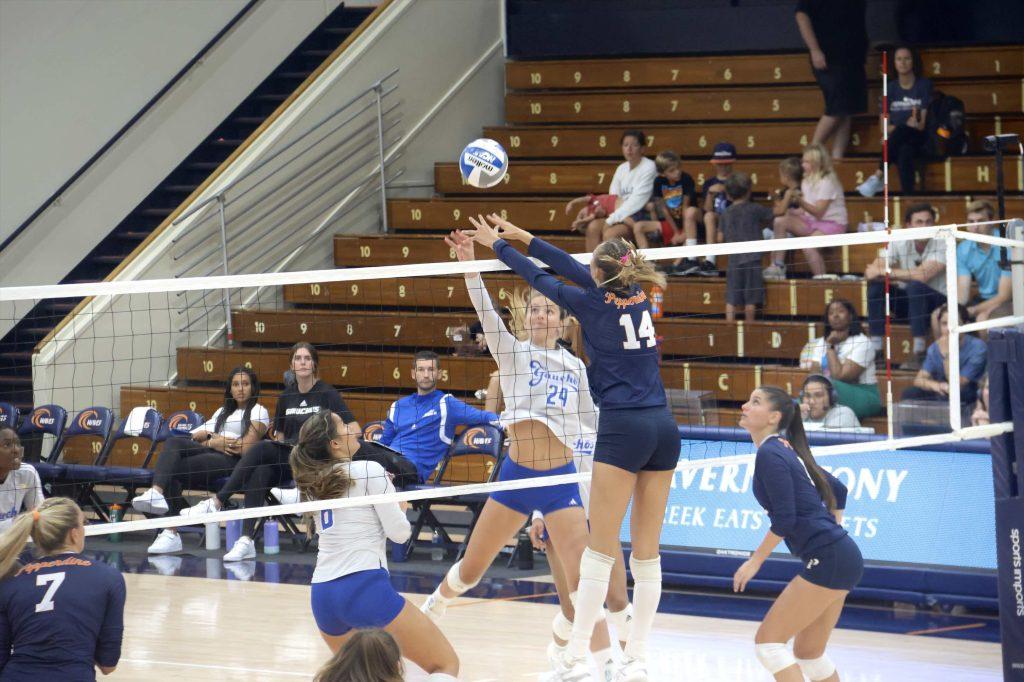 Despite winning the first two sets, Pepperdine Women's Volleyball lost 3-2 to the UC Santa Barbara Gauchos on Aug. 31st, at Firestone Fieldhouse. The Waves are now 0-3 to start the season.
Pepperdine lost to UCSB in their home opener 3-2.Junior outsider/opposite hitter Grace Chillingworth, senior outside hitter Birdie Hendrickson and sophomore middle blocker Kenadie Patterson led the Waves on offense with 22, 13 and 9 kills respectively.
"These next games this weekend and the next two weeks, our goal is we need to get better as a team going into conference," Head Coach Scott Wong said. "Our goal is to win our conference. This 0-3 record is not indicative of us being able to win or lose conference."
Pepperdine came out of the gates strong, winning the first set 25-21 and the second set 25-19. Even as Pepperdine was up 2-0, Wong said he thought the Waves could improve their offensive game.
With their backs against the wall, UCSB started the third set with an 8-2 lead. While the Waves started to mount a comeback and pulled within two points, UCSB won the set 25-22.
"We just got complacent," Hendrickson said. "Going into the third set, we were super confident, but when they [UCSB] made their adjustments, we didn't know how to respond that well."
In the fourth set, each team kept it close early on, but with the score tied 10-10, UCSB went on an 11 to three run, making the score 21-13. UCSB pulled away with the fourth set 25-16.
Each team was battling point for point in the final set, but with a 14-13 score, UCSB senior outside hitter Michelle Ohwobete got the kill to win the set and complete the reverse sweep for the Gauchos. Wong said after the first two sets, the Waves couldn't respond well to the changes UCSB made.
"We weren't able to make those adjustments," Wong said. "They [UCSB] put some pressure on us. They started serving tougher and we didn't respond."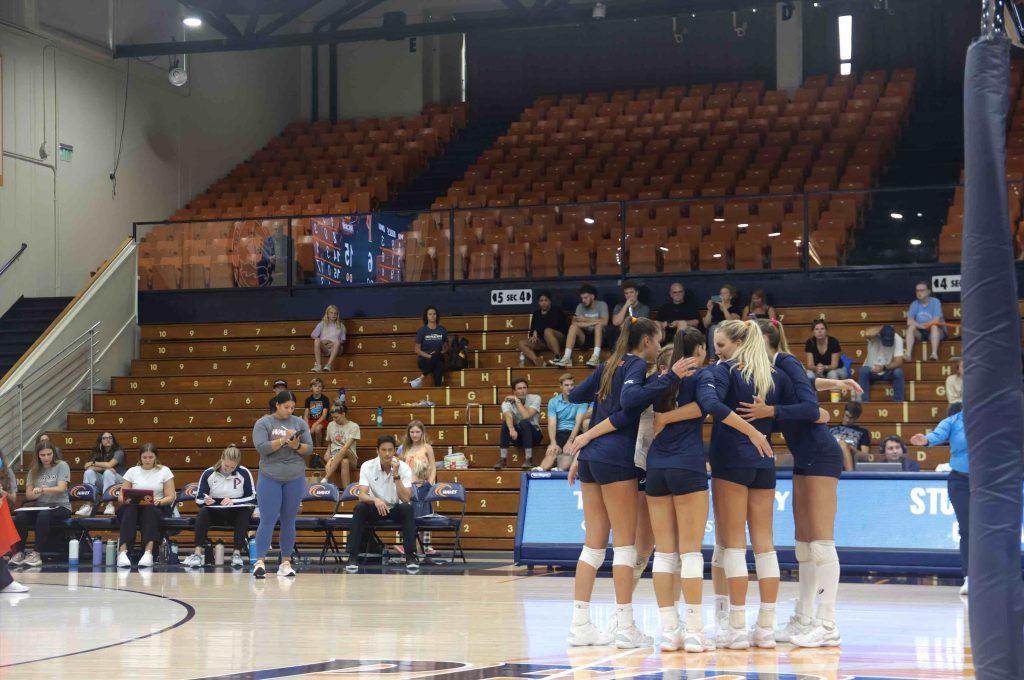 Senior middle blocker Meg Brown, who had 312 kills in 2022, was unavailable due to injury. Wong said despite the impact Brown had, the team always focused on who was in the lineup that day.
"Meg's [Brown] a big part of our team, so it definitely hurts that Meg's [Brown] not in our lineup right now," Wong said. "We need to go forward with the group we have. We won't ever make excuses about injuries."
Despite the loss, Chillingworth was a bright spot as her 22 kills were a career high. Patterson said Chillingworth is a reliable member of the team every game.
"Grace [Chillingworth] is just a very consistent player with us," Patterson said. "She's always dependable, always easy to talk to on court. She is just the definition of a good player and teammate."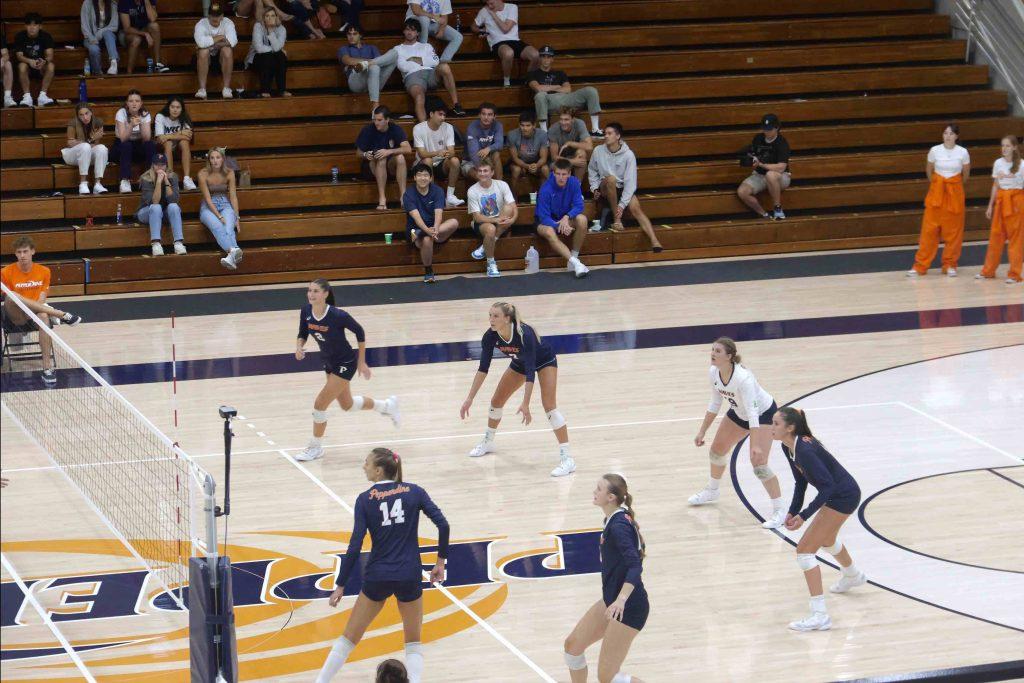 Wong said even with the team's 0-3 record, Hendrickson, who transferred from the University of Florida, has also been a bright spot.
Hendrickson said she is grateful for her opportunity to play for Pepperdine.
"It's been a blessing being a part of this program," Hendrickson said. "We're all such close girls and Scott [Wong] does a really nice job coaching us. I'm just really happy to be out here playing on the court with these girls."
Graduate setter Isabel Zelaya has the fourth most assists in the program's history and added 49 to her career total during the game, according to Pepperdine Athletics. Wong said Zelaya has had a tremendous impact on the program the past few seasons.
"Isa [Zelaya] is just a solid leader," Wong said. "Hard worker and obviously she can play the game of volleyball too."
The Waves' next two games were a part of the San Diego State Invitational. They beat San Diego State 3-0 Sept. 1st, and lost to Oregon 3-0 Sept. 2nd, both in San Diego.
"We're ready to pull out a win," Hendrickson said. "We're ready to get down and dirty and be super aggressive out there and have a fun weekend."
The Waves will not play at Firestone Fieldhouse again until Sept. 21st, when they play University of the Pacific. Patterson said the team is looking forward to spending time together as they play on the road in the coming weeks.
"We're excited to travel," Patterson said. "It's a good time for us to bond and connect with each other, which obviously translates to how we play on the court together and how we communicate."
_________
Follow the Graphic on Twitter @PeppGraphic
Contact Tony Gleason on Twitter (@tony__gleason) or via email: anthony.gleason@pepperdine.edu