Women's Soccer breaks out a huddle during a fall-season practice Nov. 5, at Tari Frahm Rokus Field. Junior midfielder Skylar Enge said the team's dynamic has allowed her to push herself during practices. Photo courtesy of Tatum Wynalda
The fall 2022 Women's Soccer season ended with an overall record of 9-4-5 and a conference record of 3-3-3 for the Waves.
With the loss of seven seniors, players said they find themselves stepping into new roles and responsibilities during the team's spring season as they prepare for the fall 2023 season.
"I think there's something happening with this group that I think is really healthy, really beautiful in terms of team bonding and chemistry," Head Coach Tim Ward said. "As far as individuals stepping up, I expect them all to take the next step."
Skylar Enge and Tori Waldeck — The Co-Captains
Co-captain and junior midfielder Skylar Enge said she was an attacking midfielder — a midfielder that focuses on aggressive scoring moves — coming into college. This spring, Enge said she's a holding midfielder — a far more reserved and defensive position.
Graduating seniors, Enge said, along with new formations the team is experimenting with is the reason her role as a midfielder has changed. Enge said her position on the field, however, is not the only thing that changed. With the loss of experienced seniors and fifth years, Enge said she found herself thrown into responsibility.
"It's definitely been a big transition, having them leave," Enge said. "Now, our class is stepping up."
Both Enge and her co-captain, junior midfielder Tori Waldeck, have similar leadership styles they have applied to their positions, Enge said.
"Tori [Waldeck] and I both are leaders through action," Enge said. "We're two people that work pretty hard and show our devotion to the team and the program."
A traditionally silent leader through action, Enge said one of her biggest transformations has been becoming more vocal as a leader.
"But everyone on our team really respects all of our seniors' voices, so it hasn't been too tough a transition," Enge said.
Both Enge and Waldeck are grateful their teammates entrust them with not only being vocal on the field but also communicating with the coaching staff via their weekly meeting with the coaches, Enge said.
"Now being one of the oldest and being a captain, I'm growing into my responsibility," Enge said. "Trying to help our team transition to a new team and find our identity and prepare for the fall."
The Upcomers
For both freshman midfielder Tatum Wynalda and freshman goalkeeper Harlee Head, soccer has been a constant in their lives.
"Soccer has just been in my blood," Wynalda said.
During her first season with the Waves, Wynalda appeared in 18 games for 869 minutes of play, Wynalda said this play came with its own challenges.
"The talent, the size, the speed — it's just, it's a whole different environment," Wynalda said. "[This] was really exciting but very eye-opening and challenging as well."
Wynalda said, despite these challenges, she felt driven to make the most of the opportunities given to her on the field.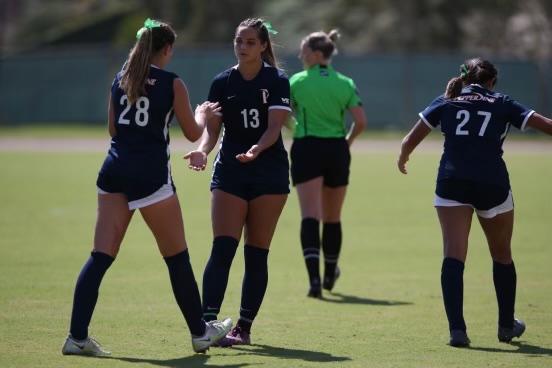 Head appeared in four games for a total of 232 minutes of play during the fall season before suffering a lower back injury, Head said. She was the youngest among experienced goalkeepers such as redshirt freshman Taylor Rath, who had spent two years prior at the University of Texas at San Antonio, and junior Ellie Sommers.
"I was put in a very tough position," Head said. "Because they were the same age. So, they were more competitors rather than I was with them."
This season, Rath and Head are the team's two keepers. However, despite the nature of the situation, Head said she has developed a strong bond with Rath.
"Ever since the beginning, Taylor's been there and has always been supportive," Head said. "[She's] always wanting me to do my best."
Wynalda said she believes that future success derives from the mutual trust and support found within the program.
"We truly believe in each other and love each other and trust each other," Wynalda said. "In a way, that's unlike any other program."
Forward Together
Though Wynalda said she looks forward to moving toward a big sister role with the incoming freshmen in the fall, she also feels she is still at the start of her journey with the Waves and has much to learn.
"Sky and Tori — they're just the captains that lead by example," Wynalda said. "Constantly working and pushing each other and themselves. It's just a really great thing to look up to."
Enge, who said she is starting to realize just how little time she has left with the team, has found a deeper appreciation for the community as a whole.
"I think I've learned throughout the years that, yes, the soccer is a big part," Enge said. "But, the program is about so much more than playing soccer. And that's what's actually going to be your biggest takeaway."
__________________
Follow the Graphic on Twitter @PeppGraphic
Contact Max Pohlenz via email maximilian.pohlenz@pepperdine.edu