Photos Courtesy of Pepperdine Athletics
The collegiate golf season starts before the collegiate golf season. That is to say, the NCAA lists men's and women's golf as spring sports, but teams often compete in tournaments in the fall as well.
Although the fall tournaments are preseason competitions, they affect the rankings put out by Golfweek and the Women's Golf Coaches Association. Golfweek's preseason rankings put the Waves at No. 25 in the nation.
"I think it's a fair ranking," Head Coach Laurie Gibbs said. "I believe not only that we can achieve that — I believe we can definitely exceed that."
Freshman Alexa Melton said she is not worried about the ranking putting extra pressure onto the team.
"As a team, we try to have as [little] expectations as possible," Melton said. "We're all working really hard. We have our long days of five hour practices and workouts, so it's nice to see it all pays off."
Since the preseason rankings came out, the Waves have played two tournaments and Pepperdine down to No. 33 in Golfweek's rankings.
At New Mexico's Dick McGuire Invitational Sept. 9–10, Pepperdine finished second out of 15 teams, and senior Momoka Kabori took the individual title.
"[Kabori] played amazing golf," Gibbs said. "She's worked hard over the summer —really, the last 18 months — to really show up and perform her senior year, and we all couldn't be more proud of her."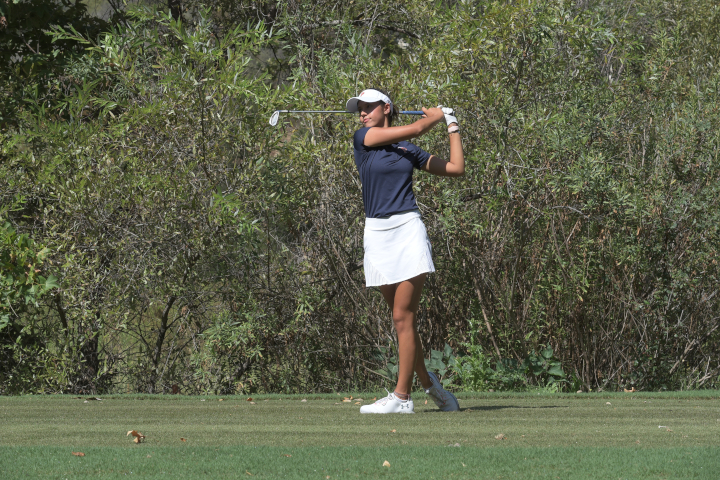 Melton ended the first day — her birthday — with a two-stroke lead on the field, but ended up tying for fourth, three strokes behind Kabori. ­­
"Alexa Melton, just [had] a great showing her very first tournament," Gibbs said. "[She] played great golf and is a wonderful competitor, and I believe she's going to have an incredible college career."
At the WSU Cougar Cup Sept. 16 and 17, Pepperdine finished in a tie for ninth out of 15 teams. Kabori tied for third individually, while freshman Reese Guzman improved 20 spots in the third round to finish tied for 22nd.
The Waves ended the second round in a tie for 11th, but shot six under par the next day to climb up to the ninth place tie.
Fresh Faces
On a team of six women, Melton and Guzman are not the only newcomers. Junior Megan Dennis transferred to Pepperdine from Florida Tech. Last season, Dennis helped the Panthers win the Division II National Championship in the program's final year.
"Megan [Dennis] is a fabulous player [who] came from a D-II university," Gibbs said. "[She] has adjusted extremely well. Reese had a great showing [at the Dick McGuire Invitational] — really just had one bad hole — but otherwise played solid."
Golfweek listed Melton as one of their top 10 freshmen to watch in 2019–2020 as well as a preseason second team All-American.
"[Melton]'s a really good player — you can probably see that from the ranking," Kabori said. "Her, Reese Guzman and Megan [Dennis] are all really solid players."
With half of the team new to the program, the women have a young and unfamiliar team.
"I think, over the past couple of weeks, we've got to kind of know each other pretty well," Kabori said. "That's pretty important going into the season — to be comfortable with each other."
Kabori, Melton and Gibbs all said there have been no issues building team chemistry.
"Oh, my gosh, this team is amazing," Melton said. "We all get along so well. And no one had to get to know each other. We were all pretty close to the get go."
Solo Senior
As the team's only senior, this will be Kabori's last collegiate season. In her first three years, she was the West Coast Conference (WCC) Freshman of the Year and a two-time All-WCC first team honoree.
"It's nice to be up there in the conference," Kabori said. "Usually it's not something I worry about too much. The team winning the conference is one of the top goals for me personally."
Kabori started her senior year with a bang when she won the individual title at the Dick McGuire Invitational and kept her momentum going with a third place tie in Washington.
In both tournaments, she played her best golf in the third round to move up the leaderboard. In New Mexico, Kabori moved from tied for 10th to the top spot and went from 12th to third in the Cougar Cup.
"I believe she has a wonderful future ahead — not only her senior year, but beyond," Gibbs said. "She's going to continue on to doing some great things this year."
Looking Ahead
Last year's season ended at the NCAA Norman Regional for the Waves with a 15th place finish out of 18 teams. In the last four years, Pepperdine has only made the National Championship once.
"Every year, [making nationals] is one of our top goals," Kabori said. "We've been able to make it constantly to regionals, but getting past that is always pretty challenging."
Gibbs said she does not want the team to focus too far down the road.
"Regionals is months away," Gibbs said. "We just take it one tournament at a time, and that's all you can do. I'm a big believer in just taking care of your business."
Melton said the team still has goals for the season, though.
"We want to be top three in every event – and top three at the National Championships?" Melton said over the phone while being urged on by her teammates. "No! We want to win a National Championship."
There are four regional tournaments and six teams from each advance to the National Championship, so the preseason ranking of No. 25 in the country puts Pepperdine on the bubble.
"Fall is important to get our bearings," Gibbs said. "I think all this hard work and preparation in the fall will definitely pay off as we go into our spring season and postseason."
____________________
Follow Kyle McCabe on Twitter @kyledotmccabe
Contact Kyle McCabe at kyle.j.mccabe@pepperdine.edu