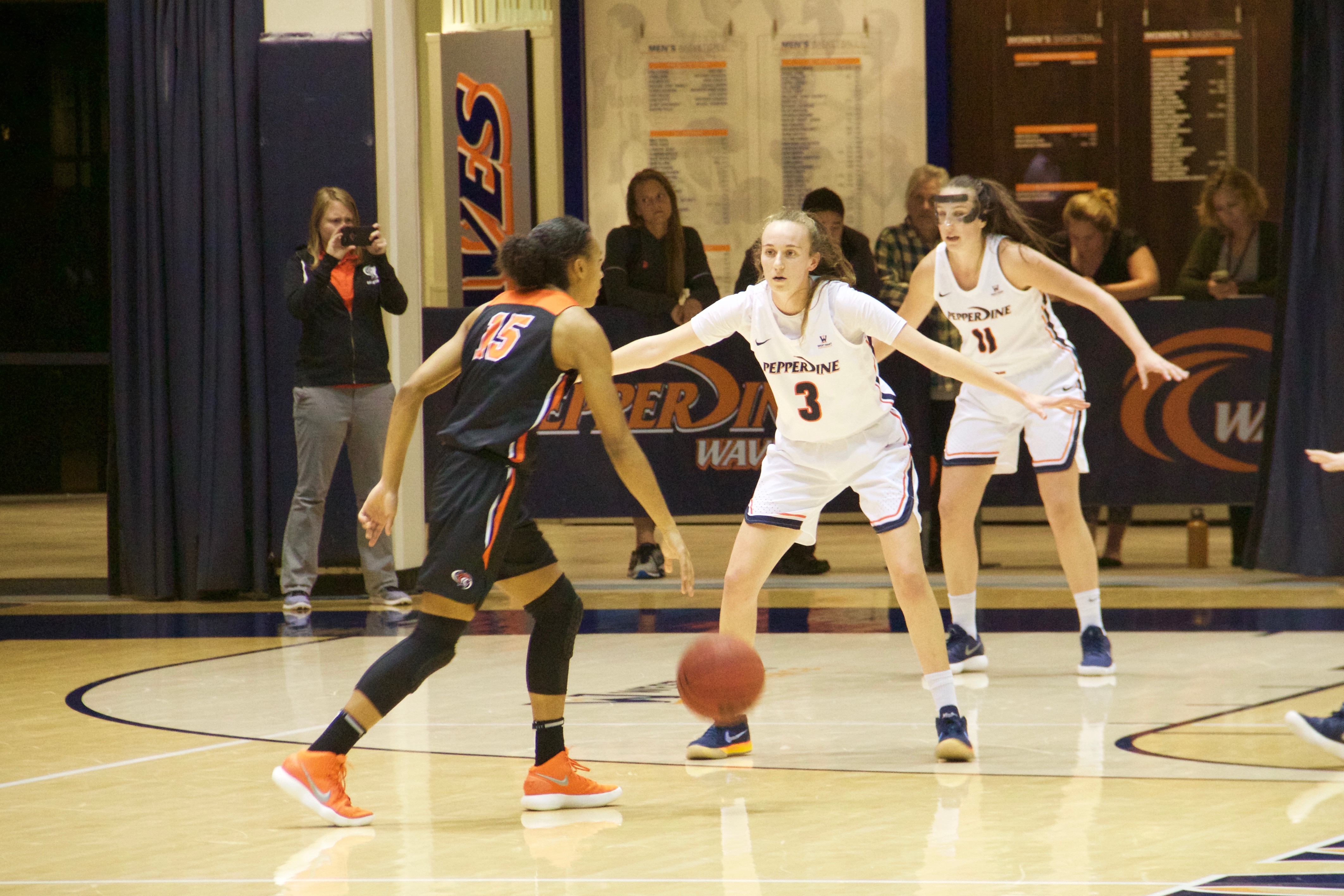 Photos by Arthur Puu
The Pepperdine Women's Basketball team split two games last week in Firestone Fieldhouse, falling 85-77 to Pacific despite great performances off the bench, and securing a double-overtime 95-92 victory over the USF Dons thanks to a bold comeback late in the second half. The Waves are 7-11 on the season and 3-5 in WCC play.
Freshman guard Rose Pflug led the Waves in their game against Pacific with a career-high 17 points and four assists. Sophomore guard Barbara Sitanggan matched Pflug with 17 points, while junior forward Yasmine Robinson-Bacote and junior guard Paige Fecske notched 12 and 11 points respectively.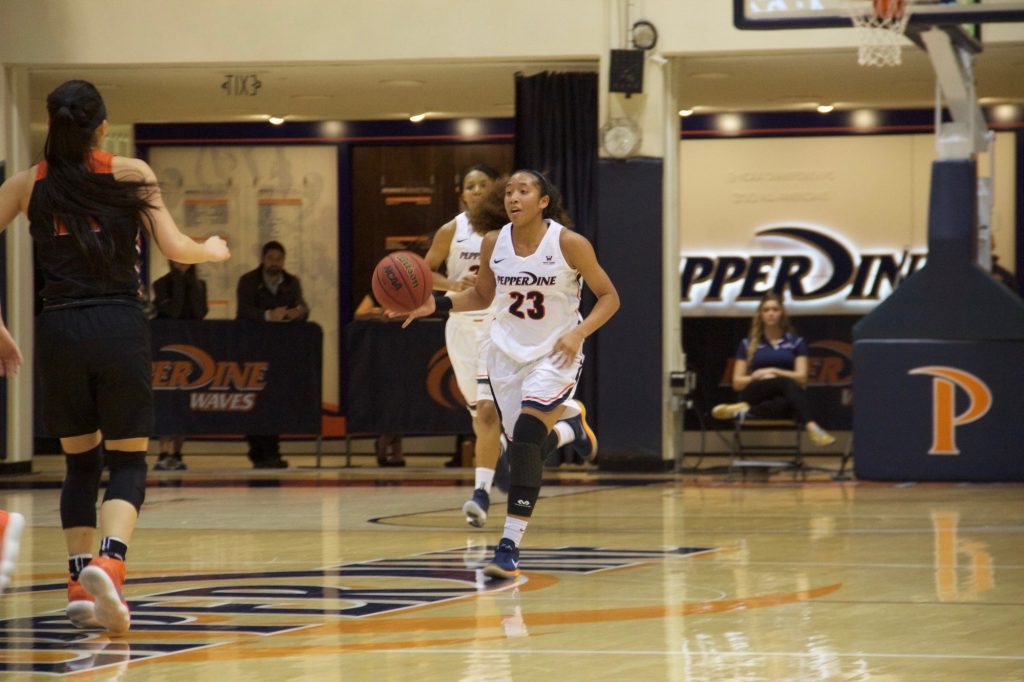 "The strategy was to come out with energy from the start of the game and play the way we know how to play," senior guard Kim Jacobs said. "Pacific is a very fast paced team and that causes the teams they play to play chaotic, so we went into the game with the mindset not to play at their level."
The Waves drained two early threes that put them in the lead for a majority of the first quarter. However, the Tigers found their stride and Pepperdine trailed for the remainder of the game.
Nine players found themselves in the scoring column, with four reaching double digits posting 30-20 points off the bench over Pacific. Pepperdine also shot better than the opposition from the field 52 percent to 47 percent, but 19 turnovers by the Waves led to 21 points for the Tigers.
Quarter-by-Quarter Scoring (vs. Pacific):
Quarter 1: 20-17 (PAC)
Quarter 2: 41-37 (PAC)
Quarter 3: 68-59 (PAC)
Quarter 4: 85-77 (PAC)
On Saturday against San Francisco, Robinson-Bacote led the Waves with 28 points and 14 rebounds, but team defense was the name of the game.
"We were focused on stopping their main scorers because that's what killed us last time we played them," Jacobs said.
Pepperdine got off to a slow start down 23-12 after the first. They struggled throughout most of the second quarter, as USF sustained a 19-point advantage before the Waves closed the gap in the third, 58-53. With 22 seconds left in regulation, Paige Fecske gave Pepperdine a 70-68 lead, but the Dons tied it up at 70 with one second left to send the game to overtime.
The first overtime ended in another tie 79-79 sending the game into double-overtime. The Waves' momentum started to pick up and a big three by Jacobs put Pepperdine ahead 91-90. USF didn't give up easy and countered right away, but Fecske and Robinson-Bacote both hit big shots from the free throw line to secure the 95-92 victory for the Waves.
#WAVESWIN! The Waves hold on in 2OT and win 95-92!! pic.twitter.com/JMvw2RwltF

— Pepperdine W. Hoops (@WavesHoops) January 20, 2018

"I think in both games we did a great job of not giving up," Jacobs said. "We were down by a lot at certain points in both games and instead of the team falling apart we worked together to get back into the games. It was a great team effort."
Quarter-by-Quarter Scoring (vs. San Francisco):
Quarter 1: 23-12 (USF)
Quarter 2: 44-33 (USF)
Quarter 3: 58-53 (USF)
Quarter 4: 70-70 (TIED)
Overtime 1: 79-79 (TIED)
Overtime 2: 95-92 (PEPP)
Quotables:
On continuing pursuing their season goals: "We could definitely have done a better job at rebounding," Jacobs said. "That is a key point we have been trying to work on this whole season and that is also why we lost one game and why the other one we won was so close."
On winning in overtime: "Winning in overtime against USF was a great feeling because the last time we played them, we lost by one with only 10 seconds left so it felt great to get the win against them this time," Jacobs said. "The fact that we didn't give up and came back to win in double overtime shows how much we've grown together. I am very proud of the team and everything we've been through has only made us closer. I can't wait to see what we do in the next few games."
Up Next:
Catch Jacobs and the rest of the Pepperdine Women's Basketball team, Thursday Jan. 25 at LMU at 7 p.m.
__________
Follow Pepperdine Graphic on Twitter: @PeppGraphic