Ashleen Quirke reaches for the ball after it is deflected.

Photos by Ali Levens
Following a tough 67–69 loss on the road against the University of Portland, the Pepperdine Women's Basketball team rebounded to defeat the University of the Pacific Tigers, 59–54.
In an alternating game of runs, the Waves prevailed against their opponents with their leading scorer, senior guard Barbara Sitanggan, dropping 15 points, 11 from free throws.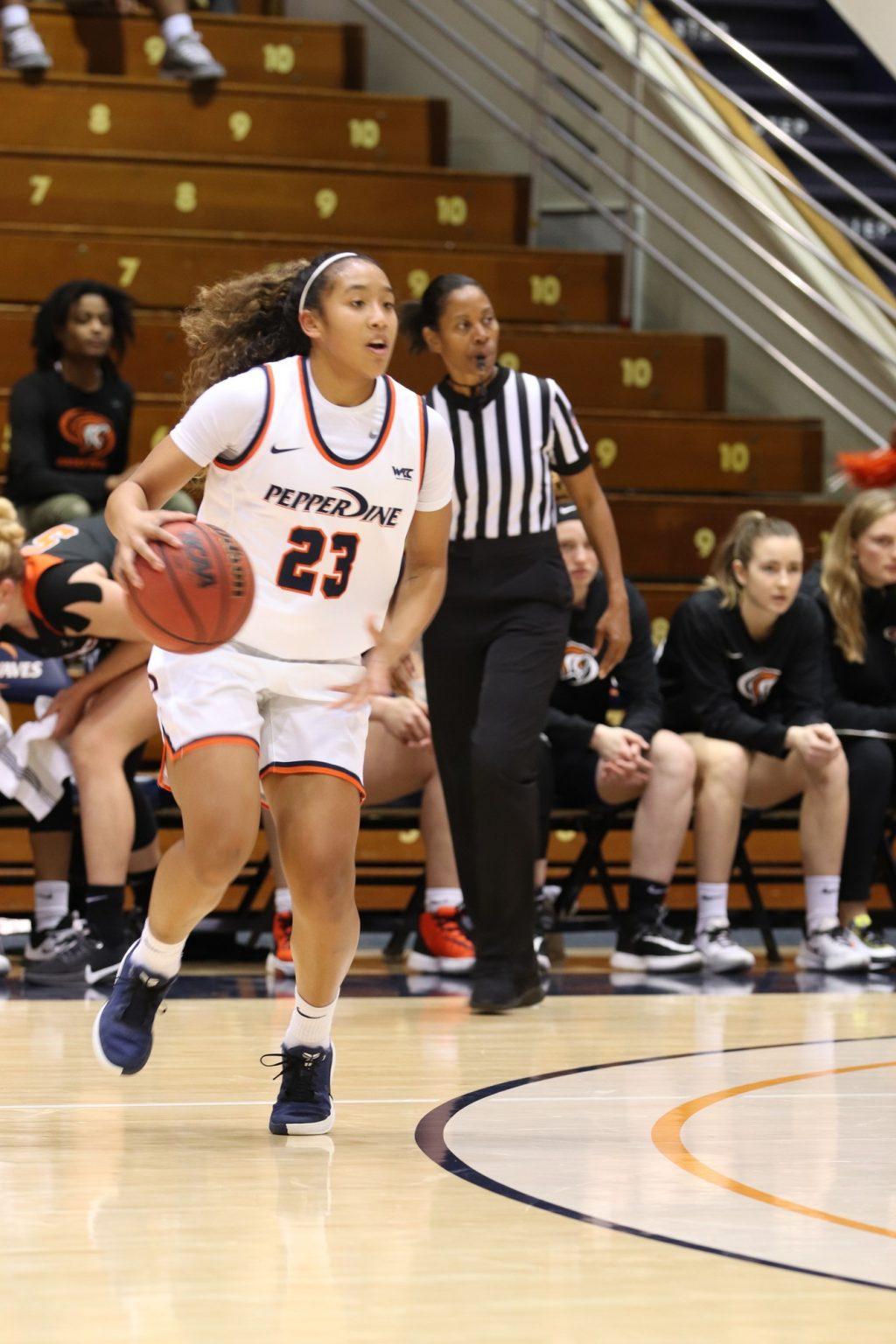 "We have a … lot of upperclassmen in this team [who] know how to win and want to win," Head Coach Kristen Dowling said.
The Waves had a quick turnaround versus the Tigers when they fell in Stockton on Jan. 4, 63–64, after coming off a one-day break.
"We knew we had to do and when we played Pacific last it was really close," redshirt senior forward Ashleen Quirke said. "So going into this game, we were just motivated to get it done."
After getting the game tip, the Waves took an early lead off of jump shots and layups, going up 10–4.
Pacific quickly closed the gap to two points, but Pepperdine stretched their advantage again to close out the first quarter 22–14.
The second quarter reflected the first with two quick points from both sides and Pacific scoring five straight points.
The Waves gave up five straight points to the Tigers, making the score 24–21, but Sitanggan's contribution of two free throws was the last time the Waves led by more than three points for the remainder of the half.
Both teams scored twice back and forth, leaving the halftime score tied at 30.
"[We focused on] picking up on defense, knowing who the key players were and rebounding," Sitanggan said. "We held their best player to five points. We really executed on defense."
Pepperdine came out with changed mindsets and went on a 5–2 run.
Again, the Tigers caught up and made the score 39–38 halfway through the third. Both teams had fast-paced breakaways and scored enough to tie 43–all at the end of the quarter.
It was not looking bright for the Waves, as the Tigers took the lead for the first time only 28 seconds into the final quarter. Two quick shots by redshirt senior guard Hannah Friend and Quirke tied the score again (47–all) and paved the way for the team to keep the lead for the final time. Quirke's time on the court ran out, however, because she fouled out about five minutes into the final quarter.
The Waves took another five-point lead with two minutes remaining, 54–49. The Tigers whittled down the lead to only a bucket's worth. Redshirt freshman guard Jayla Ruffus-Milner joined Quirke when she fouled out with 23 seconds left.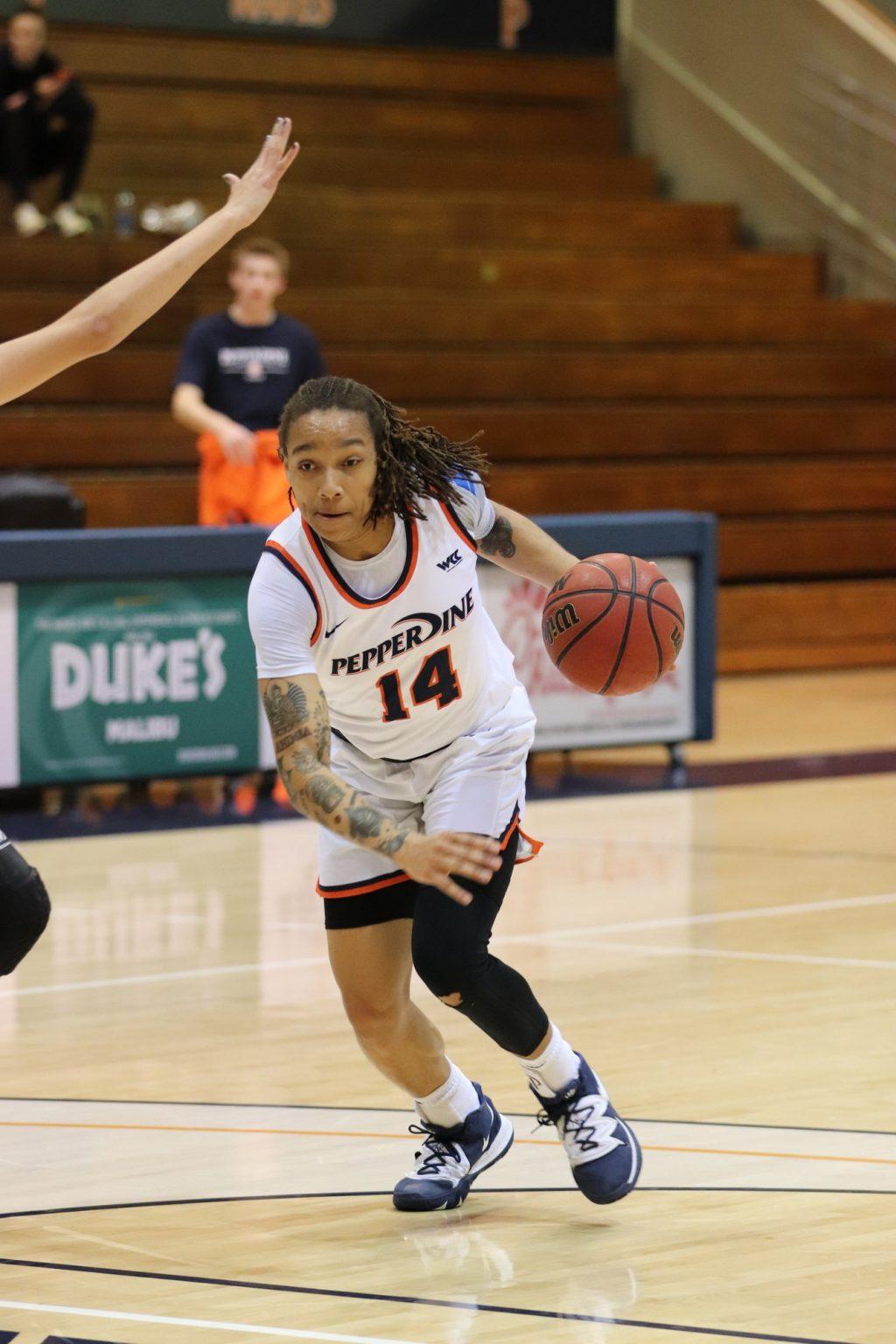 "[In close games, we focused on] keeping our composure and sticking to what we know … and not speeding up just because the score is getting close," sophomore guard Malia Bambrick said.
Friend and Sitanggan extended their lead to five points again after making three of four free throws.
"Free throws come with routine," Sitanggan said.
The Tigers failed to score after sending Sitanggan to the line again, leaving the final score 59–54.
"I think we did a great job defensively," Dowling said. "We held a team to 40%, which we haven't done in a while. I also think we did a great job playing as a team."
Junior forward Monique Andriuolo and Friend delivered on the defensive aspect, with 19 of the team's 35 rebounds stemming from their efforts.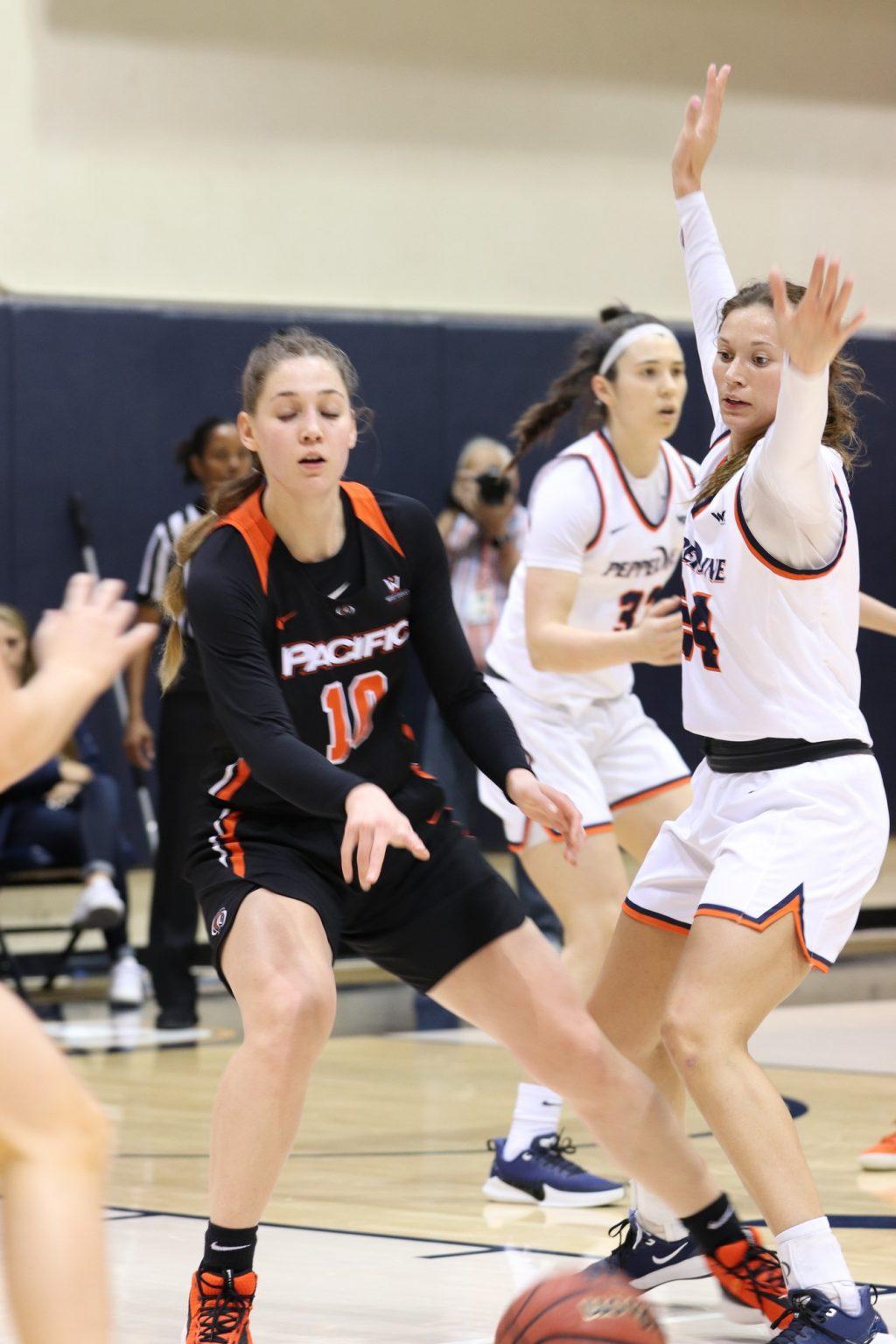 Both teams managed to not make a single three-pointer despite 23 combined attempts.
As the team prepared to face off in another conference game Saturday against Saint Mary's College, Dowling wanted them to focus on defense and rebounding.
The Waves and Gaels took the game to overtime, 59–all.
"As a team, we really pride ourselves on defense," Andriuolo said. "Playing good defense [is] how we won those two games this week."
Pepperdine outscored SMC 14–5 in overtime, with Andriuolo posting a career-high 30 points and 17 rebounds. The West Coast Conference named Andriuolo as the Player of the Week because of her performance for these two games.
"[Andriuolo was] just on fire," Dowling said. "She worked her tail off, and she's been consistent ever since I've been here, so I think it's just her hard work has paid off. We're just grateful that she was on our team tonight."
The 11–10 Waves travel to the University of San Francisco on Thursday, Feb. 6. Pepperdine is now in sixth place in the WCC with a 5–6 record.
_______________________________
Follow the Graphic on Twitter: @PeppGraphic
Contact Ali Levens: ali.levens@pepperdine.edu