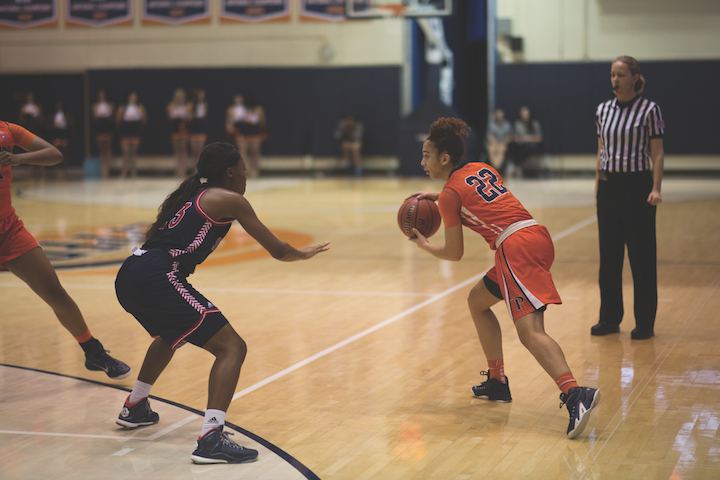 Photo courtesy of Pepperdine Athletics
When talking about WCC women's basketball, you have to consider one very important fact: the chances of a team other than Gonzaga or BYU winning the tournament or the regular season standings is very, very slim. The last time a non-Gonzaga or BYU team won the conference tournament was all the way back in 2008. Pepperdine last won the tournament in 2006, meaning that the Waves' last brush of major success was at an ancient time when JamesUBlunt and Jibbs were relevant. Don't know who Jibbs is? Exactly. Still, college basketball can be full of surprises, so here are some Waves (home) games to watch:
11/13: Pepp vs. Army: In which the Waves play their first game of the season. All that promise, all that excitement!
12/21: Pepp vs. Gonzaga: In which the Waves take on the toughest team in the conference. We're projected to lose, but anything can happen. Would you want to miss a potential upset? Didn't think so.
12/23: Pepp vs. Portland: In which the Waves play the only WCC team ranked lower than them in the official coaches' poll. If you're the kind of person who hates watching your team lose, this is your safest bet.
1/30: Pepp vs. BYU: In which it's essentially the same scenario as Gonzaga, just that the players are all three years older. And might have their husbands (and kids?) in attendance.
2/27: Pepp vs. Loyola Marymount: In which there's a rivalry? Kind of? To be completely honest, I've never felt any animosity towards the Lions, but a semi-fake rivalry is better than none. And LMU is projected to be weaker than usual, so the Waves have a decent chance of toppling them.
__________
Follow Pepperdine Graphic on Twitter: @PeppGraphic