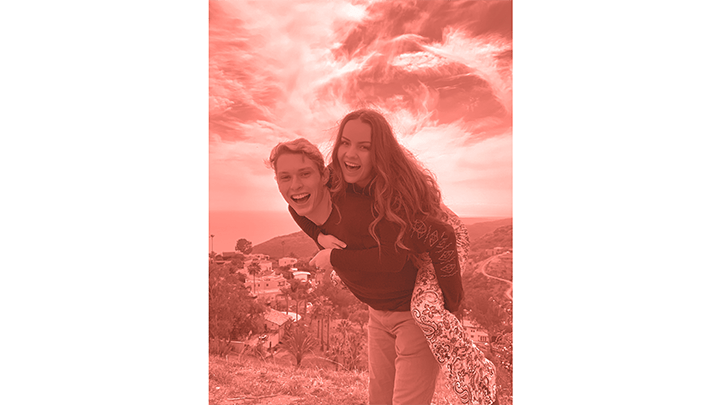 Photo courtesy of Alaina Trofler
Senior Alaina Trofler has been taking things extremely slow with her boyfriend, Bailey Sincomb.
Trofler and Sincomb started dating seven years after they first met. They've been a couple for two and a half years — and this is still just the beginning of their relationship. Because they've been growing and learning together, Trofler said she believes this relationship is her healthiest one yet.
"He's been with me since sophomore year, so I've spent all three years of college, besides freshman year, with him," Trofler said. "He's been a great support, and I'm excited to see where we end up."
The two met in seventh grade, where they were in several classes together. Trofler said she knew Sincomb always had a crush on her, but she didn't like him back then.
"It was like his group of friends that told me, 'Oh, Bailey likes you' and I was like, 'Whatever,'" Trofler said.
Even in high school, Trofler said she didn't like him. But, knowing that Sincomb liked her, Trofler gave him a chance when they went to prom together during their junior year of high school.
"I was giving him an opportunity to make this become more, and he didn't really take the opportunity," Trofler said. "We went and everything, but we didn't dance together at prom. We didn't do anything after."
It eventually worked out for the pair when they reunited after Trofler's first year at Pepperdine during a get-together with friends back in their hometown, Joshua Tree. Since she and Sincomb shared the same friend group, Trofler said they would still hang out together.
"I went to his house, and something clicked in me, and I was like, 'Oh, I like you,'" Trofler said. "It was so weird."
That summer, Trofler and her friends took a trip to Mexico, where she and Sincomb officially decided to become a couple.
Their relationship started long distance, Trofler said. During Trofler's sophomore year, she was studying abroad thousands of miles away in Argentina, while Sincomb was at home in Joshua Tree. During Trofler's junior year, she was in Malibu, while Sincomb — who started attending a metal fabrication and welding trade school — was in Rancho Cucamonga, California. However, during the summers, Trofler and Sincomb were able to spend time together in their hometown.
Trofler said their relationship evolved in a healthy manner despite the distance between them. Through daily conversations and open communication, they are still growing together.
"If you're in a long-distance relationship and you don't feel like things are still moving, like you're still growing in the relationship, then it might not be right, or you need to talk about it and figure out why you don't feel like you're growing," Trofler said.
One aspect of their relationship Trofler said she really appreciates is how they have always respected each other.
"I think a lot of girls think it's normal to fight really aggressively with their boyfriends and it's not," Trofler said. "You should always be in a relationship with someone who respects you even when you're fighting and won't call you names, like he's never called me anything, not even jokingly."
In her past relationships, Trofler said she was often getting gaslit and found herself unable to bring up the problems she was worried about. But now with Sincomb, she said she has learned to trust.
Currently, Trofler lives in Calabasas and Sincomb is in North Hollywood, so the two are only a half-hour apart. After she graduates from Pepperdine this year, Trofler said she and Sincomb are planning to move in together, which is a big step in their relationship. At the moment, they aren't yet looking at engagement.
"This whole relationship started super slow — we were friends for seven years first, and then we got together," Trofler said. "So now it's like, 'Why rush things? Why rush something that you want to last forever?'"
_______________________
Email Jessica Wang: Jessica.wang@pepperdine.edu
Follow Currents Magazine on Twitter: @PeppCurrents and Instagram: @currentsmagazine