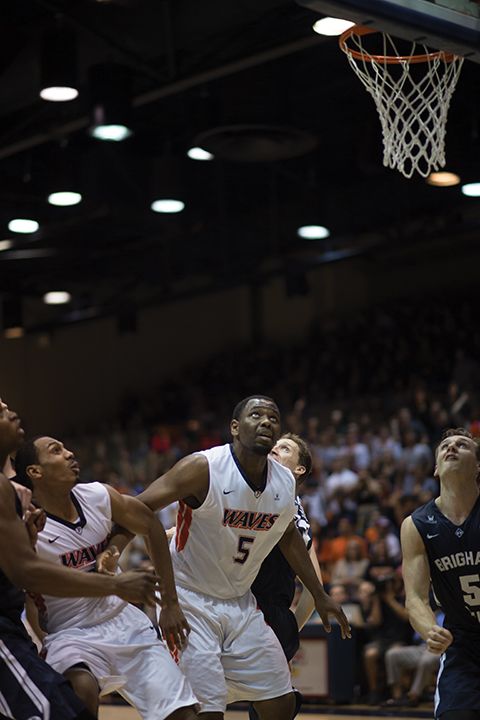 Photo by Matt Benton
It was fun while it lasted, right?
In a season where a great deal was accomplished throughout the past six months, the men's basketball team's 2014-15 season came to a conclusion in the first round of the College Basketball Invitational with a 62-45 loss to the Seattle University Redhawks in the Pacific Northwest.
The Redhawks started the game off with a 3-pointer, but the Waves rallied and took a 7-3 lead within the first few minutes. However, Seattle bounced back on a 12-1 run to take a seven-point lead as Pepperdine went ice-cold, scoring one field goal in an eight-minute span. At the break, the Waves trailed 29-24, but coming out of intermission, the Waves could not get things going, falling behind by 12. They spent the remainder of the game trailing by double digits and ultimately fell to the Redhawks.
Despite the loss, the Waves finished with a record of 18-14 and had one of the school's best records in recent history. In a season filled with highlights, the Waves captured their first postseason appearance and most overall wins since 2002, the first winning league season, best WCC finish (the Waves finished in fourth place), the first WCC tournament semifinal appearance since 2004 and their first winning record since 2005.
The Waves led the entire nation in 3-point defense (28.2 percent), became just the fourth WCC team to win in Provo, Utah since BYU joined the conference, gave Gonzaga a run for their money in two tightly contested matchups, were the first WCC team to amass a total of three victories in one season against Gonzaga, Saint Mary's and BYU, and swept the season series from rival LMU for the third straight year. They have all these season successes to build upon.
In fact, there is much to look forward to next season, especially with no Waves leaving the program due to graduation. That's right: The entire team will return for another season in the orange and blue next year — with more experience and a hunger to win.
Junior forward Stacy Davis was named to his second consecutive All-WCC first team selection, along with junior forward and All-WCC honoree Jett Raines as well as All-WCC freshman guard Shawn Olden. All three will be back for another year, looking to climb up the ranks in the WCC and serve as a tough competitor for their rivals.
Although it will be a long seven months until we see the Pepperdine men's basketball team take the court again donning their orange and blue armor with Head Coach Marty Wilson at the helm, there is only one thing to look forward to, come October 2015.
The tides will be rising.
__________
Follow Arthur Puu on Twitter: @arthur_puu