Tennis legend Mayar Sherif poses at the net in her native Egypt earlier this year. After her unprecedented run to a tennis Grand Slam, Sherif has become a celebrity in her home country.
Photos courtesy of Mayar Sherif
Born in Egypt but growing up in Spain and spending two seasons at Fresno State, Mayar Sherif arrived at Pepperdine looking for the opportunity to take her game to the next level. Four years later, she's a trailblazing professional coming off a breakout performance on one of the tennis world's biggest stages.
Although she only spent two years in Malibu, Sherif made a huge impact on the Pepperdine program. She is one of four Waves ever to reach an NCAA Singles Championship semifinal. She climbed to a top-10 ranking in singles, a No. 1 overall ranking in doubles, and a 33–9 career singles record at Pepperdine, including a 19–1 mark during her senior season.
Since graduating in 2018, Sherif has represented Egypt successfully at the international level and worked her way up the world singles rankings. This September, she made the main draw of the French Open, becoming the first Egyptian woman ever to do so.
In the fifth installment of the "Where Are They Now?" series featuring former Pepperdine student-athletes, the Graphic caught up with Sherif in Florida, her latest stop on tour while she continues the grind of being a top-200 tennis player working to reach more Grand Slams. Previous installments covered Stacy Davis, Kelley Larsen, Quincy McAfee and Dave Wieczorek.
Although she is from a country that hasn't produced any successful tennis exports, Sherif was born into a family passionate about the game.
"My parents love tennis," Sherif said. "They always watch tennis, so they basically got me into the sport. Then I fell in love with the sport, and it became my way of life."
Sherif has three sisters, all of whom play tennis at the national level. Sherif's older sister played college tennis at Fresno State, where Sherif played there with her for two seasons, then transferred to Pepperdine after her sister graduated.
As a child, Sherif spent time living in Spain, home to some of the world's great clay-court specialists like Rafael Nadal. Sherif said moving to college tennis, which plays exclusively on hard courts, helped her game become more well-rounded.
"I grew up all my life playing on clay, so I had to adapt and develop my game for hard court," Sherif said. "[Pepperdine Head Coach] Per [Nilsson] worked with me so much on my game and how to use my game to be a better player."
In just a little over a year and a half on the pro tour full-time, Sherif has shot up the Women's Tennis Association world rankings. At the end of October 2020, she ranked No. 164 in the world — a career high to date.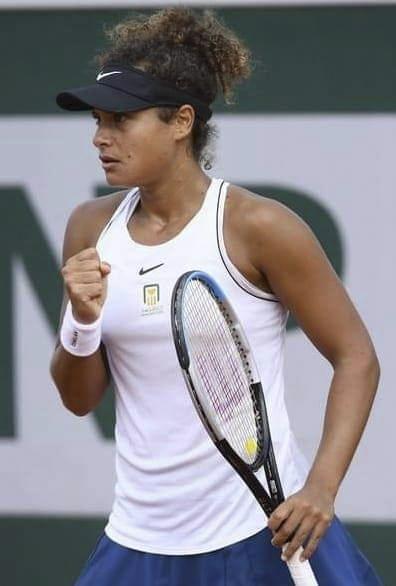 On the International Tennis Federation circuit, which is the developmental series for the WTA, Sherif has already won eight singles tournament titles and six doubles tournament titles. But Sherif said the life of an ITF tennis player is physically, mentally and financially draining.
"It's tough out there," Sherif said. "I think the tour is a bit not fair because when you come in with no points and no ranking, you have to spend a lot of money investing in yourself."
While Sherif gets to travel around the world to play in tournaments, it happens on her dime without an immediate return on investment.
"You don't really make money until the top 200, and you don't get good money until the top 100," Sherif said. "But to get to the top 200, you have to spend on accommodation, flight tickets, hotels, food, the salary of your coach, the salary of your fitness coach, the salary of your physio. Because I live in Spain instead of my home country, I have to rent an apartment, I have to buy a car. All of this is very expensive."
Sherif is one of the lucky ones — a player who has broken into the top 200 after just a year. But she had to take the leap of faith while not knowing when, or even if, that would ever happen.
Sherif said it's important to keep motivation up with tennis' frustratingly streaky nature.
"You're traveling 25 to 35 weeks out of the year, and you might lose for five weeks in a row," Sherif said. "You play at your best for three or four weeks out of the year."
Fortunately for Sherif, her good run of play in 2020 coincided with the lead-up to the French Open, one of tennis's four Grand Slams, along with the Australian Open, U.S. Open and Wimbledon. Since the other three Grand Slams take place on either hard courts or grass, the French Open is considered the premier clay-court tournament in the world.
Sherif needed to compete in a qualifying tournament prior to the start of the main draw. She had to win three consecutive matches to obtain one of the 12 qualifier spots in the 128-player main draw. Sherif rolled through Maria Osorio Serrano, Caty McNally and Giulia Gatto-Monticone without dropping a set.
"I had so much confidence after I qualified because I was playing better every match," Sherif said. "It worked out for me so well."
Becoming the first-ever Egyptian woman to make a Grand Slam, Sherif faced Karolina Pliskova, the tournament's No. 2 seed and a former world No. 1 who was ranked fourth in the world at the time. Sherif rode her qualifying momentum to take the first set in a tiebreak, but Pliskova rallied to take the next two sets and the match, 6–7 (9), 6–2, 6–4.
"I was honestly in shock," Sherif said. "I wasn't playing my best. I believe I could've won that match. And at some point in the first set, I was like, 'This is where the level is? This is the highest level?' Because this girl is one of the best in the world, and I was so close to beating her when I had so many things to work on and so many ways to improve."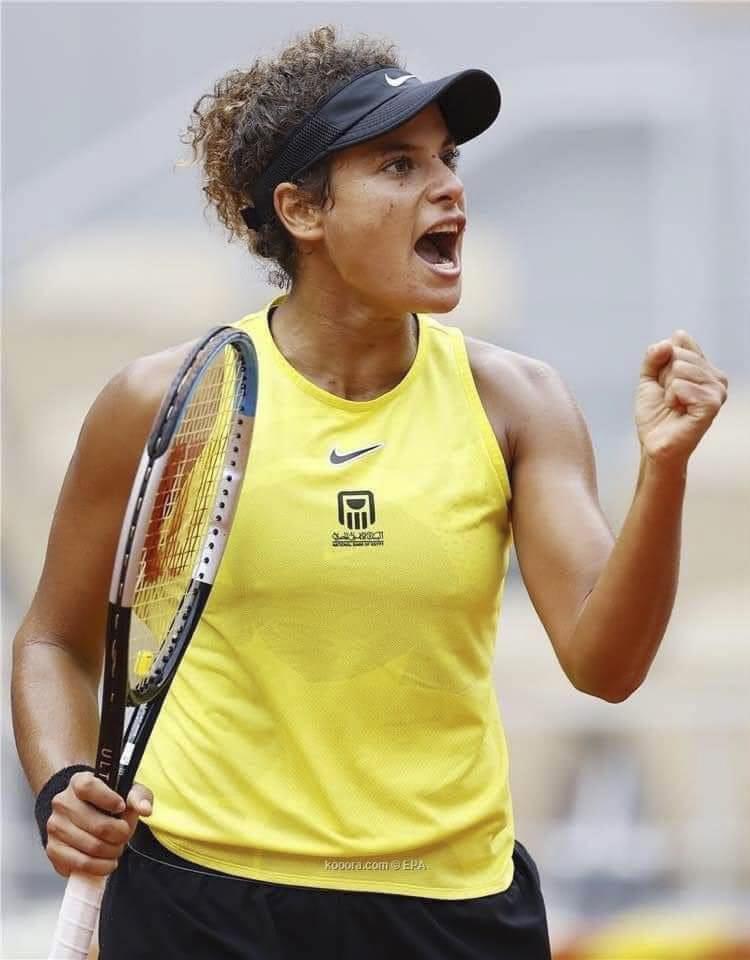 While Sherif said she had an amazing time at the French Open, it was just as significant for whom she got to share the experience with.
Because of Pliskova's high ranking, Sherif played the match on Centre Court, the main arena at Roland Garros in Paris. Sherif's former Pepperdine doubles partner, Luisa Stefani, got to warm her up on the court before the game. Stefani does not play singles on the pro tour but has become an accomplished doubles player who made it to the round of 16 at this year's French Open with partner Gabriella Dabrowski.
Sherif's match with Pliskova had a big stage at Centre Court but an even larger one in Egypt.
"Most of Egypt got up to watch that match," Sherif said. "Some people left their work to watch it. When people were telling me those stories — I don't know how to describe it. It's all I've ever wanted to bring attention to tennis in Egypt."
After her French Open appearance, Sherif briefly returned to Egypt as a hero and appeared on a couple TV shows. Egyptian soccer player and Liverpool superstar Mo Salah shared multiple messages of support for Sherif on social media. Sherif said fans recognized her on the street in her home country.
"People ask me to take pictures and get my signature," Sherif said. "It's such a good feeling to be the person who made the Egyptian population know about tennis, or that there's someone out there playing tennis. People didn't know tennis before I played that match."
While the fame is nice, Sherif said she is already back to work. She competed in ITF tournaments in Georgia and Florida in the past two weeks. She said she plans to represent Egypt at the international level in the Billie Jean King Cup, the women's tennis' international team competition previously known as the Fed Cup, which she has done already. She is also on course to qualify for the 2021 Olympics, which would make her the first Egyptian female tennis player to compete there, too.
Sherif said her immediate goals are to play more matches and improve. Next year, she's shooting to move up in the rankings and return to more Grand Slams.
"Right now, [I will] just play tournaments and enjoy competing," Sherif said. "All the world is stopped right now, and we're so lucky to be able to compete. If next year gets back to normal, our goal is to reach the top 100."
____________________
Follow the Graphic on Twitter: @PeppGraphic
Contact Paxton Ritchey via Twitter: @paxtonritchey_ or by email: paxton.ritchey@pepperdine.edu