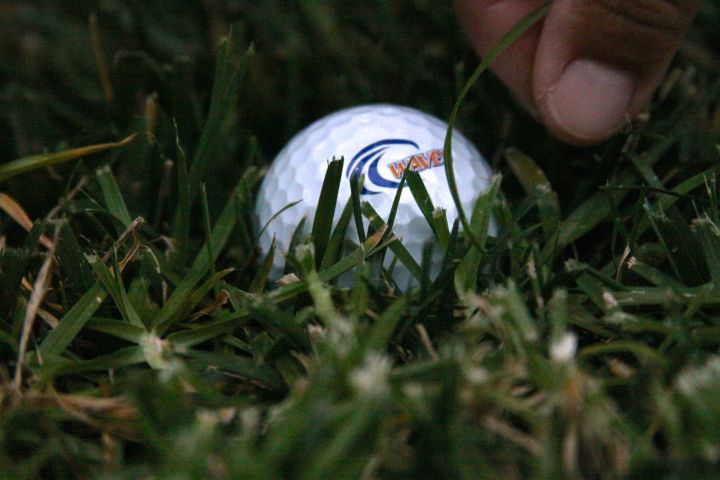 Photo by Shawn Jones
Waves wrap up Warrior Princeville Makai Invitational in Kauai, Hawaii with a 10th place finish and a record-setting win by junior Frederick Wedel. Men's golf team ranked 10th out of 15 the first day and remained there until the end of the tournament. This three-day tournament capped the Waves' fall season.
By the end of the first day, Wedel pulled into the top spot with a one-point lead and shot 8-under 64 to tie the second-best 18-hole score in Pepperdine history. Stiff competition left a two-point difference between Wedel and the sixth placeman.
Wedel shot two eagles, five birdies and one bogey in order to secure first place on day one. Not simply a stroke of luck, Wedel's summer season culminated in a semifinal finish at the U.S. Amateur Championship.
"I've been playing well since last spring and especially over the summer with the U.S. Amateur … That's given me a whole lot of confidence and faith in my game," Wedel said.
Senior Kevin DeHuff golfed a strong 4-under 68, landing him in 12th place after day one. Redshirt sophomore Cody McManus tied for 58th. Sophomore Robin Kang and freshman Anthony Cecere tied for 81st, rounding up the Waves' roster on the green.
On day two, Wedel was still the man to beat, four strokes ahead of the competition with 90-under 63. With a 17-under 127 finish, Wedel topped the previous 14-year school record of 11-under 127 held by Jason Allred. His domination the first two days had been a long time coming this fall, said Wedel.
"I like the set up of the golf course, and I've been extremely close to playing well, but haven't gotten anything out of my rounds so it's been frustrating," Wedel said. "Everything finally clicked this week, and I was firing on all cylinders. Hit the ball great, putted great and just played smart golf."
DeHuff continued his second straight below-par round, standing tied at 17th with 5-under 139 with four birdies. McManus sat at 63rd while Cecere tied for 73rd and Kang at 82nd. After 36 holes, the Waves ranked ninth in tournament standings and solidified their 11-under as ninth best in program history.
Wedel captured his first collegiate tournament win with a decisive third-day victory and yet another program record of 20-under 196 for 54 holes. The 4-year record has ben held by three time All-American Andrew Putnam in 2007. Throughout the Warrior Princeville Makai Invitational, Wedel totaled four eagles and 16 birdies and finished the tournament three strokes ahead of second-place Ollie Schniederjans of Georgia Tech.
"I am looking forward individually to having a solid spring and carrying over this success into the new semester. It gives me a huge confidence boost moving forward, and I know I can beat the best in the world now."
Pepperdine tops off at 10th with DeHuff tied for 29th, McManus at 55th, Cecere tied for 67th and Kang 82nd. After a finale of high momentum and low scores, the Waves will wait for commencement of spring season with the Arizona Intercollegiate Tournament, Jan. 26-27.
__________
Follow Stasia Demick on Twitter: @sdemick12