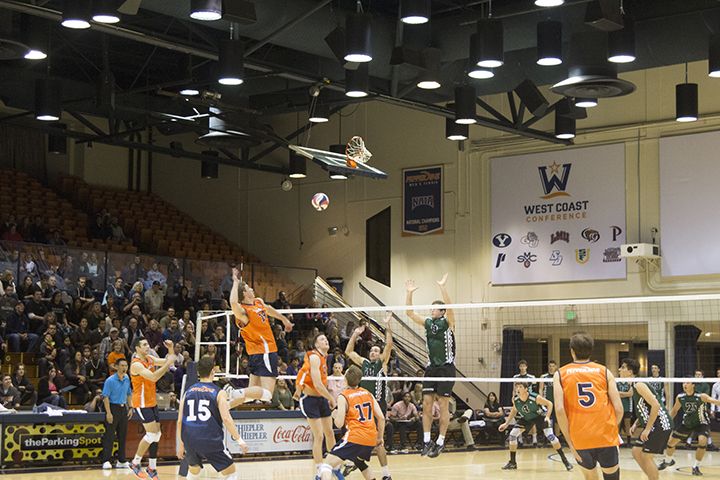 Photos by Amelia Del Pra
Last night the Waves rolled over UC San Diego in three straight sets.
Following a successful 2015 campaign (24-6) that ended bitterly with a disappointing loss to UC Irvine in the MPSF conference championship match, then a snub from the NCAA Championships selection committee, Pepperdine's men's volleyball team has its sights set on returning to its postseason glory. After sweeping their competition in exhibition play and claiming the Can-Am Challenge title, the Waves looked to build off of their early success as they began their regular season schedule.
In their opening match of the 2016 season, the No. 11-ranked Waves came out firing on all cylinders, as they dismantled Concordia-Irvine in three sets, 25-18, 25-14, 25-14. Leading the effort for the Waves was sophomore Colby Harriman, who had 10 kills along with a career-high four aces. After notching their first win of the season, Pepperdine would face an early season challenge, going up against No. 5 Hawaii in a two-day, two-match showdown in Malibu.
In their first taste of conference play, the Waves made an immediate statement, knocking off the Rainbow Warriors in three sets. Senior Matt Tarantino dominated in the first match, amassing 13 kills to lead the Waves.
"Every win in conference is really important," Tarantino said. "Each night is a battle and all the teams compete at a high level. Any time we can get a win it is getting us closer to where we want to be."
In the following day's rematch, Hawaii would answer, dealing the Waves their first defeat of the season. The two teams split the first two sets, but the Rainbow Warriors would go on to close out the match in four sets, winning 3-1. Despite the loss, Matt Tarantino continued his brilliant play, setting a career-high in kills with 16.
With the first few games now under their belts, the Waves are ready to get into the thick of conference play. While it is very early in the season, it's no secret what the Waves look to accomplish.
"The one thing that I have always wanted in my career is to win a national championship," Tarantino said. "I think every person comes to Pepperdine to compete for a national championship, so I think that would be a great achievement."
While a national championship may seem like a tall order, it isn't all that unrealistic. After all, the Waves do have five national titles to their credit, the most recent coming in 2005. Pepperdine's men's volleyball has a storied tradition of winning. There's no reason to think that we won't see more of the same this year.
________
Follow Steven Baer on Twitter: @StevenBaerJr