Photos courtesy of Lia Thomas
Several Pepperdine athletic teams volunteered at Leo Carrillo State Beach this past weekend with Ride A Wave, an organization that strives to give physically, developmentally or economically challenged children a safe, fun-filled day at the beach. The Waves partnered with attendees and built sandcastles, boogie boarded, ran through obstacle courses and did arts and crafts. The participants also got the chance to surf with professionals.
"It was awesome to see all the incredible opportunities that Ride A Wave provides for the kids. My buddy participated in every activity they had available. He was just so excited about everything," said senior Abby Crawford of the Women's Swim and Dive team.
Ride A Wave (RAW) is a nonprofit organization headquartered in Santa Cruz, California. The volunteers who work for the program assist children up and down the coast of California at beach camps throughout the year. This was the 25th year that RAW has come to Malibu in coordination with the Malibu Board Riders Club to help children have fun in the sun.
Senior Bri Visalli of Women's Soccer discovered Ride A Wave through her father in her hometown of Santa Cruz several years ago. She contacted the Malibu Board Riders Club in hopes of joining their group of volunteers when she found out they helped host the beach camp in Malibu. They gladly accepted and invited her to bring as many volunteers as she could.
Thinking this would be a great way for Pepperdine Athletes to get involved in the Malibu community, she said reached out to all the teams on campus asking them to volunteer for the day. For the past four years, athletes have actively been a part of the RAW program and its beach day at Leo Carrillo. This year, 45 Pepperdine students volunteered with RAW.
For the Waves and all the other volunteers staffing the event, the day began at 8:30 a.m. With coffee and muffins to look forward to, everyone got right to work setting up tents, organizing wetsuits and helmets for the children, building the obstacle course and lining up surfboards along the shore. The children and their families began to arrive at 9:30 a.m.
Ride A Wave places great importance on safety during their beach camps, as they state clearly on their website, starting with their specially trained tandem surfers and extending to the group safety talk prior to any activities taking place. Even a stretching session is implemented to proactively prevent injuries in the water and on the beach. As soon as safety was taken care of, the children were off.
They got suited up with helmets, wetsuits and lifejackets and teamed up with a tandem surfer. No matter their level of skill or ability, every child who wanted to surf got the chance and caught at least one wave with their surf buddy.
When their surf session was over, they headed in for beach activities. With a station for face paint, tattoos and hair dye, the children and volunteers had a ball drawing silly things on their faces and dying their hair strange colors. Sandcastles were constructed using shovels, rocks and pails and the obstacle course provided fun competition for all.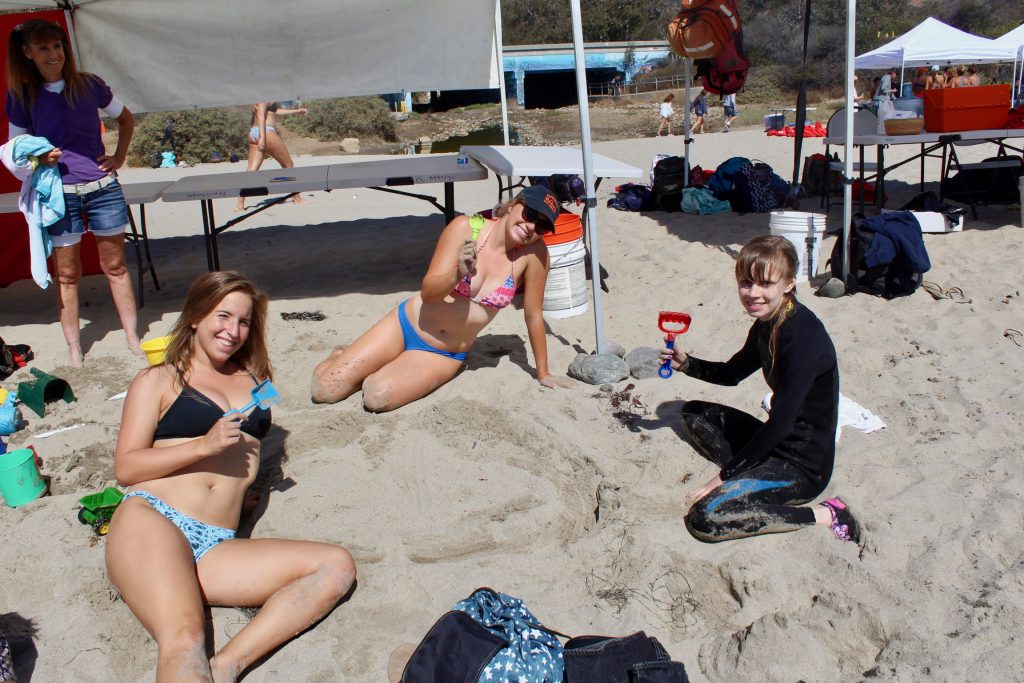 After a brief break for lunch, the RAW volunteers conducted the awards ceremony. Each participant's name was read and they got to run through the gauntlet, giving high fives to the cheering crowd. At the end of the line, the children received a medal and a goodie bag full of prizes.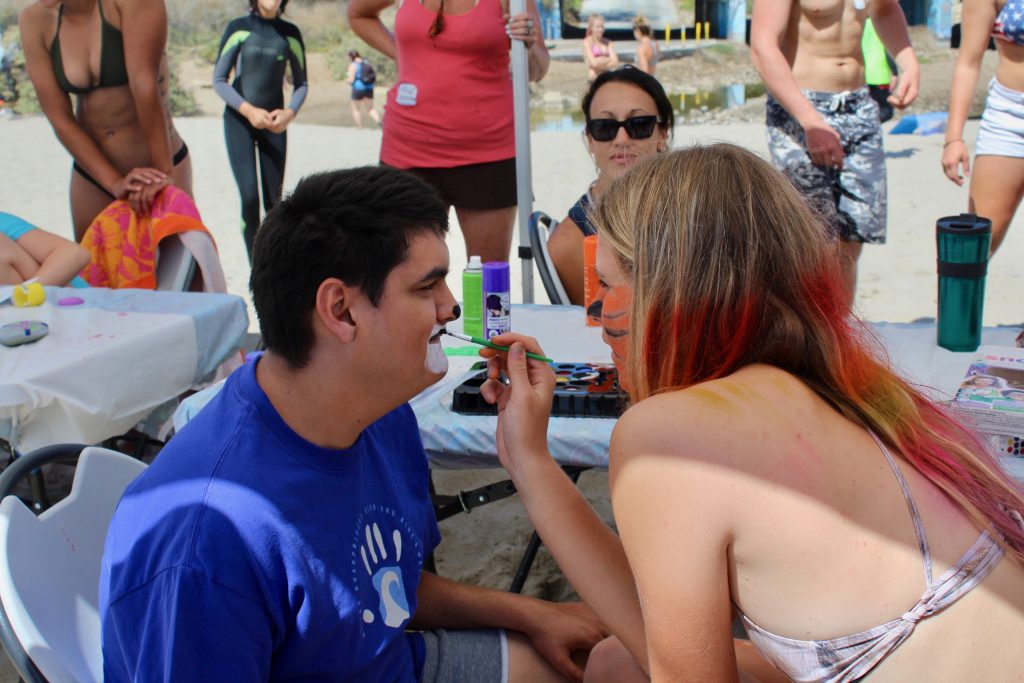 The Waves' Perspectives
"I thought it was so cool how [the RAW volunteers] got all the kids out in the water to surf," said sophomore Cori Persinger of Women's Cross-Country. "My buddy was in a wheelchair and I figured from the get-go that we were just going to be hanging out on the beach, but they actually got him out on a board that had a chair on it for him to sit in. I watched him ride three waves and it was just awesome."
"I had two little sisters, and one of them was really afraid of the water so we started her out on the kayak, but by the end she was out there surfing and having the time of her life," said sophomore Sam Maness, also of Women's Cross-Country. "It was just awesome to see her transformation in just a few hours. They both left with smiles on their faces and so did I."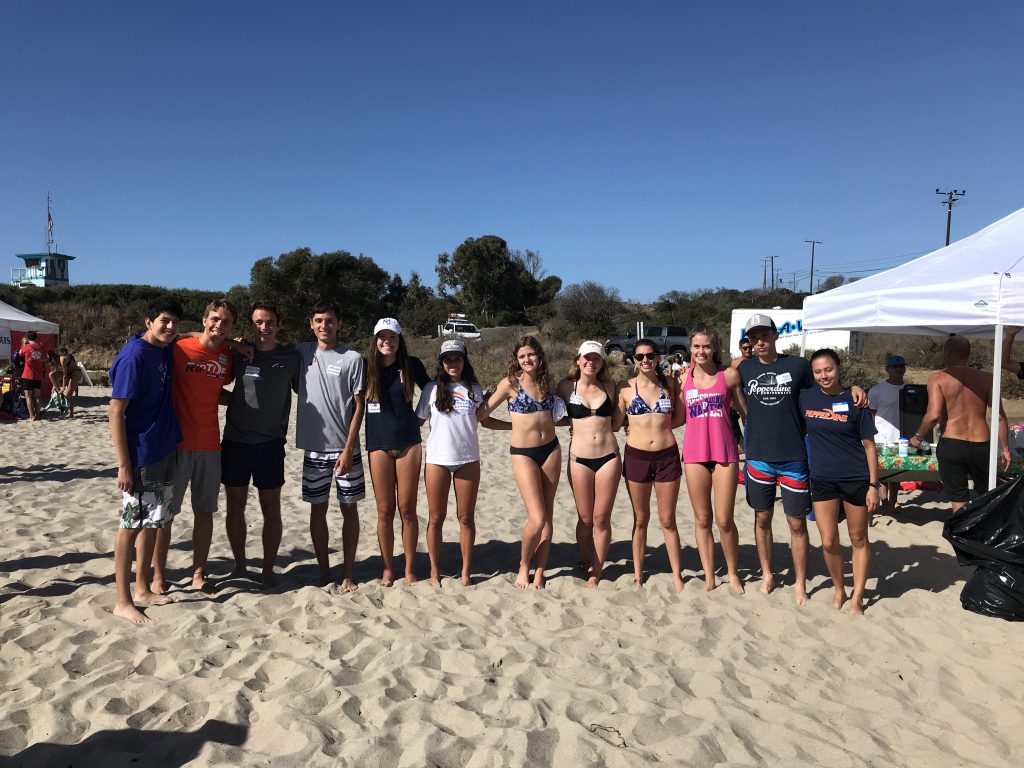 (Men's and Women's Cross-Country)
"It was amazing to hang out with the kids," said senior Lautaro Pane of Men's Tennis. "Ultimately I think both me and my buddy enjoyed the whole day together. We had a lot of fun."
(Lautaro Pane and Pedro Iamachkine of Men's Tennis)
"It really means a lot to see the smiles on their faces," said Visalli of all the kids she interacted with during the event. "There's nothing more gratifying than getting to see your participant, even those who can't walk, be able to surf. Some kids can't verbally communicate, but you can see the expression on their face and the pure joy and happiness makes everything worth it."
(Women's Soccer)

___________________________
Follow Sam Marlott on Twitter: @sam_marlott