Photos and image by Kyle Cajero
Author's note: If I learned anything from Pepperdine Journalism professor Wendy Fontaine's Journalism 241 class, it's never to bury a lede. In order to honor her during her last semester as a Pepperdine professor, I'll take her advice.
Pepperdine was walloped 93-67 at USC on Sunday for the Waves' fifth-straight loss. In a game that was never close, the Waves gave up the most points thus far in the season (before playing the Trojans, Pepperdine gave up 91 to Portland State on Nov. 27), shot a paltry 38.2 field goal percentage and helped the Trojans set a school record with 14 blocked shots.
This loss wasn't a surprise, as far as numbers go. The Waves were 19-point underdogs against the Trojans, who have not only had one of the best starts in school history, but also are one of six remaining unbeaten teams in college basketball. Furthermore, the game pitted USC's 32nd-ranked offense against Pepperdine's 268th ranked-defense, according to kenpom.com's metrics.
Naturally, USC shot the lights out. USC shot 56.6 percent from the field and an astounding 52.2 percent from 3-point range. Coming into the game against Pepperdine, USC connected from deep at a 34.7 clip (181st in the nation, according to sports-reference.com). But facing Pepperdine's porous 3-point defense shot the Trojans up the national rankings to 133rd.
Even though I saw the game in person, CBS's game flow chart on Pepperdine's athletic website provides an accurate, but not accurate enough visual of USC's offensive explosion. So I tweaked it: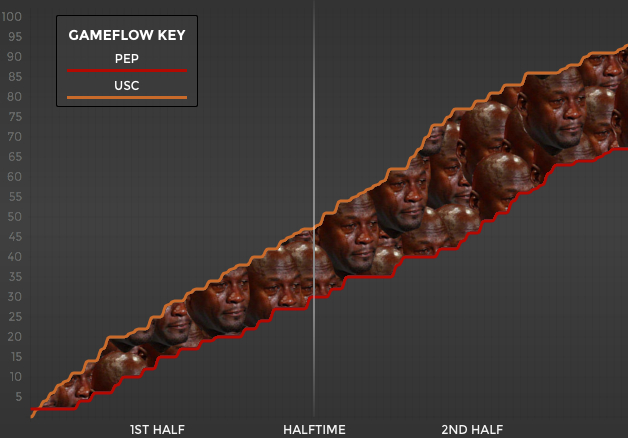 After grasping a 2-0 lead for 1 minute and 20 seconds, the Trojans went on a 9-0 run, which not only put the game out of reach, but also unearthed a long-dormant chasm of Crying Jordans (as shown by the above graph). Pepperdine trailed by 18 points at the half and the Waves only pulled within 20 points once during the second half.
Speaking of Crying Jordans, the 2,928 fans in attendance had Crying Jordans plastered on their faces as well. Pepperdine didn't help the USC crowd earn free Chik-Fil-A by missing two consecutive free throws. More importantly, the Waves only turned the ball over 11 times, which was three turnovers short from giving one lucky fan a VIP package for the Trojans' next game against Troy University. Turnovers have plagued the Waves this season — their turnovers have been in the double-digits in all but one game (vs. Belmont) this season — which, combined with their lackadaisical defense, has led to several big losses.
On the bright side, senior forward Chris Reyes had his fourth double-double on the season; the Utah transfer scored 13 points on 50 percent shooting while also snagging 10 rebounds. The game against the Trojans also marked the ninth game in which Reyes has made at least 50% of his field goal attempts, which leads the Waves.
Pepperdine will begin its conference schedule on the road, first facing the Gonzaga Bulldogs on Dec. 29, followed by a Dec. 31 game against the University of Portland Pilots. The Waves' next home game is on Jan. 5 against their crosstown rival, Loyola Marymount.
___________________________________
Follow Kyle Cajero on Twitter: @kylecajero