Graphic by Krystal Zhang
As spring break approaches, Pepperdine's Counseling Center and Health and Wellness Department will host an outreach program surrounding the use of alcohol and other drugs.
The tabling event is open for students to come and participate in an anonymous screening and survey Tuesday at 11 a.m. at the landing above the Rock. Counselors will be present at the event to discuss survey results and answer any questions. In addition, they will be handing out educational materials and information about Pepperdine's campus going smoke free.
Alcohol and Drug (AOD) Coordinator and Counselor Sparkle Greenhaw discussed the importance of the event.
"We want students to have the best travel experience for their spring break," Greenhaw said. "We want to educate them on how to be safe and have a good time without alcohol getting in the way."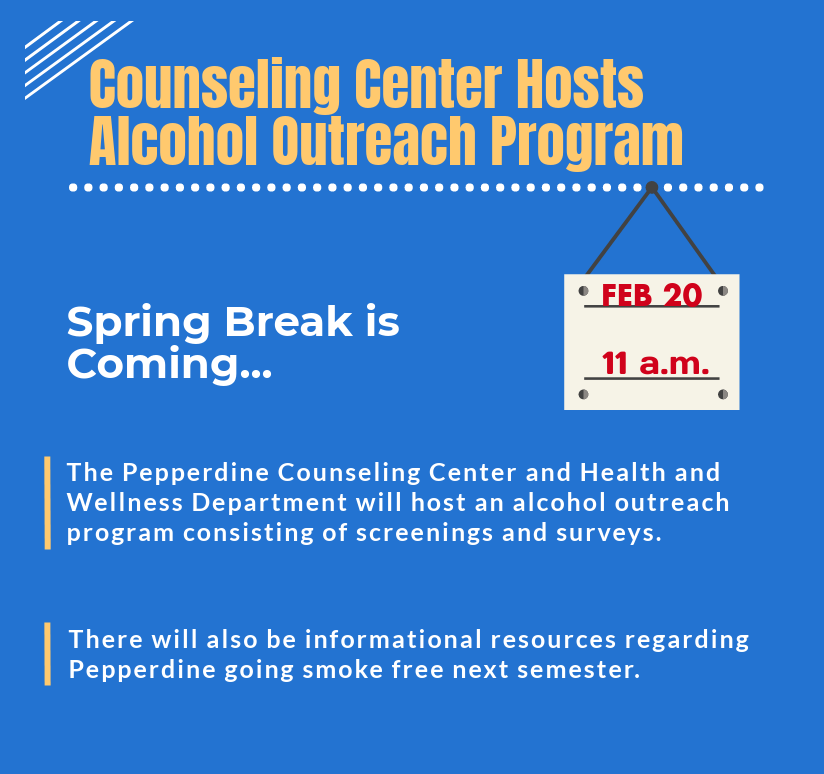 Health & Wellness Education Coordinator Allie McIntosh wrote more on the specifics of the event in an email statement. McIntosh explained students will first go through a screening, then complete a survey.
"The students will walk through an anonymous screening with counselors and address their individual drinking behaviors, as well as what a student thinks he or she might do if they encountered a situation where someone was experiencing alcohol poisoning," McIntosh wrote. "By talking through possible scenarios, we can better prepare a plan of action."
The surveys are provided to teach students about possible addictive drinking habits and misconceptions about drinking, McIntosh wrote. Students will then have a chance to go over their survey results with a counselor and ask questions.
Greenhaw and McIntosh both discussed their departments partnering with the Student Health Advisory Board (SHAB), a student health group, for the event. SHAB will be providing resources on how to quit smoking in light of Pepperdine becoming smoke free next semester.
Junior Hannah Robert, who is on the executive board for SHAB, wrote in an email statement how the event will help students who are current smokers.
"There will be resources offered," Robert wrote. "There are many accredited clinics in the LA area that are helping us with these tips that will assist students in this journey. We have been mindful of the fact that this will be difficult for many students, and we are going to do what we can to assist them in any way."
SHAB will have a table where SHAB members will hand out information on smoking, vaping and cessation practices, Robert wrote.
There are two major goals for the event, McIntosh wrote in her email statement. The first goal being to assist students in ways to stop smoking and provide them with other options. The second goal being to have open conversation on the dangers of high-risk drinking.
"Second, despite the media and, sometimes, our own perceptions, high-risk drinking is not a normal part of the college experience," McIntosh continued. "This event is, in part, an opportunity for students to critically look at their own drinking choices and possible implications, but also to discuss ways that they could intervene in situations of alcohol poisoning."
There will be games, prizes and free Chipotle burritos aside from the drug and alcohol screening and survey.
The Counseling Center hosts monthly screenings, but if a student is looking for more personal instruction, Greenhaw advised students to visit their offices in the Tyler Campus Center 270.
"The Counseling Center is a resource for students," Greenhaw said. "If they want to sit down and talk with a counselor more in depth, they are encouraged to come to the Counseling Center."
_____________
Follow the Graphic on Twitter: @PeppGraphic