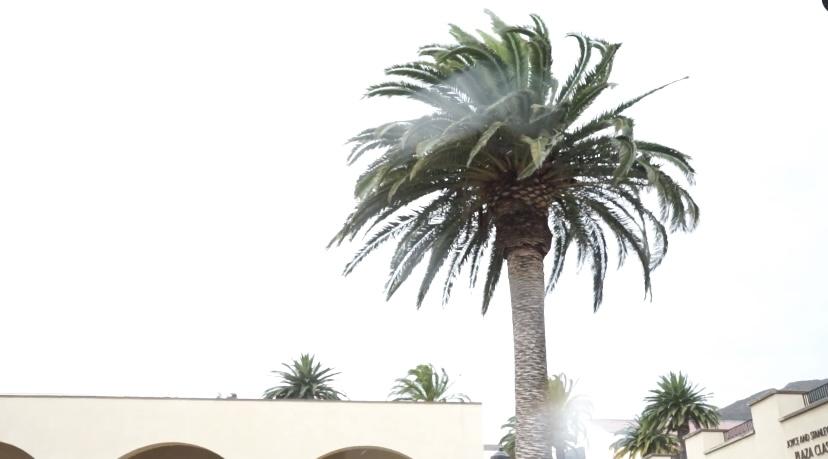 Tropical storm Hilary hit Southern California last week with strong winds, rain, lightning and thunder. In spite of this, classes resumed as scheduled for Aug. 21 — the first day of the new school year — wrote Emergency Services in an Aug. 21 email to the Pepperdine community.
The greatest impacts from Hilary in SoCal were predicted to occur from the afternoon of Sunday, Aug. 20, through Monday morning, according to the email. Los Angeles Unified School District canceled classes for Monday and all operations district-wide, according to CBS News.
California State University, Los Angeles also canceledclasses, but faculty, staff and students were expected to work from home.
"Facilities Services staff prepared the campus for the storm by clearing out debris basins, deploying sandbags, and Public Safety helped gather information from various agencies to inform University decisions," Emergency Services wrote in their Aug. 23 email to the Graphic.
Local Los Angeles stadiums and arenas canceled sports events such as an LA Galaxy game, both Dodgers and Angels games as well as shows, such as the My Morning Jacket and Fleet Foxes concerts at the Hollywood Bowl, according to CBS News.
On campus, Pepperdine moved up the women's soccer game on Friday from Sunday, Aug. 20, to Saturday, Aug. 19, at 3. p.m., to get ahead of the storm. The game ended in a tie, according to the Pepperdine Waves website.
Third-year transfer student Kylie Salinger lives in Krown Alpha and said she was eating dinner, when she and a friend, third-year transfer Annika Bentzen received a text that their hall had flooded. Salinger rushed back home to unplug any outlets for further safety and saw at least an inch of water soaking the floors and rugs.
"In a couple of the other suites, under their beds started to get damp, but none of it was as bad as Annika's room because we could quite literally splash around in there — but our RAs are so wonderful," Salinger said. "They were with us the entire time talking us through what to do."
Salinger said if she had one complaint about how it was handled, it was that it took DPS around 30-45 minutes to come down after the initial call.
"I know it was stressful for everyone, so I took that into consideration," Bentzen said. "I knew that he [her RD] was probably stressed too and all the DPS workers were probably overwhelmed because it was just a bad situation."
Bentzen and her roommates tried to salvage things on the closet floor that were drenched, and now Bentzen's room has to be re-located to George Page for a week while the carpet gets replaced, Salinger said.
"Obviously, it was an emergency, and everyone's stuff was getting soaked," Salinger said."If they hadn't come, it could have spread to the entire floor and they would have had to rip up all the carpet and figure out what was going on with that."
On Sunday, at 2:41 p.m., there was also a level 5.1 earthquake centered out of Ventura County that had at least a dozen aftershocks. There was reporting of shaking in Malibu, Oxnard, Porter Ranch, Santa Barbra and more, according to NBC Los Angeles. Many received emergency alerts on their phone that read "Earthquake detected! Drop, Cover, Hold On. Protect Yourself," according to X, formerly known as Twitter.
Members of the EOC met on a conference call at 5 a.m., on Monday to review conditions. They recommended that classes resume as scheduled, and the President and the Provost agreed, according to an Aug. 23 Emergency Services email to the Graphic.
"During the storm, Facilities Services and Public Safety employees monitored campus slopes, checked on debris basins to ensure they were functioning properly, and responded to various service calls for assistance from campus," Emergency Services wrote in their Aug. 23 email to the Graphic.
Pepperdine encouraged members of the community to drive safely and slowly, while leaving plenty of extra time in the morning, according to the email.
"All roadways remain open, including Malibu Canyon Road, Kanan Road, and Pacific Coast Highway, though it will be common to see rocks and other debris on the road at various times following a storm," Emergency Services wrote in an Aug. 21 school-wide email.
Pepperdine's email also included a road hotline, offering information on highways and roads in the area — 310.506.ROAD (7623).
____________________
Follow the Graphic on Twitter: @PeppGraphic
Email Beth Gonzales: beth.gonzales@pepperdine.edu