Photos by Moni Avila
The ladies of Delta Delta Delta sorority hosted a movement on campus to promote self-love and positivity surrounding body image known as "Tri-Love Week" Feb. 13-17.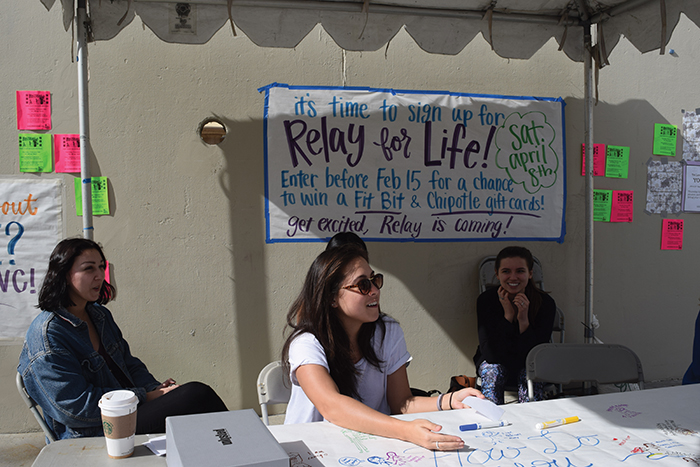 Held during the same week as Valentine's Day, "Tri-Love Week" was dedicated to reminding students of their own self-worth and guiding them toward healthy self-perception through a variety of creative activities and resources. The campaign is a national initiative for the Tri-Delta sorority, but the sophomore in-charge, Emma Stenz, added her own flare by refocusing the motivation of the movement and planning events like yoga on Alumni Park.
"This is the first time we have done this much, and so far I think it's gone really great," Stenz said. "This year I've been trying to put more emphasis on a person's self-worth beyond the physical appearance."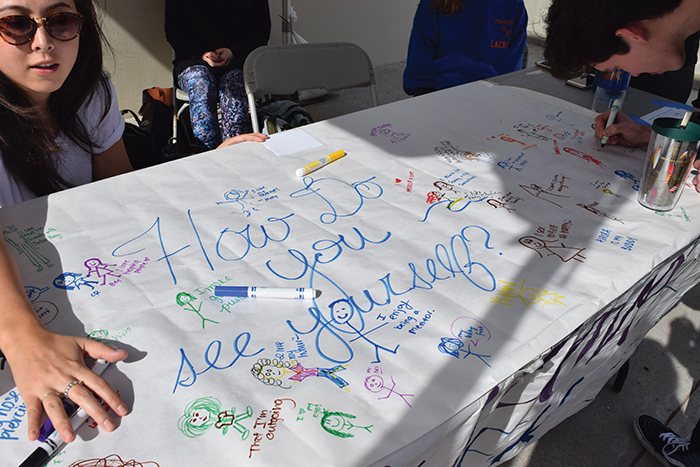 "Tri-Love Week" breaks down barriers and engenders openness of conversation for a topic that tends to feel touchy and uncomfortable, but Stenz notes that overall the student body has been receptive and encouraging of the message the Tri-Deltas share.
"It's always hard to be vulnerable with people you don't know," Stenz said, "but I have had six or seven strangers come up to me and tell me how happy they are that Tri-Delta has organized this week because so many people struggle with body-image and these are conversations that need to be had."
The power of the message of self-love and positive body image has not only impacted the Pepperdine community, but Stenz mentioned that it has had profound positive impacts on the depth of the girls' relationships within the sorority and each girl's relationship with her own body.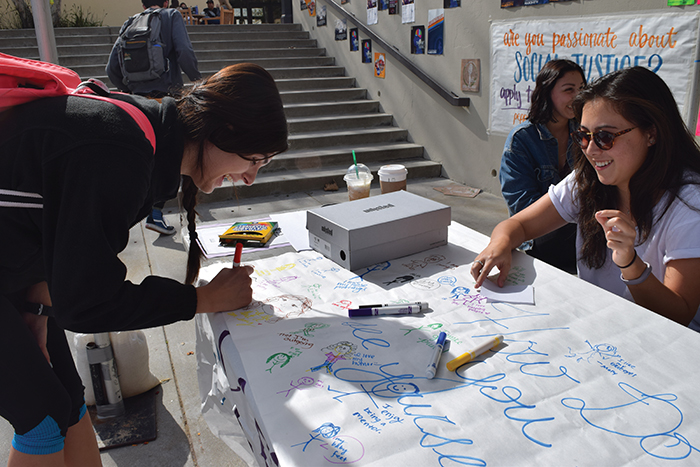 "It has created such a close relationship even among Tri-Delts, where we have gotten to talk about histories of eating disorders and just the daily struggle of insecurity that we go through," Stenz said.
Whether it is a moving moment of realization, or just a kind reminder from peer-to-peer, "Tri-Love Week" has inspired the Pepperdine student body to spread the love. One creative way the Tri-Deltas have been reminding students to love themselves is by handing out stickers that read "All bodies are good bodies."
"Self-love is something that is either talked about way too much or not at all," freshman Tri-Delta Savannah Welch said. "And raising awareness is just a cool way to say 'Hey, you're important and you matter.'"
___________
Follow Hannah Arledge on Twitter: @hannah_arledge