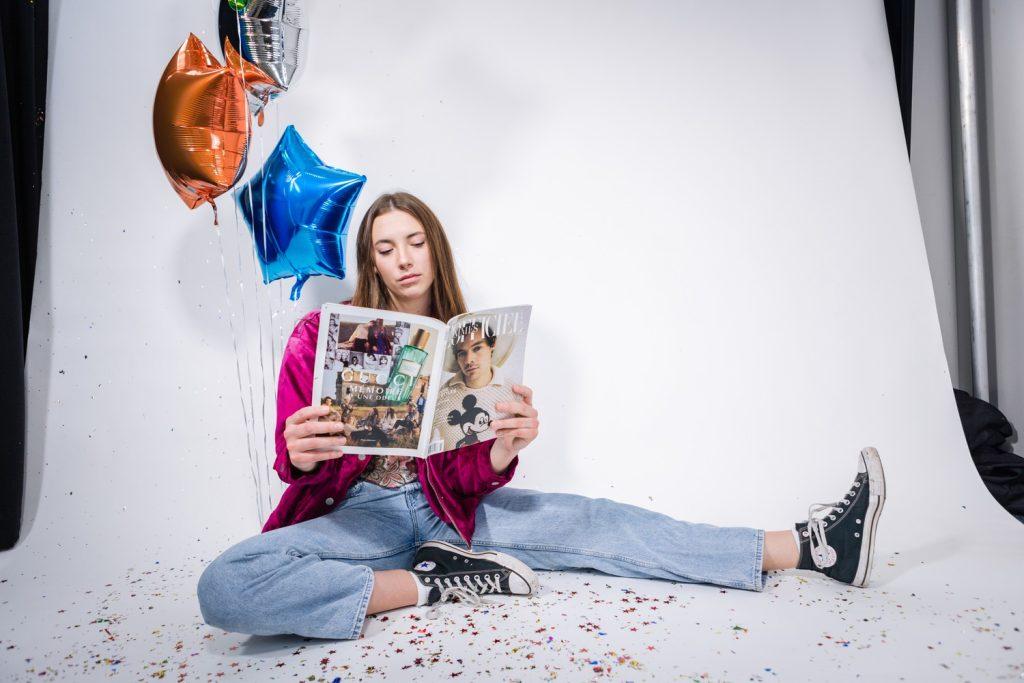 Jaclyn Wishard reads celebrity magazines, in touch with her inner pop star. Photos by Lucian Himes
When people think of a pop star, they may think of Harry Styles selling out 15 nights at The Kia Forum, Beyoncé's 32 Grammys or Selena Gomez's 380 million Instagram followers.
While they enjoy making art and performing, musicians said there are challenges today's pop stars face in both their work and their personal lives. These issues range anywhere from Madonna facing public speculation and criticism about her appearance to hip-hop artist DOT accusing Ariana Grande of stealing songs.
A lack of privacy, pressure to use social media and hindered musical creativity may prove challenging for them, but through it all, junior Spencer Williams said big fans like himself still connect to who they are and their work.
"They're artists and they're trying to change people's emotions and lives," Williams said.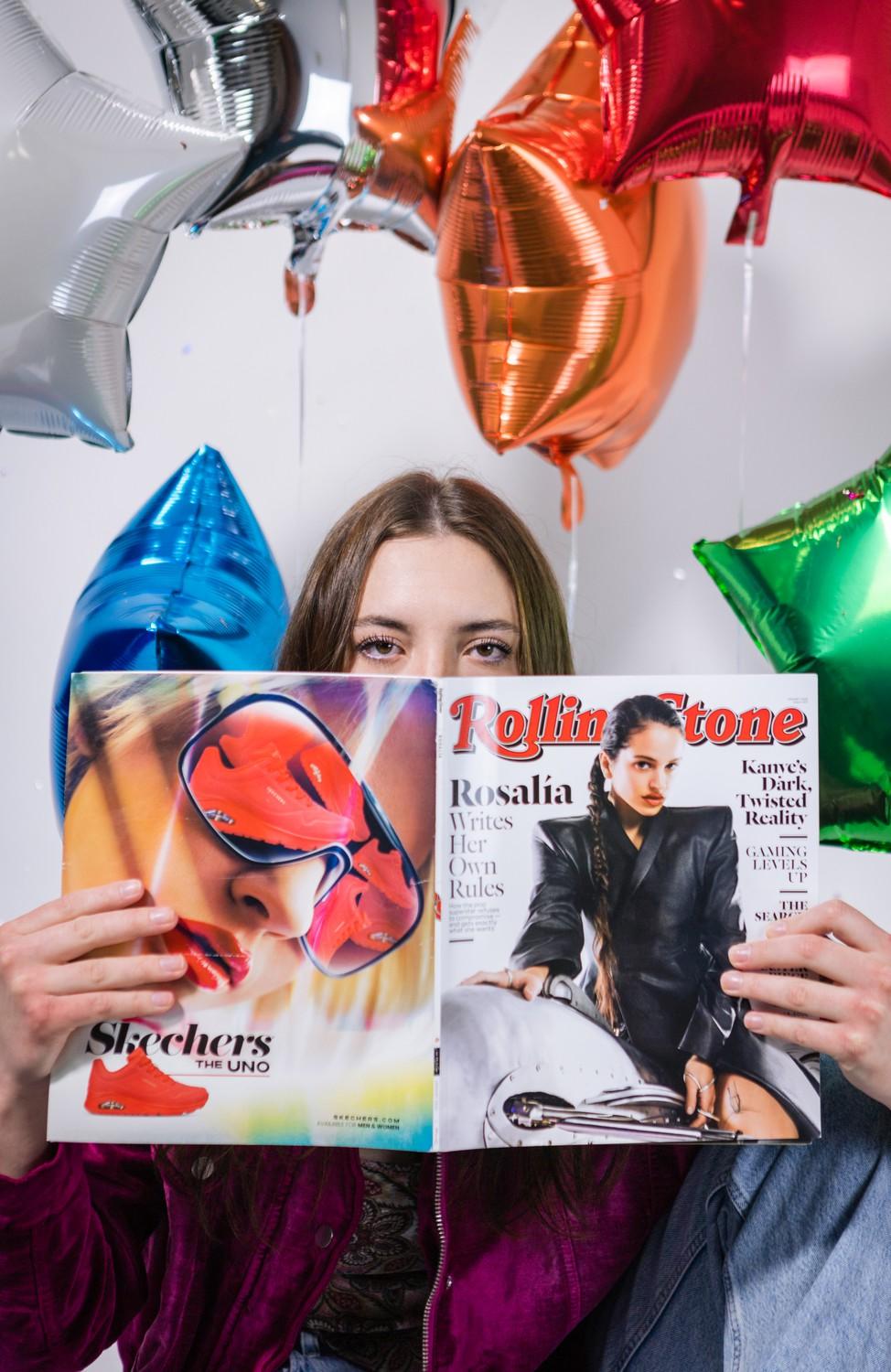 Maintaining a Public Image
Celebrity status is both a challenge and a privilege. It affords many opportunities to artists, but it also means they're always in the public eye, said Jon Pfeiffer, Communication professor and entertainment lawyer.
"What you do matters because if you are a celebrity, you're being watched by somebody," Pfeiffer said.
Pfeiffer said many people don't realize just how limited privacy becomes once one achieves a certain level of celebrity.
"Short of somebody following you into a bathroom, you don't have a right to privacy," Pfeiffer said. "The idea that a celebrity could stop a paparazzi from taking a picture when they're on the street, that doesn't hold up."
Some artists experience the most scrutiny from their own fans. Williams said he's seen firsthand how obsessed fans can get about their favorite pop stars' personal lives, such as Taylor Swift's fans — "Swifties."
"I think it can be a little bit damaging to the sanctity of these people's lives because they are people too," Williams said.
L.A.-based recording artist PIAO said never-ending attention from the public puts stress on many artists to curate their image and be mindful of how they present themselves.
"For a lot of people, they like the separation of who they are off camera and then who they are when they're doing music, almost like an alter ego," PIAO said.
While some artists create a version of themselves to present to the public, PIAO said she prefers to stick to authenticity and focuses on managing herself without the pressure of a hyper-curated image.
"I'm just not super focused on maybe an aesthetic or like a colorway," PIAO said. "I'm more so focused on an overall feeling of just wanting to actually connect with people that may have never met me in person but through my music."
Beyond the Story
What did the reporting and research process look like for this story?
The research process for this story consisted of using my own knowledge and experience as a fan of many pop stars, and building off of it with information from credible sources. My reporting process started with piecing together different points of view to create an overview that is as comprehensive as possible. Once I conducted my interviews, I decided to choose what artists reflect the modern pop star the most and find ways to include them in the piece as evidence and real-world applications of the ideas I knew I would discuss.
Can you speak a little bit about your sources and your process searching for them?
My sources each speak to a certain aspect of the experience of the modern pop star. Jon Pfeiffer is an entertainment lawyer who has represented musicians and actors and now specializes in influencers and internet personalities. PIAO is an L.A.-based recording artist who studied at Berklee College of Music and released her first EP in 2022. JEJ Vinson is also an L.A.-based recording artist who competed on the reality singing contest "The Voice" and now performs both as a solo artist and with the group Sheer Element. Finally, Spencer Williams is a Pepperdine student who loves performing and listening to music and provides the point of view of a fan of pop stars. All together, these sources paint a virtually complete picture of what it is to be a pop star today.
Do you personally prefer when musicians speak out politically? Can you separate an artist from their personal life or does that impact your listening experience?
For me, political activism isn't a hard requirement to be a fan of a musician. I obviously expect artists I like to not be bigoted or support what I feel are problematic ideas or people, but I don't need to be on the same page as them on every issue or even know their take on everything for that matter. I can definitely separate an artist from their personal life as long as they're not awful in their personal lives. For instance, I choose not to listen to Chris Brown or watch Woody Allen films because I can't separate their bodies of work from the violence they've perpetuated in their personal lives. Outside of any problematic events or actions, though, my knowledge of an artist's personal life definitely impacts my listening experience to their music. When I listen to Taylor Swift, for instance, I do so knowing all her personal history and lore which enhances her music for me.
The Realities of the Creative Process
Professional musicians may make art for a living, but there are also practical matters they have to deal with, said Jej Vinson, L.A.-based professional musician and member of the group Sheer Element. He said one challenge of the music business is navigating the flow of work coming in.
"There's kind of this insecurity with the consistency of it," Vinson said. "You could have a lot of gigs right now, and then next month it could be kind of dead."
Vinson, who competed on season 16 of "The Voice," said there are times when making music feels "corporate" or creatively limiting, particularly when he's working under someone else's vision.
"A lot of times when I'm working for other contractors in the studio, and I have to sing a song or a background vocal in the track that is in a style that I'm not used to, it feels more like work for me than something creative that I really, really want to do organically," Vinson said.
An artist's creative vision is sometimes also limited by the law. Jack Harlow's number one hit "First Class," uses snippets of Fergie's "Glamorous" throughout — a technique known as sampling. Pfeiffer said if a musician wants to use a sample in their music, they must get proper approvals and legal clearances.
"When advising a musician, there's a tension between the creative, artistic side where the singer-songwriter wants to do what they want to do, and there is the legal side where I can tell them my opinion on what the risks are," Pfeiffer said. "They have to make that creative decision to go forward or not."
Navigating Social Media
In today's music industry, social media is extremely important for an artist's success, particularly TikTok, which has become "an essential promotional tool" for musicians and their labels, according to Business Insider.
For PIAO, she said social media can be anxiety-inducing. She said she tries to post content that feels natural and authentic to who she is as she tries to find the balance between proactively using social media as an artist and being herself.
"I'm still trying to build this very healthy relationship, as healthy as it can be, of not letting it consume my artistry and the things that I'm creating and not letting it limit stuff that I'm creating," PIAO said.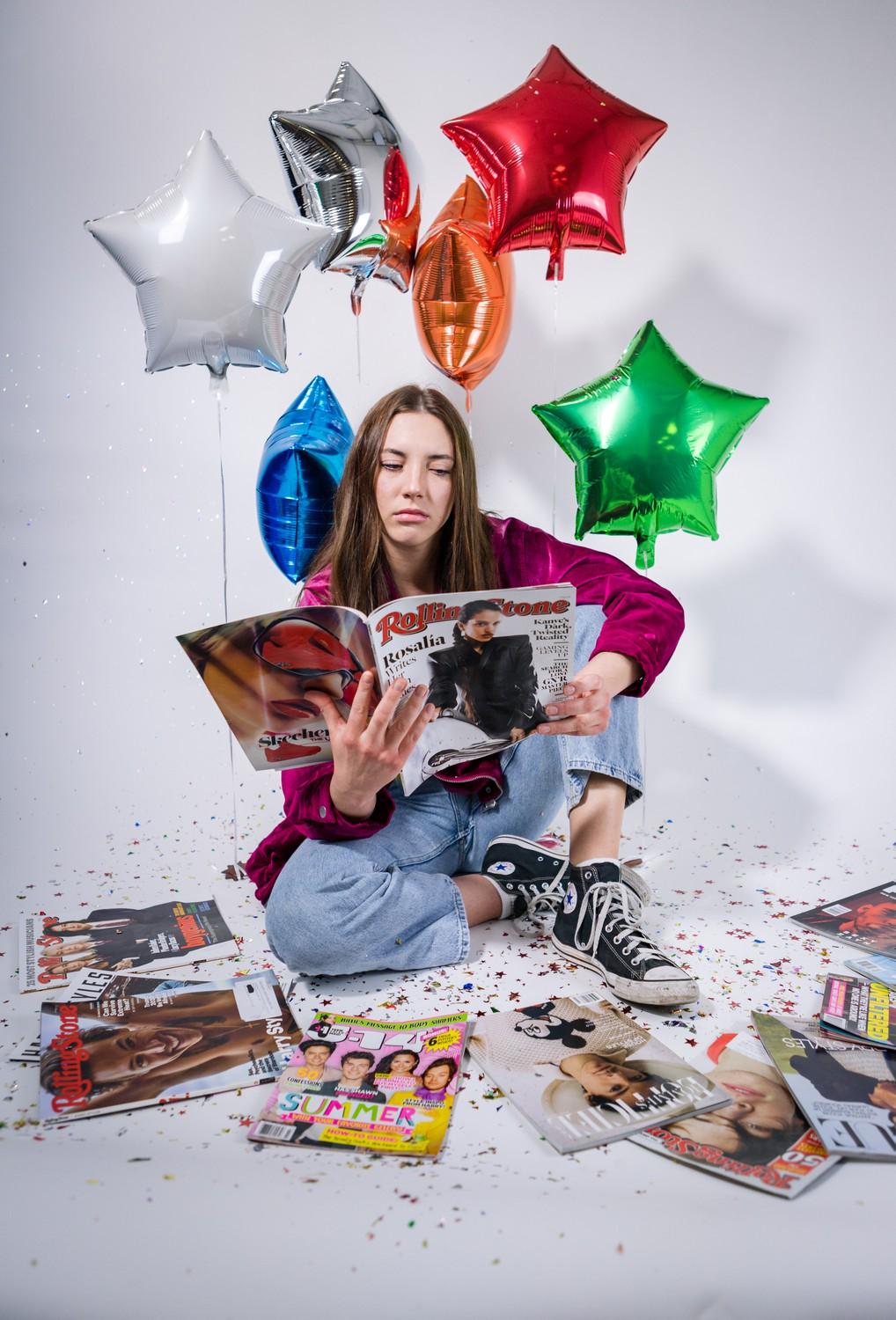 On top of using social media as a marketing tool, fans often expect stars to speak out about topical social issues and causes they're passionate about.
This expectation sometimes leads to celebrities socially missing the mark, like the infamous video of celebrities singing John Lennon's "Imagine" in an effort to unite people during the early days of the COVID-19 pandemic. Many considered the video tone-deaf in light of the struggle the average person experienced during that time compared to the wealthy A-listers on camera, according to NBC News.
In the 2020 documentary "Miss Americana," Taylor Swift wrestles with the decision of whether or not to use her platform to support political candidates. Many people without a following make this choice without much thought, but she takes a great deal of time to decide, as it could have serious repercussions for her brand. She ultimately chose to speak out, opening up a new part of herself fans had never seen before by "getting political," according to Vulture.
Williams said there is an expectation that artists are obligated to use their platforms to speak out about political and social issues to their fan bases.
"Sharing their opinions and ideas on important issues is a part of being a celebrity and an artist," Williams said.
While a pop star is defined by their work first and foremost, their image is part of who they are, and that image is now largely presented via social media 24/7. The demand for self-promotion online sometimes leads artists such as Charli XCX to "digital burnout," according to The Guardian.
Williams said getting to know the human behind the music he loves enriches the work itself and connects him to both the pop star and their music. One of his favorite artists, Adele, makes songs that he connects to on their own, but he said getting a peek into her life and hearing about her experience as a mother amplifies that connection.
"More often than not, the music comes first — but it really enhances the music when I learn about who they are," Williams said.
____________________
Follow the Graphic on Twitter: @PeppGraphic
Contact Addison Whiten via Twitter (@addisonwhiten) or by email: addie.whiten@pepperdine.edu
About the Author

Addison Whiten is a senior Journalism major from Whitewright, Texas, and is the Pixel editor for the Graphic. She has experience in entertainment journalism as a former Life & Arts assistant editor and staff writer. She is an avid fan of music and her top artists on last year's Spotify Wrapped were Taylor Swift, Lana Del Rey and Charli XCX. She wrote this story because she used to have a Hannah Montana-themed bedroom and has been a Directioner since 2012 — she knows about pop stars.