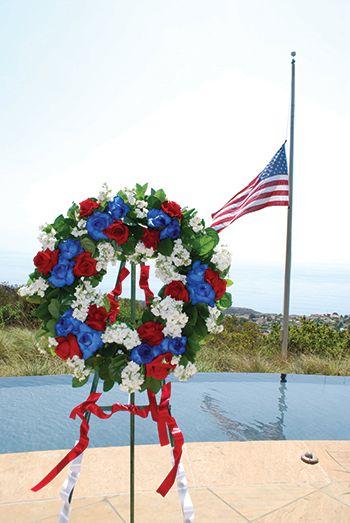 Photos by Veronica Johnson
Red and white stripes and blue stars flap in the wind as the sun sets on the night before the 12th anniversary of Sept. 11, one flag for each of the nearly 3,000 lives lost. A group of freshman students have decided to eat dinner on the lawn.
Tori Occhipinti, a freshman from Orange County, watches the sun set across the Pacific.
"The flags are beautiful, and there are so many of them," Occhipinti said. "It's crazy to think that thar many people died."
Pepperdine not only pays tribute to the lives lost with its flags but also dedicates a special time of prayer and devotion to the heroes who were lost on Sept. 11. The Heroes Garden, a 14,880-square-foot sanctuary located on Drescher Campus, is an homage to those who sacrificed their lives on that tragic day, including alumnus of the Graziadio School of Business and Management, Tom Burnett.
Seaver college graduate student and former military commander Matthew McCau began the tribute to Sept. 11 this year with a devotional.
"Many members of the Pepperdine community lost loved ones," McCau said. "The events of the tragic day are not just a series of broadcasts fading away."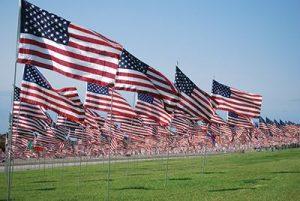 The initial idea of the installation of the flags, which began six years ago, came from Pepperdine's chapter of the College Republicans.
"I think many are grateful for this simple yet majestic remembrance and that we share our beautiful campus in this way," President Andrew K. Benton said.
Alumni, students, DPS officers and firefighters also attended. Retired New York Police Department detective and first responder Joe Brodsky recalled his experience as he made the decision to rush into the building.
"As horrible as it was, it was also beautiful," Brodsky said. "There were just human beings, God's children, working together to stay alive and risking their lives."
The installation of the Waves of Flags took place after Step Forward Day on Saturday. Freshman Hope Hesslen from Arkansas, decided to take part in the event because she said it was important for her to give back to those who lost their lives with "thoughts, prayers and recognition."
Junior Ginger Jacobsen from Malverne, N.Y., explained that it was weird being away from her native state as a freshman at Pepperdine. She recounted that her dad was a retired NYPD officer who responded on the day of the tragedy and was digging, like many others, for what felt like "forever." She was worried that Sept. 11 in Malibu wouldn't hold as much significance for her classmates as it did for her, but she said she was wrong.
"The way Pepperdine honors every victim proved to me that the entire nation was moved by the events that happened in New York and Pennsylvania that day," Jacobsen said. "The Waves of Flags in Alumni Park make me proud to be a Wave and even prouder to be an American."
President Benton recalled a quote from Thomas Jefferson:
"'Those who wish to be ignorant and free … want what never was and never will be.' Remembering is not a bad thing. This week I will spend time alone among the flags, simply remembering and expressing gratitude for the freedom I enjoy every day of my life."
_____________________________________________________________________________
Follow Veronica Johnson on Twitter: @veronajohn36
As published in the Sept. 12 issue of the Pepperdine Graphic.