Photos courtesy of Kyle Terada // WCC Sports
LAS VEGAS — Led by upperclassmen leaders and a blistering transition-heavy attack, the Women's Basketball team advanced to the second round of the West Coast Conference Championships on Thursday with a 74-63 win over Santa Clara. The win marked not only the first conference tournament win since the 2015-16 season, but also the first of the DeLisha Milton-Jones era.
"We're very excited about this win tonight," Milton-Jones said. "We're excited about being here in this tournament. We really wanted to come here and showcase ourselves because we're a new team with a new staff. I'm so proud of this team and the commitment they've made up to this point."
In a game largely dominated by pace and offense, the Waves' upperclassmen carried Pepperdine to a win. As a team, the Waves were more accurate in all facets of scoring — most notably by connecting on 10-21 from three — and shot 50 percent from the field. By comparison, the Broncos shot 39 percent from the field and only 4-of-19 from three.
Junior guard Paige Fecske led the Waves' backcourt with 20 points on 6-12 shooting. Not to be overshadowed by her teammates, senior sharpshooter Kim Jacobs chipped in 15 points on 5-of-7 shooting from three.
"[Milton-Jones] preaches to do what we do best," Jacobs said. "She told me before the game to shoot the open shot, and they went in."
But the afternoon's best performance came from junior forward Yasmine Robinson-Bacote. The New Jersey-native showed why she was an all-conference first-team selection by notching her ninth double-double of the season with a game-leading 23 points and 10 rebounds.
With this performance, she climbed to No. 21 on Pepperdine's all-time scorers list, tying her former teammate Keitra Wallace at 1,041 career points.
As she's done all day – now up to 23 points – here's @YRB25_ with another big shot. #WCChoops #WavesUp pic.twitter.com/DtRwy6BRzA

— Pepperdine W. Hoops (@WavesHoops) March 1, 2018
Feckse and Robinson-Bacote scored the Waves' first 19 points — including a 7-0 run from Robinson-Bacote to start the game — amounting to an early lead that Pepperdine would not relinquish. Santa Clara's lone lead was a one-point edge less than two minutes into the game.
Despite carrying a 34-22 lead at half, the Waves' offense stalled several times coming out of intermission, which led to a third-quarter scare from the Broncos. Led by a few threes and several Waves turnovers, the Broncos used a 10-2 run to claw within four points.
"We were expecting them to come on a run," Milton-Jones said. "The momentum definitely shifted in their favor. But it was in large part because of what we weren't doing — it wasn't anything new or special that they were doing. We kind of fell prey to allowing fatigue to set in. We weren't moving as aggressively with a committed, concentrated effort on the defensive end. So in the huddle, I told them that it's a game of runs, and it's our turn. We have to get it back by starting at the defensive end."
Pepperdine's defense and timely threes prevailed. Whenever the Broncos went on a run down the stretch, either Feckse or Jacobs responded from beyond the arc.

.@kimmyjay15 with her fifth three and it's a huge one! #WavesUp 64-57 with 2:16 left. #WCChoops #WavesUp pic.twitter.com/rzWegrHmc2

— Pepperdine W. Hoops (@WavesHoops) March 1, 2018
"Credit to the Waves for coming out, making shots and playing well," Santa Clara Head Coach Bill Carr said. "The first thought for me is about our seniors."
Part of the Waves' game-plan was to push the pace early against the Broncos.
"[The pace] was really important," junior guard Barbara Sitanggan said. "That was something we talked about before the game: how we wanted to play at our temp instead of theirs. So it was good to make them feel uncomfortable playing at our speed."
Jacobs echoed Sitanggan's statement.
"Our coach preached defense," Jacobs said. "That made them get out of control at certain points, and that definitely helped pushing the pace and getting turnovers."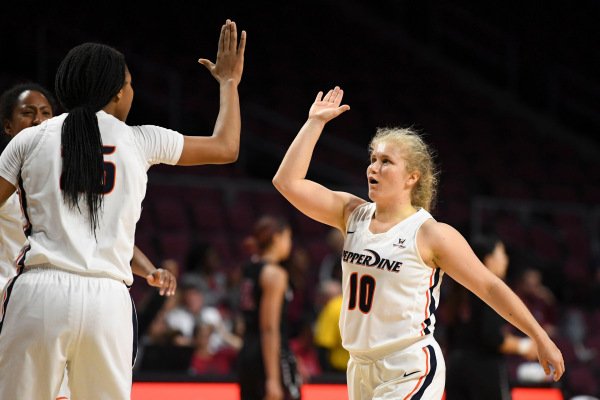 The eighth-seeded Waves will look to continue this momentum against top-seeded Gonzaga tomorrow, Friday, Mar. 2 at noon.
"We have a huge game against us tomorrow against Goliath in Gonzaga," Milton-Jones said. "But we're going to go out there with a David-type mentality and try to do something spectacular."
_____________________
Follow Kyle on Twitter: @kylecajero