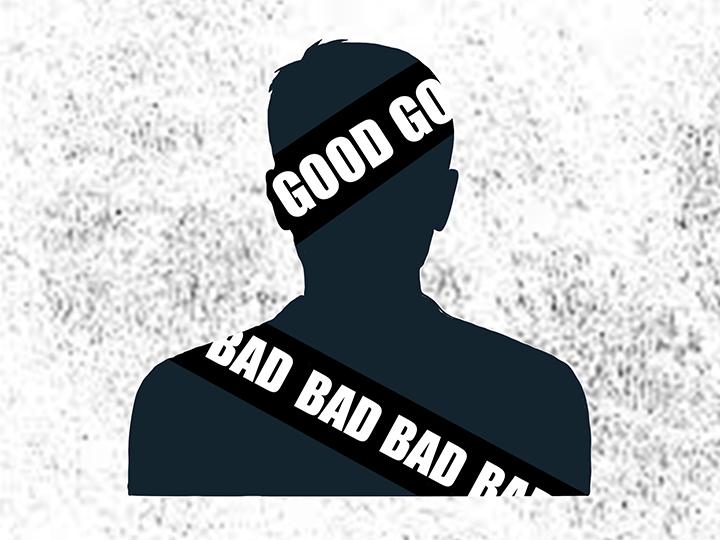 Art by Caitlin Roark
It's easy to characterize people as either good or bad, but aren't people more complex than that?
In the wake of Kobe Bryant's death, the nation began mourning as well as celebrating his contributions to the community. Meanwhile, others protest the praise of Kobe Bryant due to his infamous rape acquittal.
Kobe Bryant was charged with sexual assault in July 2003, as reported by The New York Times. The 19-year-old woman had vaginal tearing and bruising, indicating trauma. While the criminal case was eventually dropped, the issue was later settled in civil court, and afterward, he provided a statement expressing understanding toward the woman and her point of view, according to the Outline.
Evidence withstanding, this shouldn't inhibit the celebration of someone's positive contributions. Bryant helped many through the Kobe and Vanessa Bryant Family Foundation and the Mamba Sports Foundation. Moreover, he was an inspiration to the Black and Latinx communities and a symbol of determination and fluidity in business and sports.
No one is perfect, and if anyone looks hard enough, there will always be an action that puts even the most positive historical figures into a negative light.
Martin Luther King Jr. was accused of having mistresses, orgies, a secret love child and Marxist companions. Despite these allegations, the American people still celebrate him for the good he put out in the world, including his skills as an orator and his non-violent protest, for which he won a Nobel Peace prize.
Another example would be Mahatma Gandhi, who was a lawyer turned activist and a nationalist party leader. He is revered for his non-violent protest, but he also made highly racist remarks referring to Black people as dirty and animal-like. Furthermore, he also tested his grandniece's willpower to restrain from sex by sleeping next to her nude when she was a teenager, which would be considered abuse by today's standards, according to National Public Radio.
These actions don't erase the positivity they brought into the world, but it's good to be consciously aware of the duality of human nature.
Some of the most deplorable people imaginable have made even small positive contributions.
Fidel Castro killed countless of his citizens, yet during his regime, he improved human rights and literacy rates, which left a legacy that has nearly 100% of the youth in Cuba literate as reported by The Guardian and Amnesty international.
Today, we have access to information that allows people to see all sides of any historical or public figure. The key to using this information to evaluate someone is to be objective.
Labels cloud perspective. Individuals need to be aware of the actions they have committed. Be aware that humankind is multifaceted, and never disregard the positive or negative they have brought into the world.
Humans can't be perfect, so refrain from making assertions about others and be aware that everyone is capable of both moral and immoral actions. As author Will Hill wrote, "Nothing is ever only good and nothing is ever only bad. Everything is somewhere in the middle."
__________________________
Email: Anitiz Muonagolu – aj.muonagou@pepperdine.edu