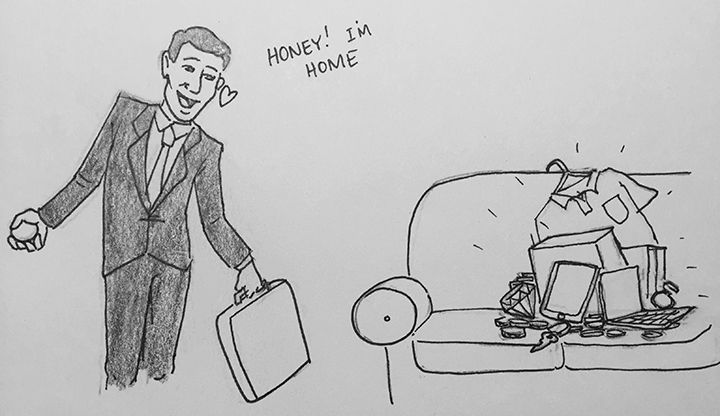 Art by Peau Porotesano
Living in Malibu is a pleasure in itself. The beaches are clean, the places to eat and shop are well-maintained, and plenty of friendly Malibugans will talk to you if you have the time. As lovely as the beachin' city is, the fruits of American consumerism stand in elegant ivory houses and in the cars speeding along PCH.
Research shows that happiness and well-being depreciate when we place ourselves in a consumer mindset. The Association for Psychological Science released an article on April 9, 2012, explaining how college students who were exposed to advertisements were less inclined to involve themselves socially and were also less likely to conserve environmentally.
Not only the rich fall prey to consumerism. It's each of us who has desires for our lives that include a sports car, a nice house and expensive furnishings for said house. Do we truly need a house that can hold 12 people? Or a car that can go 165 mph? Obviously, a car and a place to live are needs we have, but our lives and our work should not be centered on this idea of personal wealth.
Caleb Jacobo, a writer for nationofchange.org, wrote an article titled "The Essentiality of Individualism in Modern America," and explained where modern consumerism and individualism originated for Americans. He said that post-World War I America experienced rapid economic growth, and the American people as a whole were wealthier. The 1920s became a time during which "we became intoxicated by the possibilities of ourselves," and "a vicious cycle began of conformist-based society, where we are no longer celebrated for what we are capable of accomplishing, but what we own and might own."
Jacobo's descriptions encapsulate what happened to us in the last century. We were labeled consumers, and it became our job to support the economy with our shopping, as reported in an article by Richard Heinberg for the Post Carbon Institute. In our media, no one is praised or focused on more than the wealthy or those who have "made it," yet some of these people are not role models in their ethics or leaders in societal change. We are obsessed with those who have made themselves wealthy.
We also center our lives on the things we might buy when we have money, and we see money as the key to true liberty in our lives. In truth, money does not liberate us but rather it divides us. We compare our lives to those who have more, because there is always someone who has more than we do.
Donald Miller is the acclaimed author of "Scary Close" which is a book about removing false identity. In his book, he writes of his experience at Onsite, a therapy camp for adults. It sought to break down false identity and show the campers how to live apart from their jobs and their shame. While at this camp, the individuals attending were not allowed to tell others their occupations. At the end of the week, they were allowed to tell each other their jobs. This is what happened: "When people learned some people made a lot of money and others didn't … they divided into perceived categories."
Isn't that how it's always been? The haves versus the have-nots? In America, and especially in Malibu, there are many individuals who have, and the have-nots seem to float among them like ghosts. Both sides are at fault for this division, and both sides need to change.
As Americans, we are raised with the idea that the more we have, the more we matter. It is this false sense of identity we carry with us through our lives, and it is this aspect of ourselves we need to change. Economic inequality exacerbates social issues like racism, violence and mental illness, as reported by Ray Williams in his article "How economic inequality is damaging our social structure," for Psychology Today.
But it's not enough to reflect — take action. Give away those old shoes you don't need. Get rid of your desire for extreme wealth or to "make it." Give what you don't need to others, and build a society you would want to live in. Do this for the future, for the children who could grow up on food stamps or the millions who can barely afford each day. Consumerism divides us, but giving away what we don't need will bring us together. Take another step into that future, but take it anyway. It will always pay off.
__________
Follow Zach on Twitter: @ZPoWaH