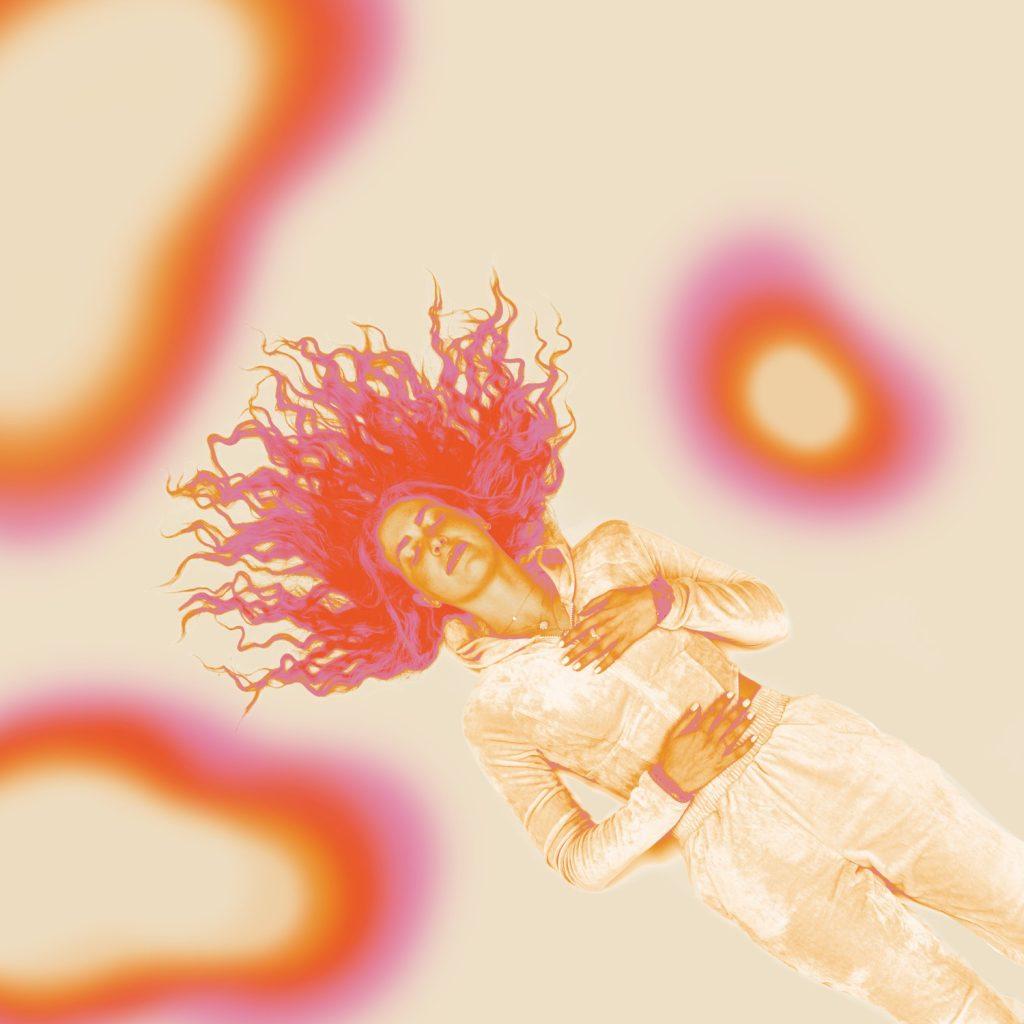 Sophomore Victoria La Ferla poses in the usual position for sound baths. The gradient colors around her are what she said she often sees during a sound bath. Photo by Lucian Himes and Art by Haley Hoidal
Reiki and sound baths restore the best version of myself.
As I lay down on my meditation mat, my head faces the direction of the sound bowls — metal or crystal bowls practitioners swirl a mallet around to create sound vibrations meant to calm the mind.
I close my eyes and feel my worries and thoughts settle down. I start to see colors. I feel my mind lightly rock from side to side as if I am on a boat.
This is when I set my intention for this meditation and try my best to center myself and let the sound bath take me on a relaxing journey.
Toward the end of the meditation, my reiki practitioner comes to me and uses her hands to channel light force energy –– reiki –– into me. A feeling of warmth and light spreads from my head to my heart to my toes. I awake and feel lighter, centered, calmer and more balanced.
"A sound bath is a meditative experience where those in attendance are 'bathed' in sound waves," according to Verywellmind.
The meditation guide plays sounds in a specific sequence and frequency to create a harmonic resonance that can shift the brainwaves into a state of deep relaxation and meditation.
Reiki, which is sometimes partnered with a sound bath, is a Japanese healing technique that can help remove mental blockages and restore balance to the body's energy centers, or chakras, according to The National Library of Medicine.
I often meditate and do sound baths and reiki with my friend, junior Vianita Corrêa.
While living in the Los Angeles area, Corrêa said she goes to The Mindry in Malibu after classes to meditate and Aziam in Santa Monica during the weekends.
After a sound bath, Corrêa said she feels more calm and stable.
"My thoughts get more clear, and I can make important decisions again without questioning myself," Corrêa said.
Nicole Rutsch, reiki master teacher and sound healer at The Mindry, said she came to love sound baths and reiki in her healing journey. Rutsch specializes in reducing stress and anxiety and bringing people back into balance and harmony.
"In my experience, reiki has become a special ritual in my week," Corrêa said. "After reiki I feel less anxious and more relaxed, I feel more connected to myself and my body."
Rutsch said she specifically works with the Karuna reiki fire energy, which goes further into the body to heal deep-rooted trauma.
"Be curious and relax," Rutsch said. "It's all you have to do, it's the most relaxing thing. You don't have to do anything. Just allow space, allow the practitioner to hold space for you, experience it."
Chrissy MJ Anderson, studio manager and meditation guide at The Mindry, said she has struggled with depression and anxiety that stemmed from overworking herself.
"I woke up one morning and couldn't get out of bed," Anderson said. "Two years of depression where I didn't work, and I wasn't able to do much of anything."
Anderson's psychiatrist recommended a meditation center to Anderson called The Den about four years ago and told her to try natural healing. Anderson said the meditation helped her slowly stop abusing substances, inspired her to start pilates and helped her stop fighting with her boyfriend — all within a span of three weeks.
"I had the profound experience where I had this release and relief and thought, 'This is how I get better,'" Anderson said.
One of Anderson's meditation teachers at The Den also worked at The Mindry, which is how Anderson found out about it.
"The one-on-one connection with teachers and guides who support your healing journey is a one-of-a-kind experience, and then learning reiki allowed me to do this for others," Anderson said.
Before her healing, Anderson said she used to laugh at people who did yoga and meditation.
"I realized they're actually this [happy] because there is this beautiful experience on the other side," Anderson said. "There's this whole other world that many don't access."
Anderson urged those who are skeptical or want to try any form of meditation to do it.
"It doesn't matter if you're trying so hard to have this transformative spiritual experience, what matters is that you are exploring something new and learning these tools to come back to balance in any situation or feeling that you are in," Anderson said.
Those who go to sound baths want to feel relaxed and nurtured, Anderson said. Those who practice reiki want to experience healing at that moment, and they start to realize what they need right then.
"I was never able to see the light at the end of the tunnel when I wasn't well," Anderson said. "I realized there was a light at the end of the tunnel, now I can see the light, and I walk with it now."
___________________
Follow Currents Magazine on Twitter: @PeppCurrents and Instagram: @currentsmagazine
Contact Victoria La Ferla via email: victoria.laferla@pepperdine.edu or by instagram @vlf_insider