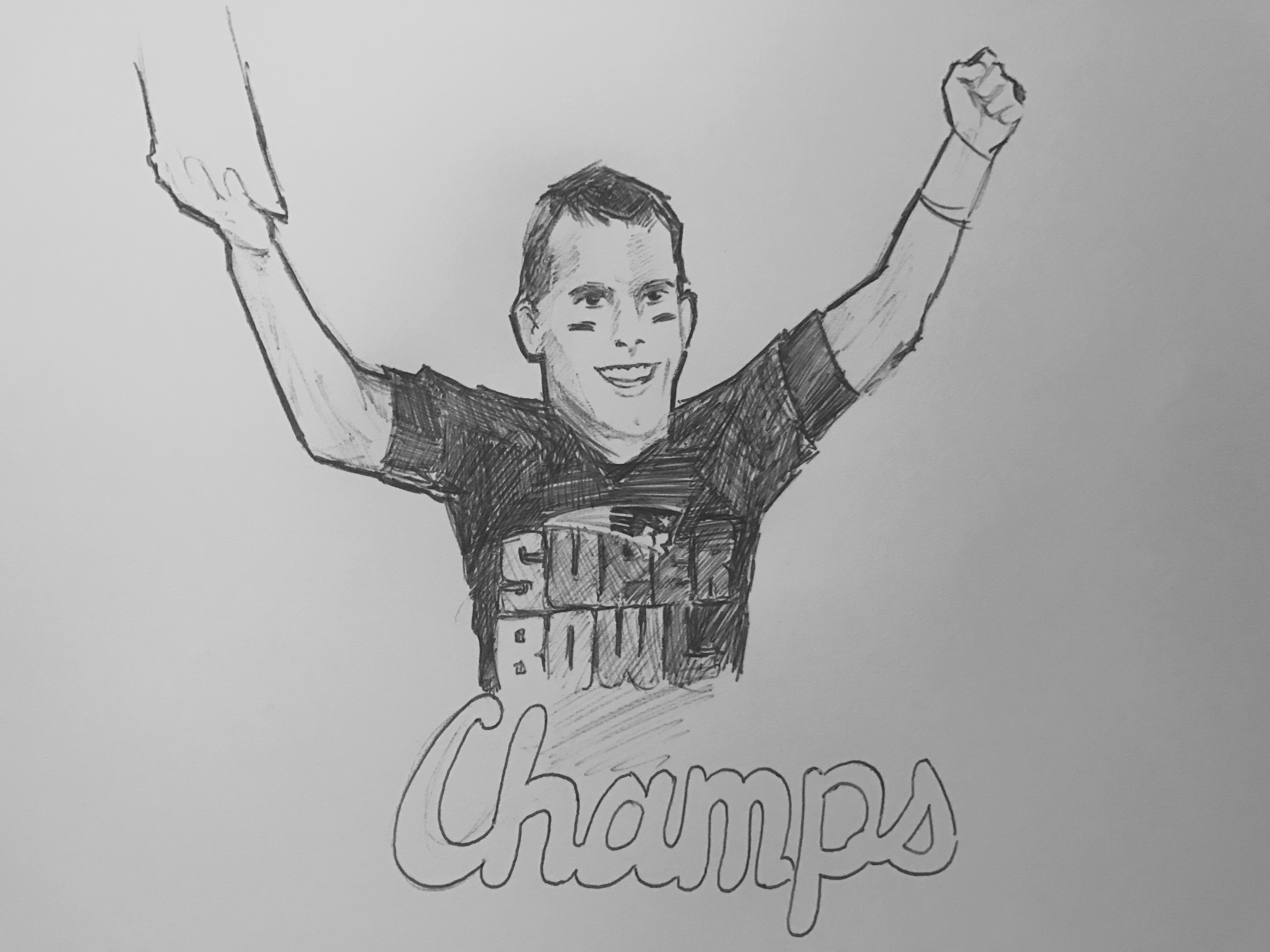 Art by Peau Porotesano
The Super Bowl has become such a major cultural event that it's essentially a holiday at this point. In fact, it's the second best, after the December blitz of Christmas/Hannukah/Kwanzaa/New Year's. Even those who don't like football watch this one game a year, just like the massive amount of people who only attend church on Easter.
Super Bowl LI was a particularly interesting night for a few reasons. Tom Brady, Bill Belichick and the New England Patriots won their fifth ring over the championship-less Atlanta Falcons in a show-stopping comeback. It was even the first Super Bowl to ever reach overtime. After the game, many began debating various topics surrounding the evening's narratives. Here's all the definitive answers to those questions.
Is Tom Brady the greatest QB of all time?
This one's been argued for a while now, and the Brady = GOAT crowd got much larger after LI. I mean, now he's started for more Super Bowl-winning teams than any other quarterback in NFL history. How could someone else be better?

Here's where I hesitate on this: Tom Brady is certainly a top-five, or probably even top-three QB ever, but No. 1 seems a bit off, considering how blessed he's been throughout his career.
Let's see — he's had the stability of only working with one coach for his entire NFL life, who also happens to be the greatest coach of all time (more on that later). He's played for what might be the best-run organization in all of professional sports, with a smart owner and front office that always seems to provide Brady with inexpensive weapons and a solid defense and O-Line.
Meanwhile, his main modern-era rivals, Peyton Manning and Aaron Rodgers, have not had these luxuries. Sure, Peyton's had some weapons like Marvin Harrison and Reggie Wayne, but the Colts organization was (and still is) a mess, led by their chaotic owner and a front office that has never been able to draft great defensive players. It's telling he only won his second ring once he saddled up with Denver's stellar 2015 defense. Rodgers' Packers are a stable organization, like the Patriots, but that QB has never had great weapons (Jordy Nelson doesn't count and you know it), his defenses have been mediocre, and coach Mike McCarthy only looks halfway competent because Rodgers carries the Packers to the playoffs every year.
Brady is certainly great, but he's the Tim Duncan of the NFL: Amazing player put into an even more amazing situation. Tim Duncan is a top-10 player, but nobody would dare call him the GOAT. I believe Brady should be treated the same way. If he switched careers with Drew Brees, Brady would've only won a couple titles in New Orleans and Brees would have five rings and be in the GOAT conversation.
Is Bill Belichick the greatest coach of all time?
Here's where I make it up to all the Patriots fans that are probably seething with rage after reading that above section: without a doubt, yes.
Five championships, tying him for first with George Halas and Vince Lombardi (both of whom coached before many of today's current teams even existed)? Check. More playoff wins than any other head coach? Check. Iconic look? Check.
The man is an evil genius and master of manipulating other teams, and let's be honest, without his guidance, Brady might never have become as great as he is now. When he finally retires, New England will have a complete collapse, like the post-Don Shula Miami Dolphins (or what will likely happen to the Seahawks post-Pete Carroll).
Did the Falcons blow their one chance?
I want to say no. Most of Atlanta's best players — Matt Ryan, Julio Jones, Vic Beasley, Devonta Freeman — are still either in their primes or very young. The one stud who's getting a little old is center Alex Mack, but if their GM Thomas Dimitroff continues to draft well, Atlanta's line should stay acceptable.

What worries me is less the Falcons' talent, and rather the things they can't control. The NFC is total chaos. In contrast to the staid AFC, which has been ruled by Brady, Roethlisberger, and Manning every year except one since 2003, the NFC's champion has been much more random in that 14-year span. There's really only been one consistent team in the NFC over the past few years, and even they've slipped a bit after losing Marshawn Lynch. Nobody is safe.
I'd imagine the Falcons will still be fine. They likely won't miss the playoffs, and unless Tampa Bay can make another major leap, the NFC South is still theirs. The young Cowboys are looming on the horizon, however, as well as a healthy Legion of Boom. Don't expect anything too big.
Was Lady Gaga's halftime show great or meh?
I might be very biased, being a Little Monster since 2009 and all, but it was wonderful. Easily a top-5 halftime performance (the others are, in no particular order, U2, Prince, Springsteen and Beyoncé). Next, can we get a Kanye halftime show? I need to see how the heartland reacts to "I Am a God (ft. God)."
_________________________________________________
Follow Jackson Hogan on Twitter: @JacksonHogan