Photos by Elena Luo and Lawrence Liu
Blinking lights flash from a windowed space on the second floor of the Pepperdine library. Next to the blinking lights are whirring machines churning out 3D models of cells made of plastic. Alongside the back of the room are computers wired to host virtual reality (VR) experiences for biologists, gamers and journalists alike. The space that hosts this technology at Pepperdine is known as the Genesis Lab.
The Genesis Lab opened at the start of this school year with the opening of the renovated Payson Library. In its first year, it has brought 3D printing and VR experiences to the Pepperdine community. However, the team at the Genesis Lab is setting its sights on bringing more people and more new technology into the new innovation space in coming years.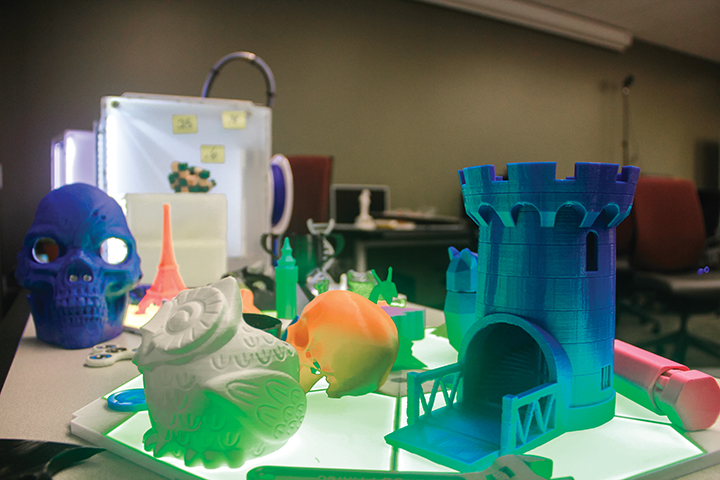 Landon Phillips, lead instructional designer in the Technology and Learning group for Pepperdine IT, said the lab is a "makerspace" that aims to put innovative technologies in the hands of anyone in the Pepperdine community.
"What we want is [the lab] to showcase a little bit of everything so that you could come in and just experience that joy of creation, whether it's making something with your hands or making something digitally and virtual and being able to share that with a wider community," Phillips said.
The Genesis Lab is a joint venture between the library and Information Technology (IT) that is funded by a Waves of Innovation III grant, Phillips said.
Phillips said he had some exposure to makerspaces in his graduate program at the Pepperdine School of Education and Psychology.
"I really loved the untapped potential of giving students a blank slate of tools to learn and the basic instruction and nudging to experience this joy of creation," Phillips said. "There's no way you can predict what a mine full of intelligent of 18-to-22 year-olds can come up with if given the opportunity."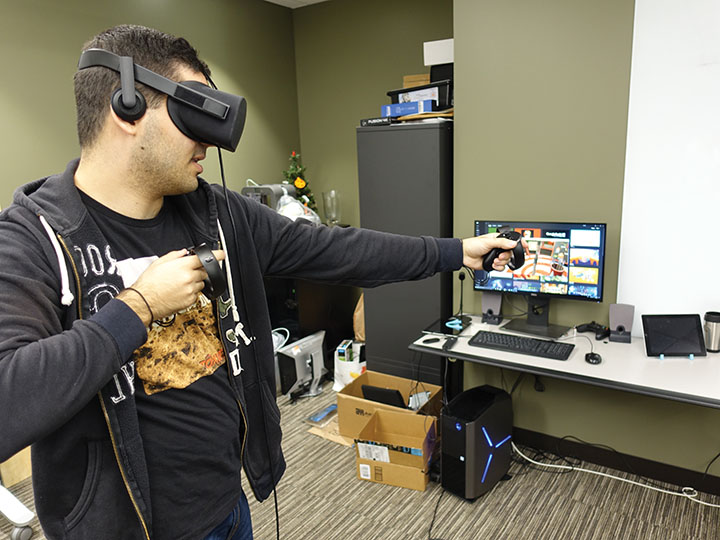 Anna Speth, librarian for Emerging Technology and Digital Projects, said working at the Genesis Lab has allowed her to bring in her experiences using VR for archaeology as an undergraduate at Duke University.
"To be able to get a job like this and have my job be coming in and helping students to go through the same experience that I went through, really changed my career path and what I was looking to study," Speth said. "It gave me a lot more skills that were something you need more and more in the job market, but not something that's easy to gain."
Freshman Brandon Oddo said he and the other student workers of the lab drive the projects they take on.
"A lot of [the projects] start off with something interesting that one of the student workers finds," Oddo said. "We discuss them along with Landon and Anna and we divide up the responsibilities and see who can do what and when we want to get it done by."
Oddo and the student workers recently created a moving portrait similar to the one in "Harry Potter."
Phillips said the student workers came up with the project by themselves and did it with no previous background in programming, wiring and circuitry. They documented the process and submitted it to a contest on instructables.com, a website where people can go to "make anything in the world," Phillips said.
Within hours of submitting, Phillips said the students' page was on the featured part of the website. Within a week, they had 2,300 views. As of March 20, the number of views has grown to 3,239.
Phillips said that much of the lab's success has been its student workers.
"We have been extraordinarily fortunate into hiring some amazing student workers," Phillips said. "It's been so helpful to trust them enough with the daily tasks because a lot of this technology is so cutting edge and new that it's a little finicky or it doesn't quite work right."
Phillips added that they intentionally hired student workers with "different academic backgrounds, different socio-economic backgrounds" and "equal numbers of men and women" to prove a point.
"We really wanted this space to embody the idea that anybody can do this stuff," Phillips said. "All it takes is that spark of 'I wanna learn more.'"
Phillips said the student workers are challenged to become experts on these new technologies.
"You can't call Pepperdine IT and say, 'My 3D printer's jammed' because they're not gonna know [what to do]," Phillips said. "We have to become experts, and I think that's a great model to teach anyone learning a skill for any profession."
Besides the moving portrait, the Genesis Lab has hosted a VR game and a holiday cookie-cutter 3D modeling workshop for the student body. They have created props for last fall's musical "Big Fish," had physics and biology students come in to make models and hosted journalism students to try out VR.
This semester they are working on an Easter-themed event and the implementation of their summer camp for local middle school students, Phillips said. He added that the summer camp will help draw more community interest in the lab and generate revenue outside of the grant.
Other projects in the works include getting drones, wearable electronic clothing, laser cutters and more circuitry and programming to expand it, Phillips said.
"We're building piece by piece and the more adoption we get from faculty and other community members, the better we can do that," Phillips said.
Oddo said as the lab's directors are thinking about expanding its capabilities, there are growing concerns about its location, the amount of space and access to open air.
"There's a lot that we would love to do, but we need to expand our space or move out to different spaces," Oddo said.
Like many new programs at Pepperdine, Phillips said the Genesis Lab is hoping to expand its awareness on campus.
"We're trying to just continue to grow the program and increase awareness just to let people know that this place exists," Phillips said.
Oddo said having the lab is an "incredible thing."
"It's not something that a lot of people have free access to," Oddo said. "Just knowing that in the library we have free 3D printing and free virtual reality is definitely an incredible thing that people should take more advantage of."
Phillips said many members of the Pepperdine community are likewise still finding the awe of these new technologies.
"Seeing people come in and experience VR for the first time there's always a smile, even on provost's and deans' faces," Phillips said.
________
Follow Kelly Rodriguez on Twitter: @KRodrigNews