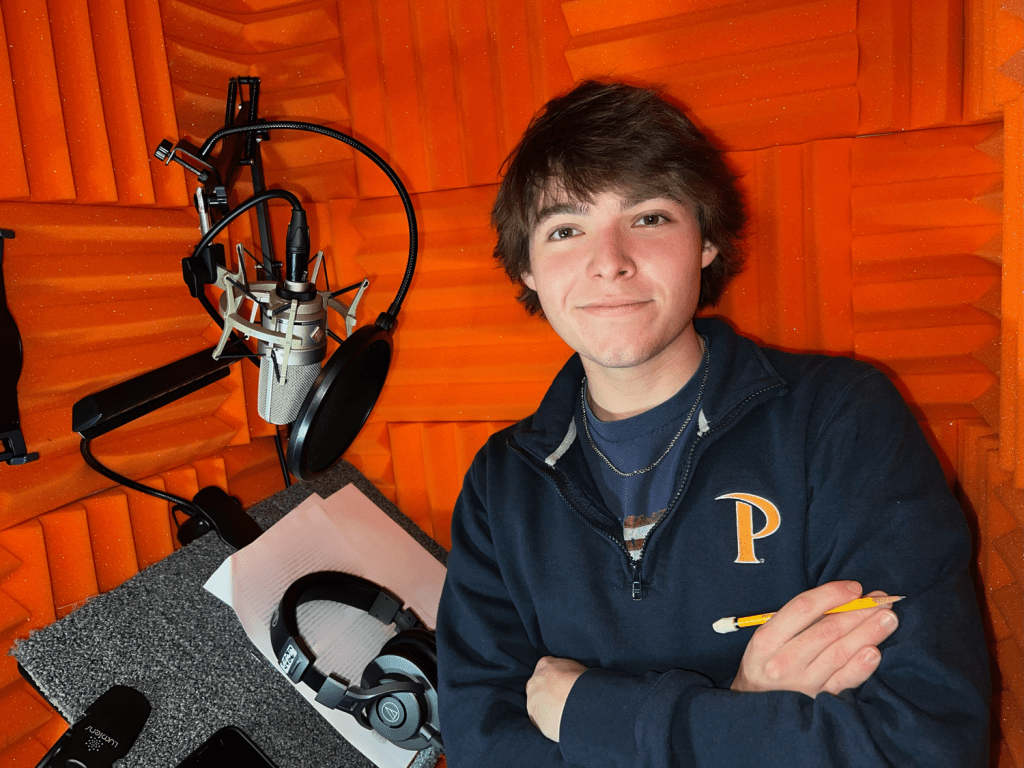 Justin Felbinger poses in his recording studio March 26. Felbinger built the studio himself in 2020 at his home. Photo courtesy of Justin Felbinger
With a unique voice and a love for the entertainment industry, sophomore Justin Felbinger said he has been voice acting for almost a decade.
Since middle school, Felbinger has worked as a voice actor for companies including Disney, Nickelodeon, Cartoon Network, Netflix, DreamWorks and Warner Bros. Felbinger said he has loved every second of his journey with voice acting and hopes to stay in it for as long as possible.
"Voiceover is something I really enjoy," Felbinger said. "And it's always been a big part of me and in shaping who I am, and I expect to keep going with it as long as I can. It's something that really, really brings a lot of joy and happiness."
At age 11, Felbinger got his first role as Mtoto, a baby elephant on "The Lion Guard" on Disney Channel. Other characters he's voiced include Miles Callisto on "Miles from Tomorrowland" and Danny Petrosky from "Boss Baby: Back in Business."
"If you really connect with the character and like the character a lot, it's not very hard to get into the spirit," Felbinger said.
An average day in the studio for Felbinger involves going into the recording booth, getting a rundown of the episode from the show's writer and then his voice director will walk through it with him. As for his auditions, Felbinger said he is able to record them in his dorm at Pepperdine.
"Most of the dedication is actually auditions," Felbinger said. "So that's usually what takes up the most amount of time."
Justin said his parents have always been supportive of his journey in voice acting and keep him grounded. Since the beginning, his mom, Brenda Felbinger, drove him to countless auditions and said she was always happy to do it.
"At first it was kind of shocking," Brenda Felbinger said. "Because none of us in the family have been blessed with his talent and so navigating it was a little bit of a challenge."
Despite the challenges, Felbinger's family supported his passion and Brenda Felbinger said she is proud of all his hard work. She said Felbinger embraces every character he plays.
"Even the teeniest little role that he might get is reason for an outburst of joy," Brenda Felbinger said. "It's almost even hard to describe the amount of happiness and joy that that brings."
Before landing in the world of voice acting, Felbinger said he tried acting and went to numerous auditions starting at 7 years old. After his first voice-over audition, Felbinger wanted to pursue that side of acting.
"Voiceover offered a different kind of opportunity to not be on camera," Felbinger said. "You don't have to worry about what they're seeing but you could just act openly without all that other pressure."
Of all the characters he has voiced over the years, Felbinger said his favorite is Sprig — a high energy character from the animated show "Amphibia" on Disney Channel. Brenda Felbinger said Sprig was a special role because over the show's three season run, he voiced the character from the beginning of the show to its end.
"Sprig has just been so much fun," Felbinger said. "Amphibia's definitely my favorite because it's such a cool, different kind of show and right up my alley. It's a lot of adventures and just so many cool characters and so I was super blessed to work on it."
Outside of voice acting, Felbinger said he loves fishing, going on beach runs and as an Economics major, he has a strong interest in the stock market. After college, Felbinger hopes to combine his interests in his career and to continue voiceover acting in the future.
"I'd really like to do something with business and entertainment," Felbinger said. "One of the goals I have would be to do a business show, something like "Shark Tank" would be really cool."
Felbinger said he is working on a few voice–acting projects including a Nickelodeon movie and a show coming out in the coming months.
______________________
Follow the Graphic on Twitter: @PeppGraphic
Contact Jackie Lopez via email: jacqueline.lopez@pepperdine.edu