Photo by Arthur Puu
For 36 years, Pepperdine Professor Ned Colletti has worked in Major League Baseball after beginning his career as a sportswriter.
In his latest book, "The Big Chair: The Smooth Hops and Bad Bounces from the Inside World of the Acclaimed Los Angeles Dodgers General Manager," the 63-year-old documents his time as a Major League Baseball executive.
"It is a memoir, really an x-ray of what it's like to be an executive in Major League Baseball or in professional sports," Colletti said. "It also covers what it is like to be a General Manager, with a lot of big meetings, handling the negotiation process, dealing with life and people. This book is what it looked like through my perspective."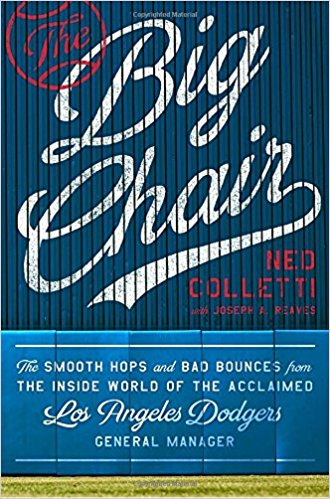 The book covers his nine-year rollercoaster tenure as the General Manager for the Dodgers. With Colletti at the helm, he led the Dodgers to five post-season appearances, including three appearances in the League Championship Series, and had one of the most successful records as a GM in MLB history.
"One of my proudest moments was when the Dodgers defeated the Cubs in the 2009 Division Series," Colletti recalled. "That was the first series in the postseason they won since 1988 [their last championship]. It was my first team that won a series during my time as a general manager and it was also against the team I grew up rooting for."
Twelve years ago — in November 2005 — Colletti got the call from Frank and Jamie McCourt to become the GM for the Dodgers. However, it wasn't always a smooth ride: Colletti dealt with scrutiny by the media, fair or unfair. He also had to work with his hands tied while the franchise dealt with drama surrounding the McCourts.
"It was a great life lesson in a lot of ways. They had a lot of different things going on, they went through a public divorce, a bankruptcy," he says. "I think it taught me in life, you're going to be beseeched with a lot of different topics, a lot of noise, conversation, rumors, innuendo and it really helped me change how I thought and focus on things I can change into a positive or take something that is already good and make it better or at least maintain it."
Although the Chicago native has been out out of office as a baseball executive for a bit more than a year now — October 22, 2016, to be exact — Colletti still wears many different hats on a daily basis.
"I love to work and be involved. There are a lot of different things I've been doing lately," Colletti said. "A lot of television work for the Dodgers [doing pre and post game reports this season], work for Dodgers radio on AM 570, writing my memoir 'The Big Chair,' spending time with the family and teaching here at Pepperdine."
Colletti continues to be involved with MLB as a baseball analyst for SportsNet LA and TuneIn radio network, but has also added professor to his job title, teaching COM 590.03 (The General Manager) and a new course, COM 590.4 (Sport Communication & Media) every Tuesday and Friday morning at Pepperdine.
"My goal [for these courses] is not only teach what a particular profession would hold for a student, but also life lessons and things that will a student can take with them that will transcend whatever the class name is," Colletti said. "We negotiate everyday, so we talk about that, but we also learn to talk in front of the camera and do a broadcast."
Currently in his second year teaching in the Sport Administration major, Colletti said he has seen adjusted well to life as a Pepperdine professor.
"Well the first year, everything is new. Everyday is a different experience, different challenge. After one semester of teaching, I've gotten a much better feel of where everything was," Colletti shared. "Much like a student, your freshman year is much different from your sophomore year."
Yet through his 36 years in baseball, while his career has changed from title to title, his faith has remained the same.
"Faith is invaluable. I lean on God for wisdom and pray constantly over the course of the day, ask for forgiveness, guidance and clarity," Colletti said. "It's such an important part of my walk. I am a very blessed person. I don't know any other person who has been more blessed than I am coming where I come from. First of my family to go to college and first to venture into an executive type role. And I thank God everyday."
Documenting his 36 years as a baseball executive in his new book and staying involved with the game of baseball through broadcasting, Colletti continues to count his blessings.
"Having the opportunity to work in Major League Baseball and having a chance to compete and a chance to continue to grow a career is my proudest moment," Colletti said. "Without that moment, there are no other moments."
There will be a discussion with Ned Colletti on his new book, "The Big Chair: The Smooth Hops and Bad Bounces from the Inside World of the Acclaimed Los Angeles Dodgers General Manager" followed by a book signing on Monday, Nov. 6 at 5 p.m. in the Surfboard Room at Payson Library.
November 6 at 5pm @realnedcolletti will be speaking about his newest book The Big Chair in the Surfboard Room in Payson Library. There will be a Q&A led by @RulingSports, a book signing, and a raffle for 3 students to win dinner with Ned following the event! Come out and join us! pic.twitter.com/ISop68pkIq

— Pepperdine SBA (@Pepperdine_SBA) November 1, 2017
___________________________________
Follow Arthur Puu on Twitter: @arthurpuu