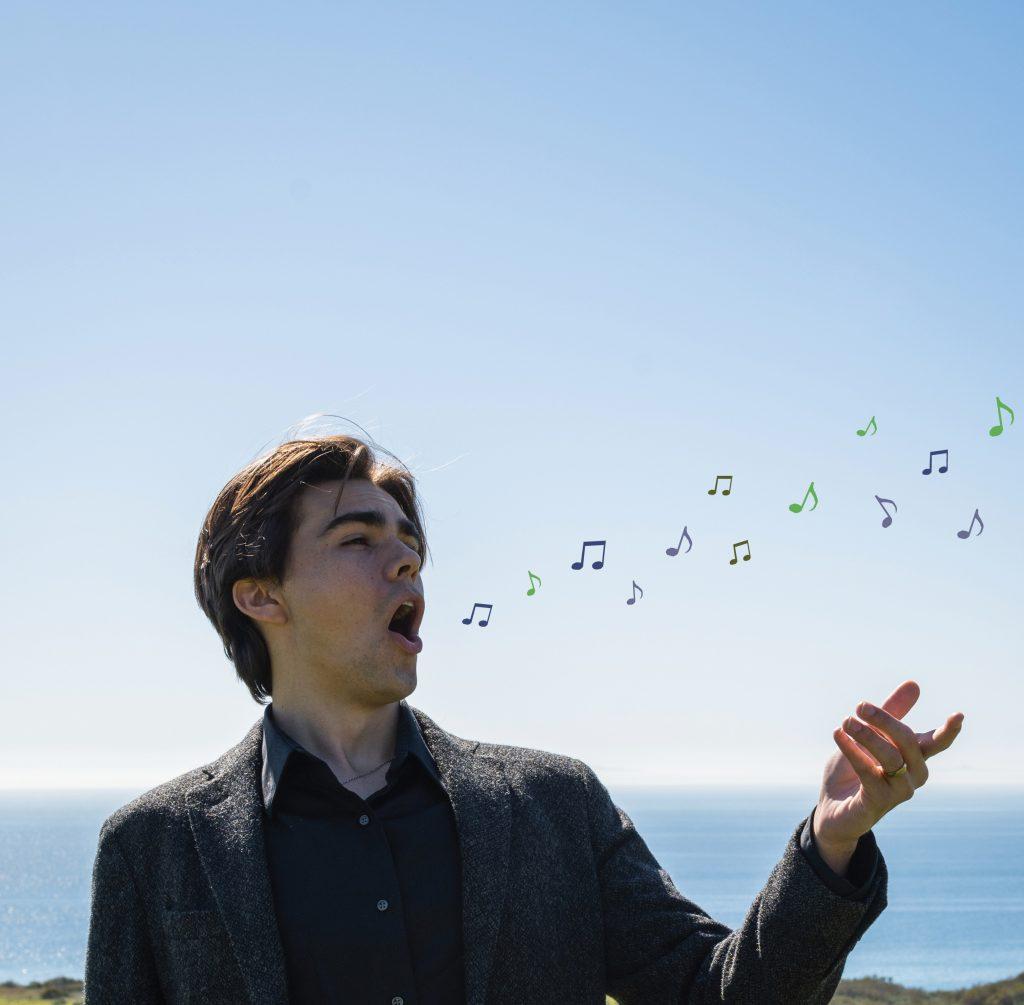 Joshua Corey sings his heart out on Alumni Park. Photo by Lucian Himes Design by Abby Wilt
Music makes people joyful — this is a scientific fact. When a human hears someone sing, their body releases dopamine in response to the vocal vibrations, according to Pfizer.
Choosing to use one's voice in the form of music is choosing human connection, local artist Brigitte Purdy said. Everyone has a voice, she said, but the ability to use it in a meaningful way is a gift not everyone takes advantage of.
"Singing is the ability to use your words and your voice — share your truth, your vulnerability, and to lift somebody up and bring them joy, bring healing," Purdy said.
Finding a Voice
Purdy, a singer, songwriter and radio show host for KOCI, said she started training her singing voice when she was 9 years old.
Singing skills can come from both genetic and environmental factors, according to Science Direct. Purdy said although no one in her family was a musician, the art of singing came naturally to her.
"It always existed within me," Purdy said. "I never knew life without being able to sing."
Her mission was then deciding how she wanted to use her voice, Purdy said.
"I said, 'Lord, you've given me a voice, what do you want me to say? How do you want me to use this voice?'" Purdy said.
First-year classical singer Joshua Corey said he also does not come from a musical family and began as a musical theater performer before transitioning into the opera and classical sphere.
"For me, music is not just a creative outlet, but it's a way to personify myself," Corey said. "I let music embody my emotions, and I let music still me in a way that other forms of expression and communication don't."
Like Purdy, Corey said singing is a way he fosters deeper emotions within himself and the people around him. Pepperdine Voice Instructor Meredith Pyle said this feeling is universal.
"The voice is one of our deepest connections with ourselves, and it's the primary form of connection both with ourselves and with others," Pyle said.
Developing the Voice
The development of a voice goes beyond how it sounds, Pyle said. It is largely about the message the voice is conveying and the intentions of the artist.
"It's not just how you sing; it's why you sing," Pyle said.
Beyond the Story

What did the reporting and research process look like for this story?

What I initially loved about this story is although I am not a singer, I have experienced what it's like for someone's singing to move me. My first interview was intentionally with my source who is a voice coach. I wanted to have knowledge on the technicality of the voice, the training of it and the various ways in which people use it. From there, I interviewed the singers and had good direction in what questions to ask them. After all my interviews were complete, I did research to back up their claims and provide scientific context and evidence for the readers on why hearing people sing makes us so emotional.

Can you speak a little bit about your sources and your process searching for them?

The wonderful editor, Beth, was the source queen for this story. She made sure every box was checked — I needed someone who teaches singing and trains the voice, someone who is training their voice through school and someone who has had years of experience building a career based on their voice. I was so happy to be able to give multiple perspectives through all these talented people who are in different places in their lives but all involved in using and sharing their voices.

What aspects of singing did you choose to focus on for this piece and why?

I chose to focus on the emotional aspect of singing first and foremost. I wanted to explain the ways in which the voice evokes emotion in both the singer and the listener. I also wanted to focus on the development of the voice and how one can develop a beautiful one. I thought it was interesting to hear different takes on what makes a voice beautiful because it gave insight into the way these people use their own voice and why they became a singer in the first place.
Pyle said music is generally thought of as an outside source of sound, but the voice is a unique aspect of music, it is internal.
"There's something very human about the voice and how we feel the voice," Pyle said. "Unlike other instruments, the voice is inside of our bodies."
Anyone can develop their voice because it comes from within. Corey said if anyone is willing to put in the work, they can find their singing voice.
"Everybody has innate musical talent," Corey said. "It just takes the right level of education and the help that you need, and it takes the right level of patience and tenacity."
It takes around 10 years for an artist to train to become a professional opera singer, according to Careers in Music. Corey had first-hand experience with a serious classical vocal education — he began training with a vocal coach in 8th grade. Soon after, he said he realized he gravitated toward the technicality of classical singing.
"He [his vocal coach] really understood the emphasis of both education in classical repertoire and performance in classical repertoire," Corey said.
Corey said his decision to attend Pepperdine and further his education in singing was directly related to how he not only wants to share his own voice, but also how he hopes to help others share theirs. His vocal coach as a child, he said, inspired him to pursue this career.
"I realized that everything that he had given me dates back to 1,000 years, or 500 or 600 years of education and focus," Corey said. "I felt that it was really necessary for me to continue down that path and be able to not only add my own expertise and focus and study it, but educate others in the same ideology."
Beauty of the Voice
The physical connection singing creates with the listener is what Purdy said she enjoys most about singing and songwriting.
One of Purdy's favorite songs she has written is for her children, called "Be the Light." It greatly impacted her kids, but Purdy said it also meant a lot to a friend who was going through a difficult time. He woke up every morning and listened to the song, which Purdy said gave him hope when going through daily challenges.
"Many people can relate to these stories," Purdy said. "That's also part of how I use my voice."
Corey said, as a classical artist, he sees beauty in the sounds a voice is capable of making, but in order to achieve that level of beauty, he said one must first be in tune with themselves.
As for what separates classical music from other genres, Corey said he thinks it brings together the most beautiful and unique aspects of the voice.
"Classical repertoire has a certain grandiosity that some other pieces and styles of music don't have," Corey said. "There's a higher level of extreme emotion and emphasis on human nature that some other art forms don't fully emphasize, or don't fully explore to the level that classical music, and therefore opera, does."
Corey, Purdy and Pyle all said using their voice brings them joy. In fact, singing is proven to lower cortisol levels — a stress hormone — and release endorphins — which make people happy — according to Sing Up Foundation. This can decrease depression, build confidence and allow for mindfulness, acting as a form of meditation.
Pyle said singing is one use of the voice that everyone loves, and that is the best part about it.
"There's just something very human about the voice — and how we feel the voice," Pyle said.
______________________
Follow the Graphic on Twitter: @PeppGraphic
Contact Liza Esquibias by email: liza.esquibias@pepperdine.edu
About the Author

Liza Esquibias is a junior Journalism major from Los Angeles and her favorite type of stories to write are news and features, and she also enjoys broadcast news. Her story goes into detail about the craft of singing and what makes the voice a beautiful instrument. She is excited to tap into the personal stories of these artists and show their passion for music. Liza would love to write for a magazine or anchor a talk show in her future.