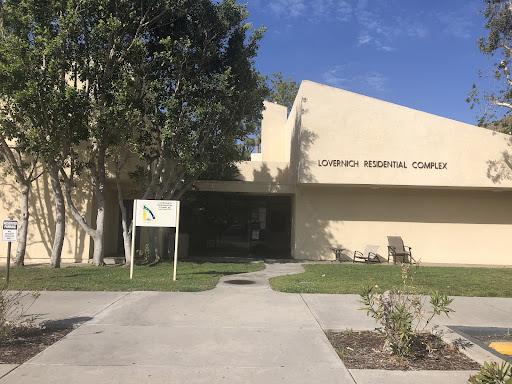 Pepperdine's Lovernich Residential Complex is one of the three apartment-style housing options the University offers. While residents may live on the same floor as someone who identifies with a different gender, rooms are separated based on assigned sex at birth. Photo by Alexander Payne
Editor's note: To protect the identity of a source the Graphic has used the pseudonym John Doe. As per Graphic style, all sources are referred to with their preferred pronouns.
While Pepperdine University allows students who identify as different genders to live on the same floor in upper-level residence halls, shared rooms and apartments are restricted to members who were assigned the same sex at birth.
Gender-restricted housing is a long-held Pepperdine policy, but the creation of gendered spaces on campus creates challenges for genderqueer and trans students. Universities such as Occidental College and the University of Southern California have made efforts toward gender-inclusive housing and create a safe living space for LGBTQ+ students, according to their websites. Other universities in Southern California with gender-inclusive housing include Loyola Marymount University and University of California Los Angeles.
"Everybody's different and I feel like that's why trans-inclusive housing is so difficult because there is no encompassing solution that will accommodate everyone equally," Pepperdine junior John Doe said. "I really think that if someone has an issue that they would like to work out with housing, that administration should take every case as they are."
The University takes an individual approach to each student's living situation, wrote Brittany Skinner, Associate Dean, Student Affairs and director of Student Activities in an April 16 email to the Graphic. The individual approach allows the University to find the accommodation that best suits the student's needs.
"As a department and university, our approach to serving our students begins from a place of care and love for each person," Skinner wrote. "We want all of our students, including those who identify as transgender, to feel welcomed and supported by our community."
Student experiences at Pepperdine
Doe, who identifies as a man, said he lived in a Seaside suite with six-randomly assigned women for the 2021-22 academic year. Doe said he did not request to be in housing with men because he has not yet changed his legal documents and originally planned to live off-campus.
Doe said his main concern was his roommates being uncomfortable living with someone who identifies as a man, or a potentially harmful situation for him.
"I would imagine, most female-identifying people that come to Pepperdine are going to expect to live with girls, and so suddenly, if they come into the room and some dude's just there and he's just like, 'I live here,'" Doe said. "I don't know how they feel about that. And on the off chance, I was afraid I would meet someone that would be very against it, and then there'd be some very awkward conversations to be had with the RA."
A lot of encouragement to speak up has come from faculty at Pepperdine, Doe said. While Doe said the RAs have been supportive, it is hard to ask for assistance, especially with delicate topics.
"The other thing that's really hard is if I refer to my suitemates or roommate, I have to be very careful about how I talk about my suitemates because I don't want to have to explain myself," Doe said.
Senior HeeJoo Roh, Graphic staff artist, said they live in Lovernich.
"On my documents I'm a female and because of that my options are other AFABS, and I only room with people who are AFABS because we have it [housing] divided by two binary genders in this university," Roh said.
The organization Crossroads, provides support and a safe space for LGBTQ+ students and allies, allowed Roh to meet their current roommate over Zoom. As Crossroads' Marketing Officer, Roh said the organization does not have an official way to match roommates, but members get to know one another through socialization.
"I didn't really think about their gender, but we are both non-binary," Roh said. "I guess I tend to not prefer random roommates because you don't really know who you're gonna get, and because I'm gay and nonbinary, it's just very important to me that, like they aren't homophobic or anything like that."
Their first year, Roh said they used Facebook groups to find roommates rather than the matching system the University offers, where students insert preferences such as when they go to sleep or level of organization.
"I think every gay person going to Pepperdine goes through this, 'Oh, no, I'm going to Pepperdine, I need to find gay people,'" Roh said.
Finding a gender-affirming safe space is pivotal for Roh's mental well-being, Roh said. While Roh said they do not speak for everyone in the LGBTQ+ community, their gender identity and sexual orientation play a large part in who they are.
"To have to be in a place that is not affirming, it makes you feel not accepted," Roh said. "And it sounds a little cliché, but it does have a lot of impact on self-esteem and other things, and it makes you feel more isolated from your peers."
Interest Communities
The University is open to feedback, including student ideas for new interest communities, wrote Skinner.
"Once we create an interest community, we work to determine which space will house the community including which suites or floors," Skinner wrote. "We also partner with other departments who have expertise in that specific area. We select RAs who want to serve in those communities and work with them to develop a vision and programming for the community."
Expertise in a specific area includes working with those who have lived in an interest community beforehand, Skinner wrote.
Housing and Residence Life offers four interest communities, and intends to add another, Callings, which focuses on religion, for the 2022-23 academic year.
The University of Southern California also utilizes interest communities, such as Rainbow Floor — an interest community offered to LGBTQ+ students. In addition to the interest community, the University also provides students with gender-inclusive housing to encourage a "safe and supportive environment," according to USC's website.
The LGBTQ+ Student Center at USC helps provide support, education, advocacy and community for students, according to USC's website.
USC's LGBTQ+ Student Center did not respond to request for comment.
Doe said he would like Pepperdine to pursue healthy, realistic solutions and education — not just using a label, but putting in research and effort.
"I think it would be nice if there could be some option for people to be educated on LGBTQ identities," Doe said. "Without it being turned into like a mockery of what it is."
Occidental Offers Gender-Neutral Housing
Day Blake, a senior at Occidental College, identifies as nonbinary and lives in Haines Hall, one of Occidental College's gender-inclusive housing options.
Occidental College, a private liberal arts college in Los Angeles, was originally Presbyterian, before becoming nonsectarian in the early 1900s. As of fall 2020, the university boasted an undergraduate enrollment of 1,839 students, according to U.S. News and World Report. Conversely, as of fall 2020 Pepperdine had 3,459 undergraduate students enrolled, according to U.S. News and World Report.
"You have to acknowledge that there are students that don't fit into the binary that are attending institutions," Blake said. "If you're simply going to designate them into boys and girls, there's going to be people in the middle of that in uncomfortable, awkward situations if you don't provide a healthy space for them to exist and be themselves."
While Blake said they lived with male roommates as a first-year, most of the upper-level housing at Occidental is gender-inclusive ⁠— where students can room with each other regardless of gender.
Options for gender-inclusive housing are included in his housing application, Blake said. When they select a room, information regarding whether it is within a gender-inclusive residence hall automatically appears.
"That has kind of just been largely a part of the social culture here at Oxy [Occidental] for me, and, like from day one of orientation, we always said our pronouns along with our name," Blake said.
While Blake is still denoted with their given name in their school's official records, they said they can change their Google accounts to reflect their preferred name and pronouns.
Other resources include a transgender resource page on Occidental's website, a list of gender-inclusive restrooms and study abroad information.
"I can't really even think of improvements," Blake said. "What we have now like it's just really widespread across campus to find gender neutral bathrooms. And that's something that's really important to be accessible to people."
LMU and Occidental both have maps of all-gender bathrooms.
UCLA also has an interactive map available that shows usable gender-neutral restrooms.
Knowing there are resources available to them has allowed Blake to embrace their identity without restraint, they said.
While some people complain about all-gender housing, Blake said these complaints do not outweigh the benefits.
"Sometimes you'll find signs over the toilet that say, 'Aim straight, you're not the only one using it,'" Blake said, "So those are the issues, those are the small things that arise out of co-ed spaces. And I think that's a minuscule problem compared to someone not feeling comfortable in their own living space, so I'm willing to put up with it."
_________________________________
Follow the Graphic on Twitter: @PeppGraphic
Email Samantha Torre: sam.torre@pepperdine.edu

Email Alexander Payne: alexander.payne@pepperdine.edu