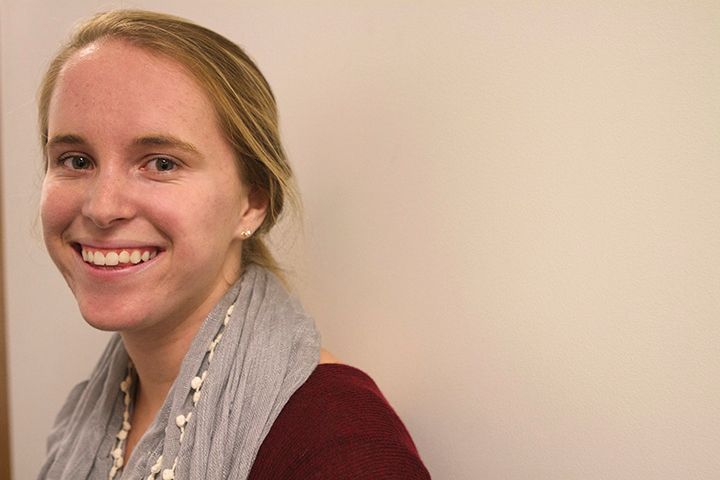 Photo by Marisa Padilla
Junior Jenna Johnson weighed approximately two pounds when she was born on May 28, 1994; five and a half pounds below the average newborn baby weight.
"I was literally the size of my dad's hand," Jenna said, as she took her hand and measured the distance between her middle finger and the bottom of her palm.
Originally from Sacramento, Jenna was born two months premature. Doctors weren't sure she was going to live, but Johnson survived these dire circumstances. It was then that she was hit with a virus that destroyed all of her blood platelets and had to get a transfusion. It didn't work, so she had to get another one, and one more after that. The last one came from her mother, who was also very sick at the time.
Three months passed and the Johnsons were finally able to take Jenna home to her twin brother Kyle, who was born at the same time but who hadn't suffered any of the problems Jenna experienced.
Some time later, Kyle started sitting up, crawling and talking. Jenna didn't. Her parents were worried, so they took her back to the hospital in which she had spent the first several weeks of her life.
The doctor's prognosis? Sometime during the blood transfusions, Jenna suffered a stoke that cut off the oxygen to her brain. This caused her to have cerebral palsy, a neurological disorder caused by brain damage that affects body movement and coordination.
The doctors told her parents she would never walk or talk.
But refusing to accept the fate the doctors had ascribed Jenna, her parents didn't give up and put her in physical therapy. She said that when she started walking, she couldn't get her whole right foot to touch the ground, which is why doctors gave her ankle weights and a leg brace.
"Mentally, I'm good. It's just my motor skills were the problem," Jenna said. "Really, how it affects me is the right side of my body. It's severely weaker and smaller than the other side." But you couldn't tell. It wasn't until she stretched out both her arms side by side that the difference was noticeable at all.
Other than the occasional parent who would wonder if something was "wrong" with her, she said bullying and teasing wasn't a major problem in her life. "There was some rumor going around high school that I was paralyzed," she said. I thought it was really funny because clearly I can move. People [also] thought I had a bionic leg. So I never took it personally. I just thought people were really stupid."
She cited her in-home nanny, Kimberly, as "probably the biggest influence in my life. She never let me give up." Kimberly lived with the Johnsons until Jenna was about 5 years old, when she left because she was getting married. In high school, life threw Jenna another curveball when Kimberly died of a liver disease at the early age of 35.
Jenna said she would wear the leg brace and an arm brace that helped her use her right arm in order to help gain mobility. "I was just really frustrated because mentally I was fine. I knew what I wanted to do and I knew what I wanted my body to do, but my body just wouldn't do it."
Jenna is a soccer player and has been since she was 5; it's her favorite sport. "My parents never let me have it [cerebral palsy] as an excuse. They never let me say, 'No, I can't do it.'"
It wasn't until Jenna was in middle school that most people found out she had cerebral palsy due to her walking cast after having surgery on her right leg. Jenna, 12 at the time, started to walk better and tried to get her heel to touch the ground. When she took the cast off, she had to learn how to walk all over again. She was at the doctor's office and fell after taking a step. She then got up and fell again, and got up and fell again.
Nowadays she still has the walking brace but doesn't use it as much. Even though she said it makes walking more comfortable, it's very difficult to put the brace inside her shoes because she needs to buy bigger shoes to accommodate it.
She said one of her favorite types of therapy was equine therapy, which consists of using horses to promote physical and emotional growth, since their muscle movement mimics that of humans. She also underwent muscle-stretching exercises as well as other types of exercises, which she forgot about. "I hated it so much so I think I blocked it out of my memory," she said.
Senior year of high school, Jenna had surgery on her right arm to increase her motion. She could barely move her arm, but she is now close to having full range of motion. The scar on her right forearm is testament to the operation.
"I don't mind telling people, and I don't mind people knowing, but I do like that it's not such a visual physical disability. It could've been a lot worse," she said.
Jenna was 17 when she took a trip with her church youth group to Maneadero, Mexico, just a few miles south of Ensenada. They visited the Gabriel House, a nonprofit rehabilitation center for children with disabilities who have been orphaned, abandoned or whose families are unable to take care of them, according to their website.
She wasn't a Christian yet, but that changed when she met Antonio, who was 14 at the time, was the youngest of three brothers who lived at the orphanage. Antonio was in a wheelchair and couldn't physically talk even though he understood English and Spanish. He knew sign language and served as a caretaker for the more than 40 kids in the house, some of whom had to be spoon-fed due to their severe disabilities.
Antonio having the same disability as her changed Jenna's life. "The only way this kid can be this joyful is because he has the love of God in him. I came back from this trip like, 'This must be God,' and I was baptized the following year, which was right before I came to Pepperdine," she said.
Jenna, a liberal arts major focused on education studies, was torn on whether to attend Pepperdine or University of California Santa Barbara. She toured UCSB first, but was instantly charmed when she set foot on Pepperdine's radiant campus.
"This is so much better," she said. "When I was walking around this campus, and we were doing the tour I kept going: 'I have to go here, I have to go here. I don't know if I got in, but I have to go here.'"
Her brother, Kyle, is also a Pepperdine student who is majoring in International Studies with a political science emphasis. Kyle didn't have any birth defects and is in the Army ROTC.
"She's the tiny little angel that everybody seems to love," Kyle said. "She's the kindest, always trying to be good to those around her; she just wants to make everyone happy."
Kyle said Jenna's overall attitude toward life makes her do everything in an overwhelmingly positive way. "In terms of sports, she always struggled a bit to keep up, but that never stopped her from trying her hardest," he said.
During Songfest of her freshman year, Jenna lost her voice. She was at the HAWC with friends and her voice started to shift to very high and very low levels. Her voice didn't come back for the rest of the semester. She regained her voice for brief stints, but she hasn't been able to get it back since November 2013. She was taken to doctors, but they couldn't figure out what was wrong with her. She said that's why she's interested in learning sign language.
"Just because Jenna doesn't have a voice,  it doesn't mean she isn't one of the most outspoken women I know," her best friend, junior Tanya Garcia said.
Garcia has known Jenna since their freshman year. "Jenna is one of the most patient, God-caring and loving women that I know," she said.
Garcia said Jenna always wants to be around people no matter what she's going through and that she is one of the most selfless people she knows. "People are just drawn to her because she is so alive and so excited to see people," she said.
A Campus Ministry intern, Jenna said she's studying to learn sign language to possibly teach deaf children as well as other students.
"Pepperdine doesn't cover American Sign Language, but YouTube has a lot of great videos," she said, as she is learning on her own. She is currently a science student teacher for a seventh grade class at the Medea Creek Middle School in the Oak Park Unified School District on Wednesdays from 11 a.m. to 3 p.m.
Optimistic. That was the answer she gave when asked to use one word to describe herself, claiming she's tended to see the brighter side of things since becoming a Christian. Jenna said she doesn't want to put a lot of expectations on her future, since, "I know God has his own plan and I want to be open to that."
But she did mention that she eventually wanted to get married with someone who loves dogs. And in the future we may see a couple of little Johnsons. "Maybe I'll adopt. I don't really know if being pregnant sounds fun. I feel like I'm so small it would kill me."
__________
Follow Ricardo Avila Alvarez on Twitter: @TheRicardoAvila