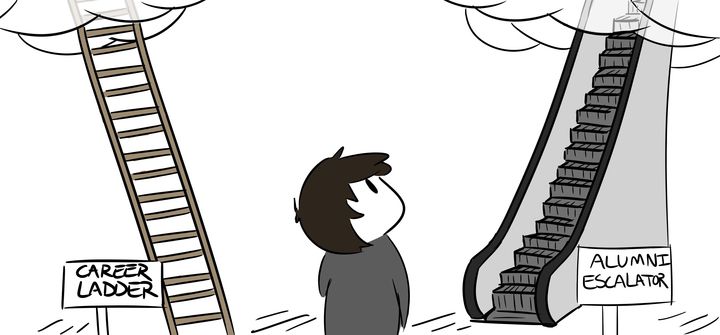 Art by Sacha Irick
In today's competitive job industry, networking is everything. As the saying goes, "It's not what you know; it's who you know."
College is the prime time to build connections. Typically that involves developing relationships with your university's alumni.
At Pepperdine, however, there's been a disconnect between students and alumni.
Alumni Affairs does a great job of keeping alumni in close contact with the University. According to Manager of Student and Affinity Engagement Hannah Dean, last year they hosted about 50 events for Seaver College and George Pepperdine College alumni. Out of those, Dean noted that about 15 included Seaver College students.
Alumni Affairs, the Career Center and the Student Alumni Organization offer events such as career fairs, "Night 2 Network," "On-Campus Interviews" and "Hang 10 Dinners" that are made to bring students and graduates together. They also have the Project E(x)-ternship spring break program when students can shadow alumni, parents or friends of Pepperdine in specific career fields.
But only a set list of companies (roughly the same set each year) attends the career fairs, and Night 2 Networks are only geared toward specific majors.
If you're busy on the "Hang 10 Dinner" nights and unavailable during spring breaks, then you're out of luck.
However, the most significant problem isn't a lack of student-alumni mixers. The problem is that alumni in various fields aren't being reached.
According to the 2012-13 Pepperdine Facts brochure, there are 23,173 Seaver College alumni.
While it's impossible to expect Pepperdine's reach to extend as far and wide as USC's, it's true that Pepperdine (tied for No. 54 in USA Today's College rankings) has a solid amount of successful professionals in the workforce.
For example, Julia Hartz ('01) founded EventBrite, Gregory Beauchamp ('94) is an Emmy Award – winner and Tiff Wells ('08) works for ESPN 1420 in Honolulu.
Hartz has only been back to Pepperdine once since she's graduated.
Beauchamp is a regular speaker, but only in certain classes.
Wells sometimes returns to Malibu to call men's volleyball games, yet has never formally spoken to students about careers.
While it is understandable that not all alumni have time to visit the campus, their names should at least be known to the students who hope to delve into those respective fields.
Tyler Wong ('11) graduated as a business major and aspired to work for a professional sports team. Before claiming his diploma, Wong reached out to an alumna at ESPN's Bristol headquarters.
He said he believes that connection helped him secure a job. Fresh out of Pepperdine, he worked at ESPN for two years in Connecticut. Now he's a Broadcast Associate at FOX Sports 1 in Los Angeles.
Despite the fact that he has experience working at one of the top sports media companies in the world, Wong said he has never been contacted by the the alumni office, though he added that, if asked, he'd be willing to assist students in any way he can.
"I want everyone to have the same opportunity that I did," Wong said.
"As far as I know, ESPN doesn't go out to recruitment trips to Pepperdine anymore. It'd be nice to build that bridge," he said.
Pepperdine should showcase individuals like Wong to students through Alumni Affairs or the Career Center.
Otherwise, it means students are on their own when it comes to finding alumni who could jumpstart their careers.
The university doesn't need to create a laundry list of contact information for every single graduate, but there are steps that could be taken to close the gap between students and alumni.
First, more alumni should be contacted and asked to speak on campus, whether it be for Convocations or for scheduled events open to students.
The untapped reservoir of Pepperdine grads spread across the world in various career fields is just waiting to be unearthed.
Second, Alumni Affairs should focus on providing resources for each separate career field.
Wong said one of the main reasons he never consistently utilized Alumni Affairs and the Career Center was that he felt that what they had to offer wasn't relevant to his interests.
One option is to organize special mixers for each division. That way, a greater impact could be made rather than limiting the mixers to talking only about business or advertising.
By doing that, students can get the best information out of the events and interact with the right people.
In the meantime, there are many other resources that are always available at students' fingertips. Ask your professor if he or she has any connections with a firm or person for which you'd like to work.
If you are looking for an internship at a specific company, be proactive and look at the internships section on their website. You can also search for alumni on LinkedIn, Twitter or Facebook.
More often than not, alumni are willing and able to lend a helping hand to college students.
The first step to reaching out simply needs to be initiated.
__________
Follow the Graphic on Twitter: @PeppGraphic