Photos by Gabrielle Norte
Hungry students congregated in Mullin Town Square on Wednesday, Sept. 6 at 11 a.m. for complimentary fajitas and cookies as part of the Inter-Club Council's annual club fair, CultureFest.
The fair is a chance for students to learn about Pepperdine's clubs and cultural opportunities. After eating, students toured an array of tents decorated with flags, information flyers and giveaways. Club representatives from every walk of student life at Pepperdine ran the tents, from acting troupes to fraternities.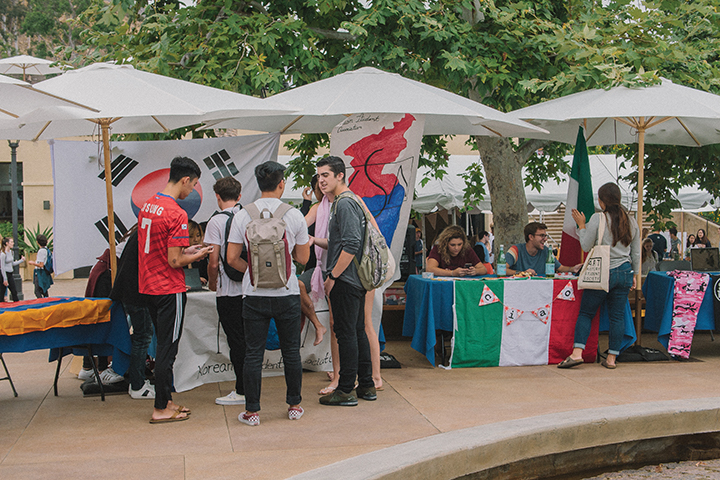 According to Latino Student Association member junior José Alcazar, cultural organizations were especially popular this year. "We've been signing up a lot of new members," Alcazar said. "This freshman class is actually a lot more diverse than previous freshman classes have been."
Junior Adrian Manzo, another member of L.S.A., said that for him, CultureFest is an opportunity for inclusivity. "We're open to everyone," Manzo said. "People come up and they're like 'But I'm White, can I join?' And I'm like, 'Yeah, absolutely. That's what we're all about.'"
Pepperdine Improv Troupe president and senior Evatt Salinger said he also values inclusivity, but not for those without the "funny bone." A question that Salinger and his troupe repeatedly asked students was "Have you ever made someone laugh?" If the respondent said "No," the troupers burst into laughter and said "Now you have," and sent the student on their way with a doughnut and a PIT sticker.
Perfecting the pitch is essential for attracting new members, according to Alpha Phi Alpha members senior Christian Morrison and junior Clinton Branch. A newer fraternity on campus, this was APA's second year at the Fest. "We're much better adjusted this year," Morrison said. "Last year we didn't even know how to set up. We feel like people know us a lot better this year. We also know how to talk to them."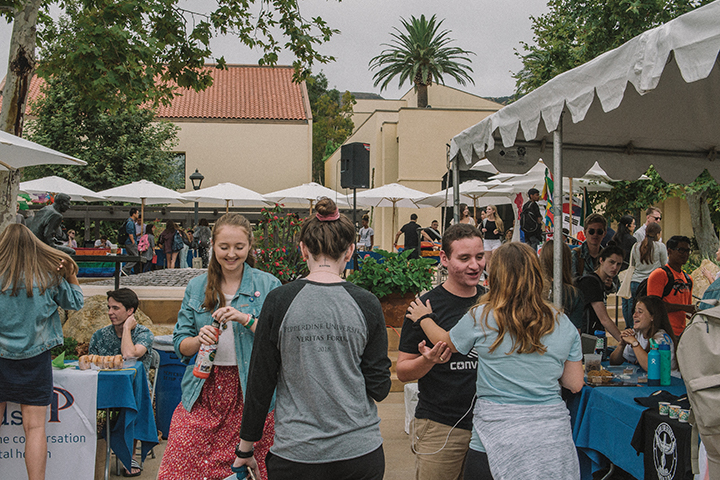 Some tents pitched community service. 10 Days, part of The Wells Project that raises awareness of the global water crisis, distributed stickers and lick-on tattoos to interested students. "Participants pledge to drink nothing but water for 10 days," said junior Charlotte Wallace, a member of the organization. "Money that we would spend on Starbucks or soda or SunLife goes to Living Water International, a Christian non-profit. They train natives in these areas to build wells rather than people from the West, which is great because it's much more sustainable."
Pepperdine Model U.N.'s pitch centered around cultural emersion through travel. Junior Morgan Bedford, a member of Model U.N., said her tent was particularly attracting students who did Model U.N. in high school.
Bedford, who didn't participate in a model U.N. club until college, said her club provides more than just competitions. "We're trying to develop global citizens in public speaking and in writing," Bedford said. One way they intend to do this is by traveling to global conferences in both China and New York later this year.
The consensus from many club members and students was that the fair was a success. Students who were enticed to the fair by the food ended up getting to know Pepperdine and its clubs a bit better.
"I was surprised by the amount of clubs," said junior Tatum Rask, who was visiting the fair. "There's such a wide range of clubs. It's fun as a junior to see my friends getting involved on campus and learning what they are passionate about."
_____________________
Follow the Pepperdine Graphic on Twitter: @PeppGraphic