Pepperdine University and the surrounding Malibu area both have a reputation for being secluded and safe. While overall crime rates at the University and in Malibu have fallen, certain crimes — such as burglary and weapons charges — have trended upward in recent years.
In 2019, people in Malibu reported 1,128 crimes in the area, showing a decline in total reported crime since 2016, when they reported 1,224 crimes, according to the Lost Hills Sheriff's Station. The station's crime and arrest reports from 2017 to 2019 show a different trend: In Malibu, reports of burglary and felony-level sex offenses have increased each year.
Similarly, Pepperdine's Department of Public Safety's crime logs and annual Clery Act crime statistics show overall crime in the Pepperdine community is down, but crimes such as the possession of weapons and fondling have increased from 2016.
"At Pepperdine, it's harder to get away with stuff because everybody knows everybody," sophomore Kelsey England said.
On-Campus Versus Off-Campus Crime
The Clery Act is a federal mandate requiring all colleges that participate in federal financial aid programs to document and disclose information about crimes on or near their respective campuses. The most recent Clery Act crime statistics available for Pepperdine report data gathered from 2016 to 2018.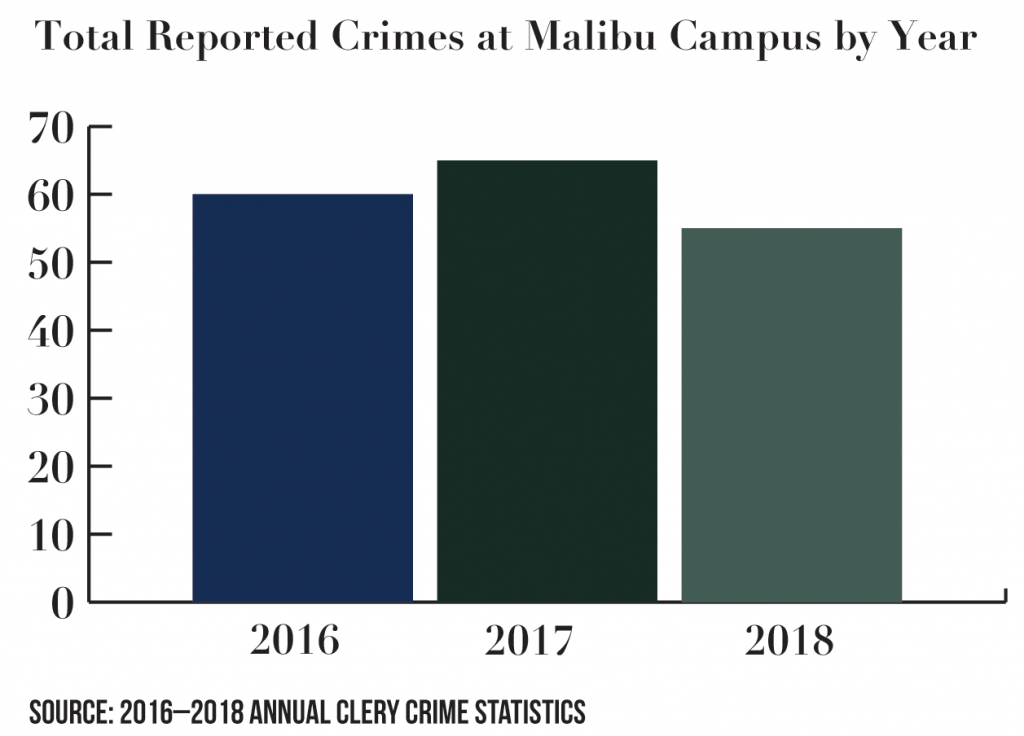 Despite the increases of some specific crimes within Pepperdine's Malibu campus, England said she felt secure while living on campus as a first-year student. Because of the cancellation of her abroad program and campus closures, England and other sophomores chose to rent their first apartment in the area.
"It's like a little nest," England said. "Pepperdine is a small community — if something happens, you probably know about it — versus a state school where there's a lot more people and if something happens to one, unless you have friends that really care about you, no one would notice."
Senior Chadwick Brown said he feels like Pepperdine's campus is a safe haven, but his trust in the safety of Malibu faltered in 2019. One night in September, a homeless woman — who was caught on security camera footage — snuck inside Brown's gated community, entered his home through an open door, found his keys and stole his vehicle.
"I didn't even get sad or anything because I thought it was a prank," Brown said.
The Los Angeles Police Department found Brown's car three weeks later in Hollywood, though he said police did not check what the suspect left behind in his car. In the trunk and backseat, Brown found a machete, pornography, drug paraphernalia, stolen packages, a BMX bike and a diary that the woman and her partner left.
While Brown said the break in and theft rattled him, he does not think the crime is indicative of Malibu as a whole.
"I wrote it off as a freak accident, but I'm still more cautious about locking my doors, and I keep my key up in my room now," Brown said.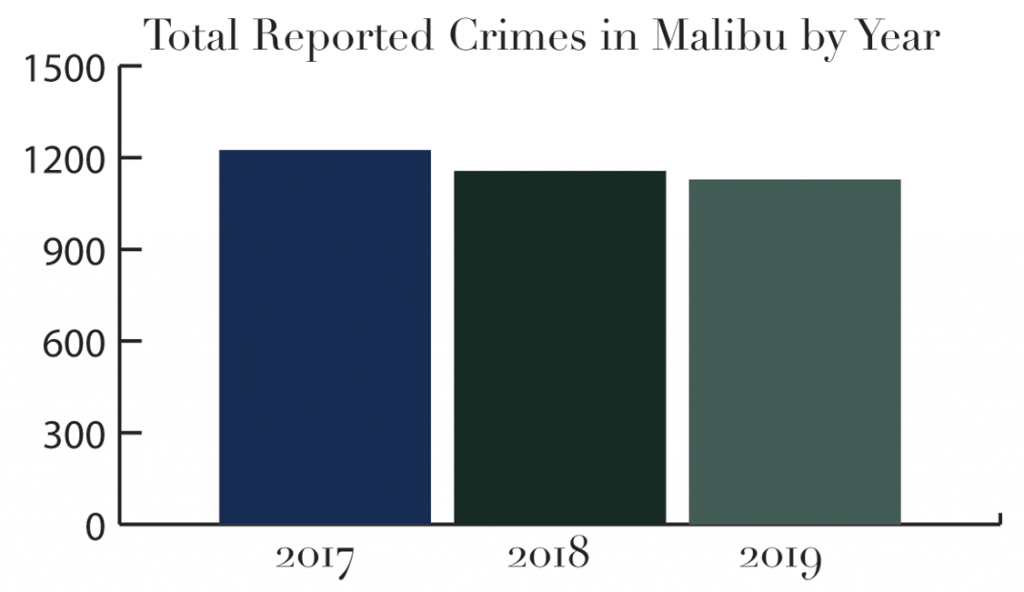 Malibu's rate of motor vehicle theft has fallen over 42% since 2017, with 33 reported thefts that year, compared to 29 in 2018 and 19 in 2019.
Pepperdine's Clery Act crime statistics show low rates of vehicle theft, with one report in 2016, zero in 2017 and one in 2018. More common crimes on campus are hit-and-run, non-injury car accidents, which consistently appear across campus crime logs from 2017 to 2019.
Brown said while he is aware of people experiencing homelessness in Malibu, he does not usually feel afraid of them. England said while she understands the struggles homeless people face, she still carries pepper spray while traveling alone in Malibu in case someone might approach her and the situation escalates.
"It might put you in a dangerous situation if you don't know how to approach it and if you do the wrong thing," England said.
Burglary and Theft
When on campus, it's common for students to leave laptops, backpacks or purses unattended at a study spot or classroom, England said.
"I would definitely just leave my stuff in Payson if I had to run to the grocery store or something; I never was worried about people taking it," England said.
While burglary on campus is declining — with just five cases in 2018 compared to the previous year's 14 — the Department of Public Safety's crime logs show on-campus petty theft is a more common occurrence than one may think, with 22 reported thefts in 2019.
Data shows burglary in Malibu, however, is on the rise. People in Malibu reported burglary 86 times to the Lost Hills Sheriff's Department in 2019 — up from 74 reports in 2018 and 78 in 2017. England said she witnessed a man attempting to rob the Chevron station in Malibu late at night and has felt afraid to get gas alone since the incident occurred.
"I was like, 'Oh my gosh, I'm going to die,'" England said. "I just remember thinking, 'This is not a safe place to be — I just need to put the gas in my car and get out of here.'"
Rape and Sexual Assault
Reports of rape in Malibu are lower than recent years, with five reported rapes in 2019 compared to 10 in 2018. Reports of felony-level sex offenses, however, jumped from two reports in 2018 to nine reports in 2019, according to the Lost Hill's Sherriff's Department crime and arrest reports.
At Pepperdine, Clery crime statistics recorded two cases of rape in 2018, compared to zero cases in 2017, two cases in 2016 and zero cases of statutory rape over the three years.
England said she feels less at risk for sexual assault on campus than she does traveling around the city of Malibu, especially after a random man near the Malibu Pier followed her and her friends back to their car during her first year at Pepperdine.
"As a woman, it's even more unfortunate," England said. "If we want to go for a run at night, we feel like we can't unless we're in a group. But [Pepperdine] is the type of place where you're not afraid to walk to your car at 11 at night and think, 'Oh my gosh, am I going to get robbed?'"
Cases of fondling, which the Clery Act defines as "the touching of the private body parts of another person for the purpose of sexual gratification, without the consent of the victim, including instances where the victim is incapable of giving consent because of his/her age and/or because of his/her temporary or permanent mental incapacity," rose from zero cases from 2016 to 2017 to three cases in 2018.
Several of England's friends who attend Arizona State University receive alerts on their phone every time there is a reported sexual assault. England said she feels Pepperdine should address sexual violence in a similar manner so students are aware in real time and can take action to protect themselves.
"That stuff is really helpful because it tells you what's going on and to watch out, but I feel like Pepperdine doesn't have that," England said. "I feel like Pepperdine would rather just deal with it quietly."
In Malibu, the reports of criminal possession of a weapon have oscillated, ranging from 16 reports in 2017, nine in 2018 and 12 in 2019. Pepperdine Clery data shows disciplinary referrals related to weapons have risen, with three referrals in 2016, two in 2017 and five in 2018.
The possession or use of any weapon, ranging from "firearms, air and spear guns, knives, martial arts weapons, bows and arrows, swords, paint/pellet guns, toys that replicate or could be mistaken for real guns, explosives of any type, ammunition, and dangerous chemicals" can result in disciplinary action, according to the Seaver College Standards of Conduct.
In a world with an increasing number of school shootings and gun violence, England said she is more conscious of the possibility of an active shooter both on campus and in Malibu. Though she has not witnessed anyone on campus with more than a pocket knife on hand, England said she thinks about safety strategies while in places like Elkins Auditorium.
"At Pepperdine, I definitely feel safer because when you have less population, it's a less likely chance for something to occur," England said. "But it is definitely something I've considered — where would I hide, where would I go? That's something really scary and unique to our generation."
____________________
Follow the Graphic on Twitter: @PeppGraphic
Email Grace Wood: grace.wood@pepperdine.edu