Photos by Jessica Stomberg
Pepperdine held its 31st Step Forward Day on Sept. 7, serving over 40 nonprofits within the Los Angeles and Ventura counties, with over 1,200 volunteers. Alongside student volunteers, there were staff, faculty, alumni and friends who came together to benefit the community on this annual day of service.
Step Forward Day was put on by the Pepperdine Volunteer Center (PVC), which seeks to connect students with service opportunities. For this event, students participated in a range of projects including planting gardens, cleaning facilities for the homeless, assisting with maintenance of local elementary schools and more.
Anthony Rivero, assistant director of the PVC, said he sees Step Forward Day as a kickoff for service.
"It will be the kickoff for an entire year of service," Rivero said. "Step Forward Day is more of a learning day than just a service day. We want to introduce people to the experts in the community, whether they work in hunger and homelessness, childcare, education, things like that. We want to introduce our community to all the things that are happening."
Mackenzie Mazen, one of the special events directors at PVC, said she hopes Step Forward Day is an introduction to a variety of service opportunities for students.
"I want everyone to get that introduction into service because I think service looks different for a lot of people," Mazen said. "They might have different ideas of what service is or who they want to serve, so introducing them to different kinds of service and communities they might not intentionally partner with, is something very beneficial. I hope that everyone gains something by participating."
Sharing in Mazen's positive hopes for Step Forward Day, Rivero also spoke highly of its potential impact.
"We identify that social change comes through communal collaboration, so we want this to be a moment of connection, both to PVC and to Pepperdine," Rivero said.
It's also an opportunity for "connecting our students to social issues and giving them an opportunity to have a hands-on experience that will turn them into advocates later," Rivero said.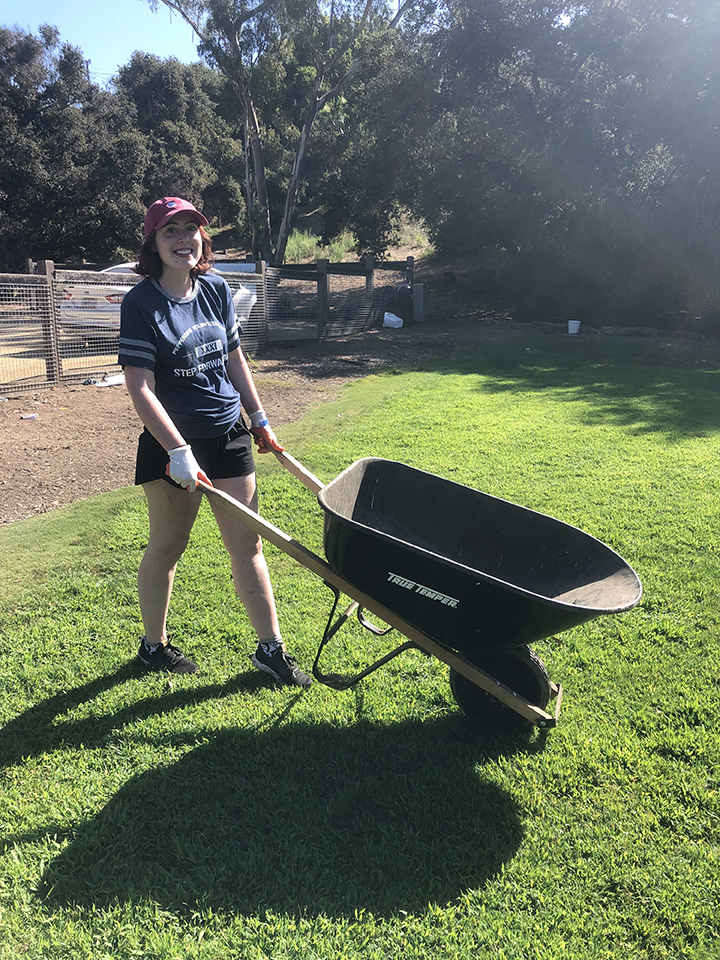 Audrey Rhynerson, serving the Pacific Palisades YMCA by assisting with yard clean-up.
Service can mean different things to different people.
Freshman Nathan Ornelas said he worked with an organization called The Shower of Hope. His group assisted with the cleaning of mobile shower trailers for the homeless. He explained how the organization not only provides the homeless with a place to shower, but they will also do their laundry and provide them with food.
For Ornelas, service means "putting others before yourself."
Junior Priscilla Wesely spoke about why she chose to participate in Step Forward Day.
"I am an SLA [of Towers], and me and my co-SLA, Emily, decided to be group leaders because we have a passion for service and being able to help the community," Wesely said. "We were also excited to get our residents involved with something."
For Wesely, service means "being altruistic and being selfless in everything you do, and asking for nothing in return … It's being there for people's needs without them even asking."
Junior Coleman Doyle helped the Pasadena Community Garden along with his fraternity brothers of Sigma Phi Epsilon. He said the Pasadena Community Garden told his group that the amount of work they did in an hour and a half would have taken them about a week to get done.
Doyle explained that for him, service means "putting other people in front of yourself," regardless of if it involves waking up early or doing something for others that you may not normally do or choose to do.
Pepperdine's first Step Forward Day was in 1988, with about 150 student participants. From then to now, this day has grown dramatically. This year, 1,200 students were registered, surpassing last year's 1,100 total students registered, Rivero said.
The PVC has been a place where students, staff and faculty members live the Pepperdine pledge that "knowledge calls, ultimately, for a life of service." Their mission is realized in developing and supporting student leaders who engage their peers in meaningful service and build strong partnerships with their community, according to the PVC.
Step Forward Day allows for individuals to live out this pledge, by giving them an opportunity to serve their community.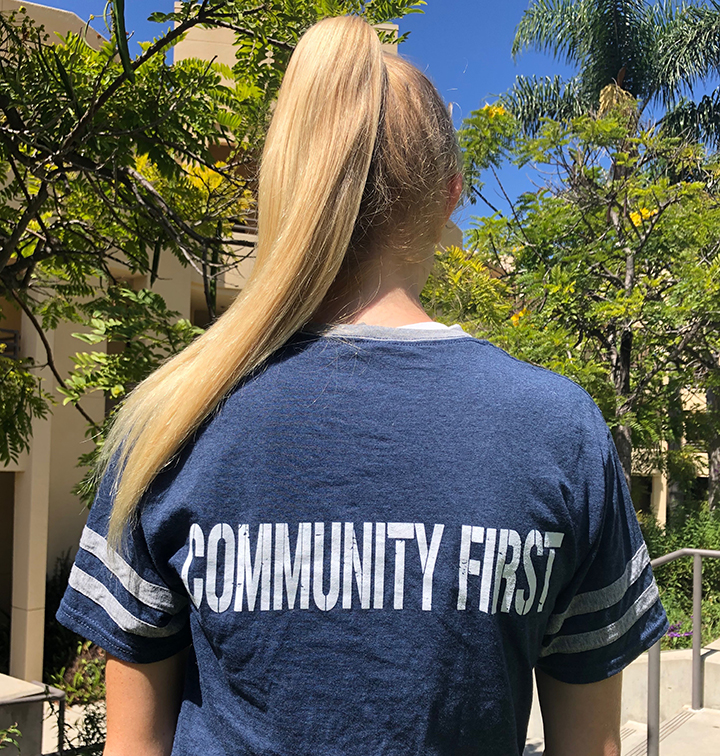 Christy Schrader, wearing this year's Step Forward Day t-shirt with the motto "community first."
The PVC approached this year's Step Forward Day with a motto of "community first," Mazen said. Their desire was to meet communities where they're at, whatever their needs.
__________
Email Jessica Stomberg: jessica.stomberg@pepperdine.edu