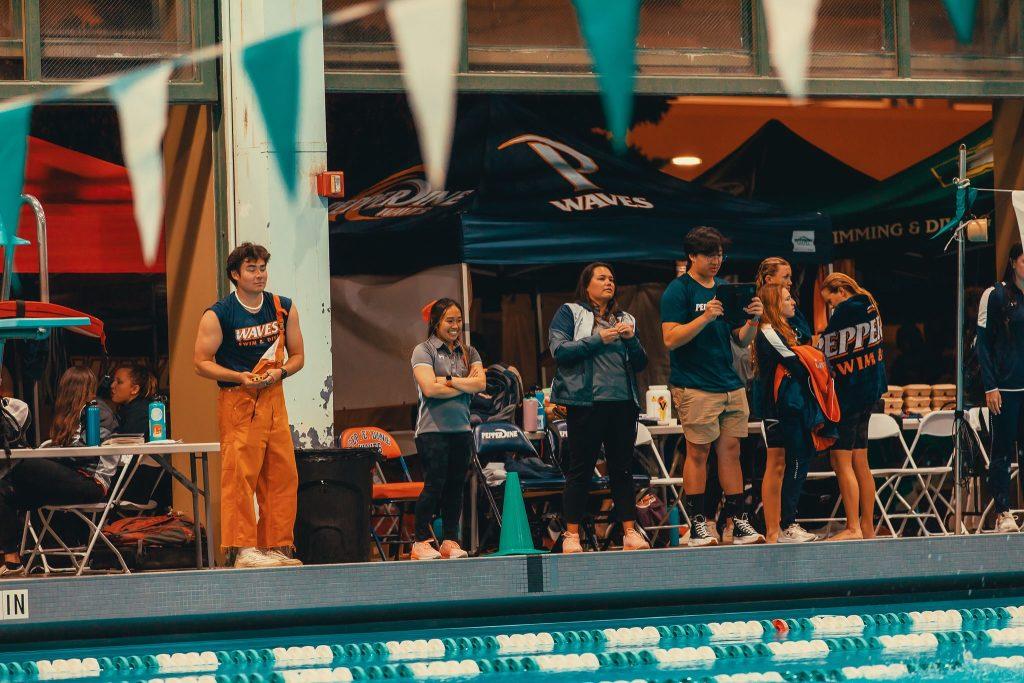 Junior Nolan Wang cheers on the Pepperdine Swim and Dive Team at the PCSC Championship on Feb. 11, at Monterey Park, Calif. Wang said student managers are there as volunteers. Photo courtesy of Nolan Wang
Behind the scenes of every athletic event and practice, the student managers of Pepperdine said they are hard at work, serving their team and their communities. Student managers said one of their main responsibilities are setting up practices and events and helping out the athletes whenever they're needed.
Junior Nolan Wang is a student manager of the Pepperdine Swim and Dive team and said student managers do not get paid by Pepperdine University. They do this because of their passion for the sport and for volunteering, Wang said.
"We do this for fun," Wang said. "We have the passion for the sport. We come together to celebrate the sport and make sure other people know how great the sport is."
Amanda Kurtz, associate director of Athletics, wrote in a Feb. 17 email to the Graphic that Athletics explained to all student managers on an annual basis by the compliance office that Athletics does not pay them for their service.
"It was outlined in their manager agreements and educational documents," Kurtz wrote. "Unfortunately, at this time, the Athletics Department is not able to provide any payment to student managers."
How to Become a Student Manager
Kurtz wrote student managers reach out to coaches about the process to become a manager.
Wang said he became the student manager of the Swim and Dive team in his sophomore year. He emailed Head Coach Ellie Monobe to ask if he could be their team manager, Wang said.
"I was a swimmer for a lot of years," Wang said. "I excelled really well in my career as a swimmer. Unfortunately, I never got to pursue my athletic career and just came to Pepperdine solely for academics."
Wang said when he came back to Pepperdine, he found out Pepperdine had a swim team.
"I was very interested because I wanted to see if by any chance I can get on there to help out," Wang said.
Freshman Dilan Srinivasan said he's been a student manager of a basketball team since sixth grade. Because his school was small, Srinivasan said no one wanted to be manager of the basketball team, so he decided to step up.
Srinivasan said he continued to be a student manager throughout high school, which led to his head coach referring Srinivasan to Pepperdine, Srinivasan said.
"The coaching staff has opened me with open arms," Srinivasan said.
Benefits of Being a Student Manager
Srinivasan said one of the benefits of being a student manager is they get to travel with the team and also get team gear.
"For someone who loves basketball, that's awesome," Srinivasan said. "You get to go on a lot of trips."
Graduate student managers can receive a scholarship toward tuition, Kurtz wrote.
Director of Athletics Steve Potts covered Ryan Williams' tuition through a scholarship, Williams wrote in a Feb. 15 email to the Graphic.
Williams serves as the graduate assistant for the Pepperdine Men's Basketball team.
"I also have the ability to fill out mileage reimbursement forms and get paid a certain amount when he drives athletics for operational purposes such as picking up a student-athlete from the airport," Williams wrote. "I also get compensated for laundry, same as when I was manager."
When Williams first started working as a student manager in the fall of 2018, Williams wrote Pepperdine Athletics communicated to him that he had the ability to receive compensation from the team for one task alone — laundry.
"I was also aware that I could work several events and do certain jobs through the facility and events staff," Williams wrote. "I was able to receive compensation for those hours. The process was normal, as I had to be hired through Pepperdine's Employment office and had to complete forms as any other student would."
Kurtz wrote if students are employed in a different role within Athletics, such as tutoring, facilities, statistics, laundry, etc., those positions are paid.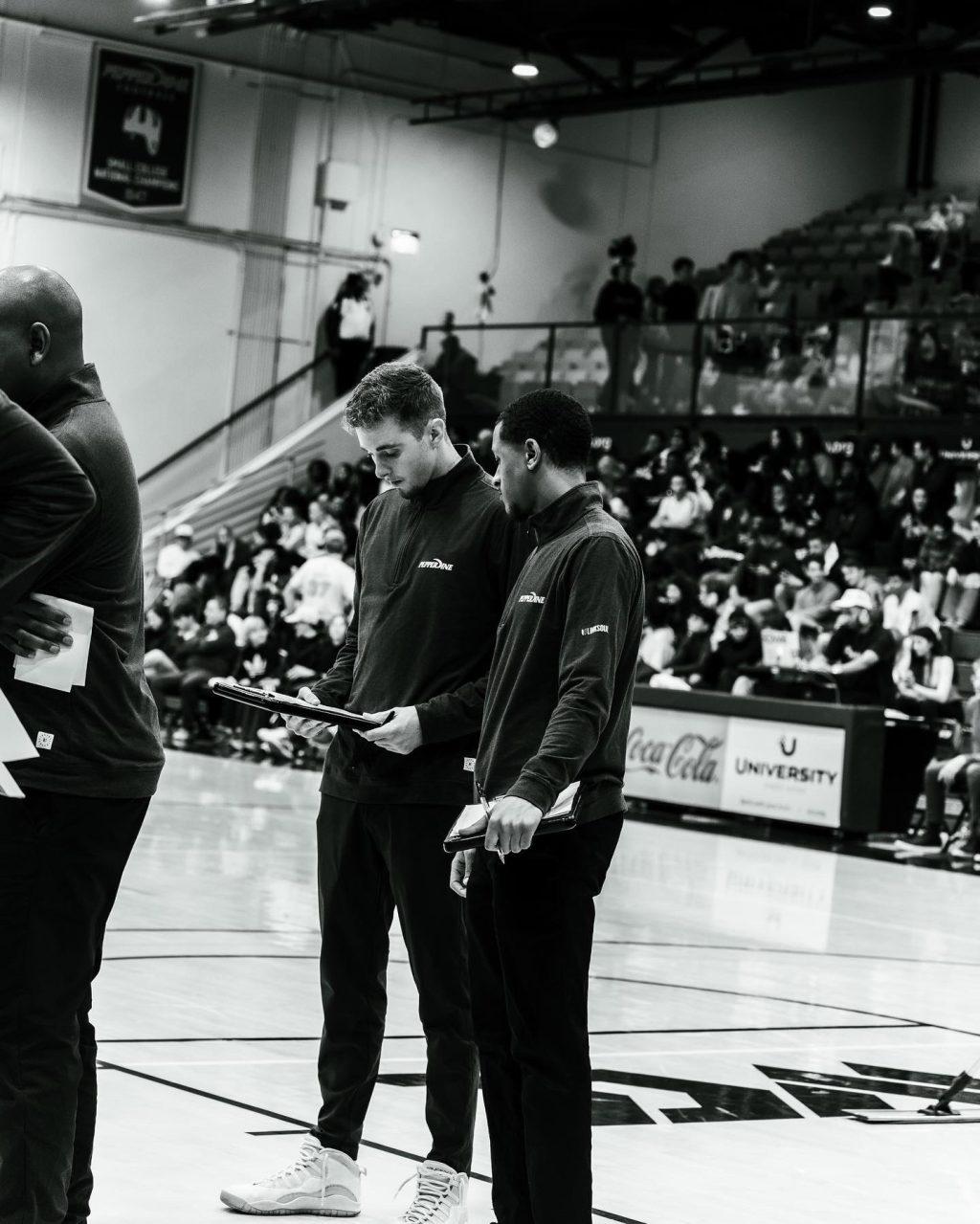 Pepperdine Men's Basketball graduate assistant Ryan Williams and DJ Polk strategize a play Jan. 19, at Firestone Fieldhouse. Williams wrote his graduate program was covered with a tuition scholarship. Photo courtesy of Ryan Williams
Disadvantages of Being a Student Manager
Wang said being a student manager is being an athlete without doing the actual sport.
"The only downside is time management. It's one of the biggest things that becomes very critical," Wang said. "I'm always there filming or uploading [footage], making sure everything is going correctly."
Sometimes, when the team travels, Srinivasan said some of the travel costs are coming out of his own pocket.
"Sometimes [the team will only] cover a couple of managers saying, 'Hey, we don't have enough for you,'" Srinivasan said. "That's OK. In that sense, if I really want to go on the trip, I'll pay for it separately. But, for the most part, they usually cover everything from food, travel and transportation."
Srinivasan said, at times, he had to wake up at 5:30 a.m. to rebound for some of the players. In addition to the travel, Srinivasan said the student managers occasionally have to miss class.
Reflecting on Their Experiences
Wang said he wanted to reiterate the fact that team managers come onto the team as volunteers.
"We're there because we have a passion for the sport," Wang said. "We want to do something with a sport and ensure that all the athletes can be able to do what they need to do."
At the PCSC Championships, Wang said there was a problem with the wedges used for diving, and some of the women started to worry. Whenever there are issues with equipment or logistics, Wang said it is the manager's duty to help out.
"I'm just there to ensure that everything goes smoothly so they can focus on what they need to focus on," Wang said.
Srinivasan said if he wanted to get a job for money, there are always other ways.
"I'm totally cool with not getting paid in the sense that I just love basketball," Srinivasan said. "I'm doing this just because I have a love for the game."
Williams wrote being a four-year head manager for the Men's Basketball Team was the most beneficial choice for his career to date.
"It allowed me the opportunity to learn college basketball, to serve well, and to build relationships with the people who come through Firestone Fieldhouse," Williams wrote. "I wouldn't be where I am today as a graduate assistant if it weren't for my years as a student manager."
___________
Follow the Graphic on Twitter: @PeppGraphic
Contact Jerry Jiang via Twitter ( @j_jiang30 ) or via email: jerry.jiang@pepperdine.edu