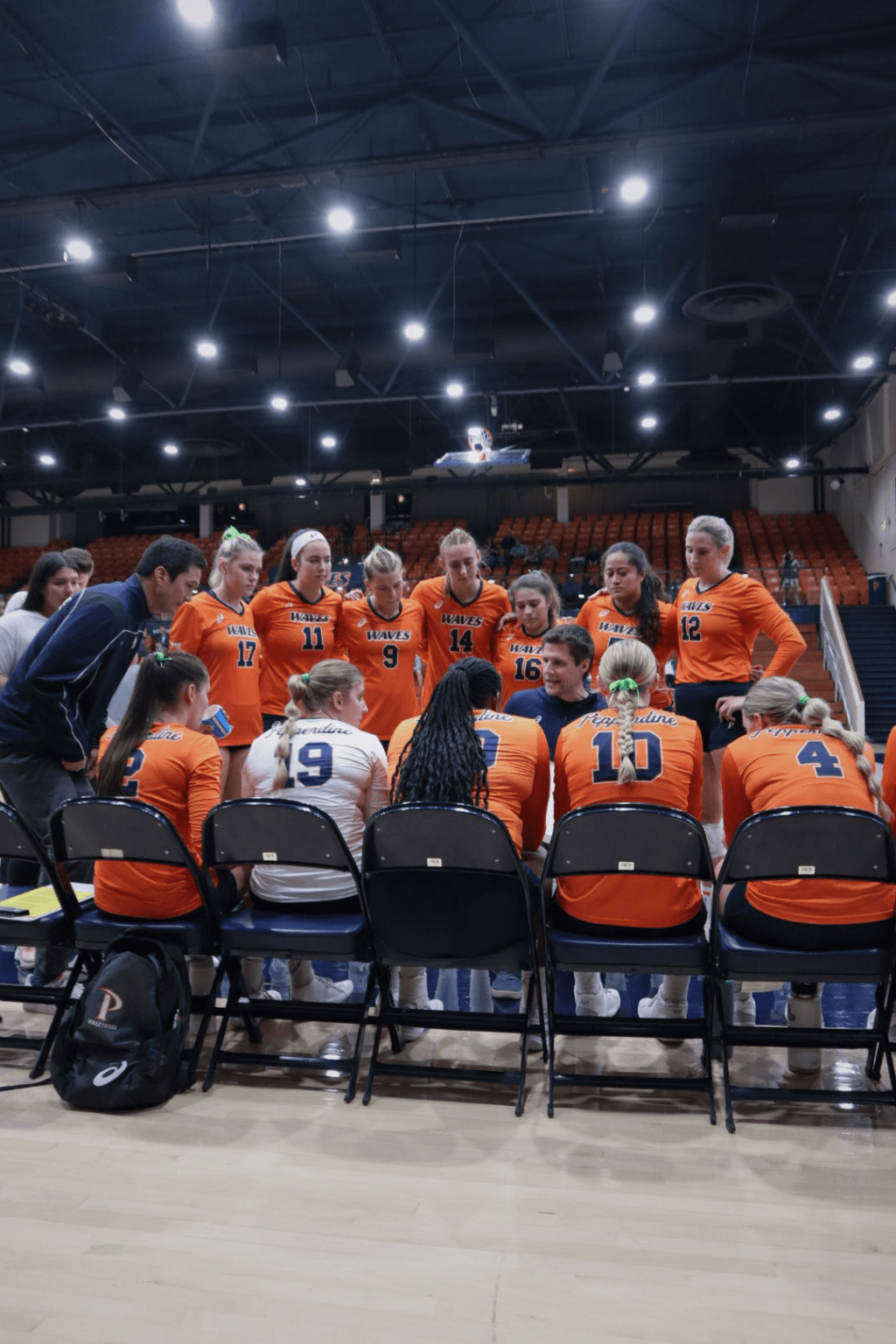 Pepperdine Women's Volleyball team huddles with Head Coach Scott Wong and assistant coach Steve Astor during Thursday's game at Firestone Field House. Photo by Caitlyn Garcia
Following a brutal loss last Saturday against Gonzaga, the Waves were able to put on a stellar performance against the Santa Clara Broncos with a 25-16, 25-13, 25-20 win Thursday, Oct. 7 at Firestone Fieldhouse. The Waves remain undefeated at home and improve to 7-4 in conference play.
The Waves were able to flip the script with a great all-around effort, highlighted by a career night by first year middle blocker Vanessa Polk. Polk led the Waves with 12 kills on 17 swings, good for a success rate of .647.
"I think it's super important [to bounce back]," Polk said. "We've been talking about it all week we got back in the gym on Monday, and we focused on intensity. We set out our goals and what we want to do finishing out this season."
The Waves came out strong from the start. Meg Brown and freshman outside hitter Emily Hellmuth each recorded aces, helping the Waves reach a 7-2 lead to start the first set.
Pepperdine was able to keep its lead, as the Waves were able to attack the Broncos on all fronts. Polk, senior setter Isabel Zelaya, sophomore outside hitter Grace Chillingworth, freshman outside hitter Avery Shimaitis and freshman outside hitter Emily Hellmuth all recorded kills, closing out the first set 25-16.
Looking to come back, the Broncos were able to get off to an early 6-3 lead to start the second set. Santa Clara's lead would not last long, as strong serves by Zelaya led the Waves on a 8-0 run, which included three aces from the senior setter alone.
"We were going after it, no regrets being confident, serving tough," Zelaya said.
Three straight errors from the Waves put their newfound lead in jeopardy. Santa Clara climbed back to only being down by three, making the score 14-11, but Brown and Chillingsworth's kills propelled Pepperdine to a 7-1 run, making the score 21-12.
Hellmuth capped off the second set and recorded the teams fourth ace in the second set alone.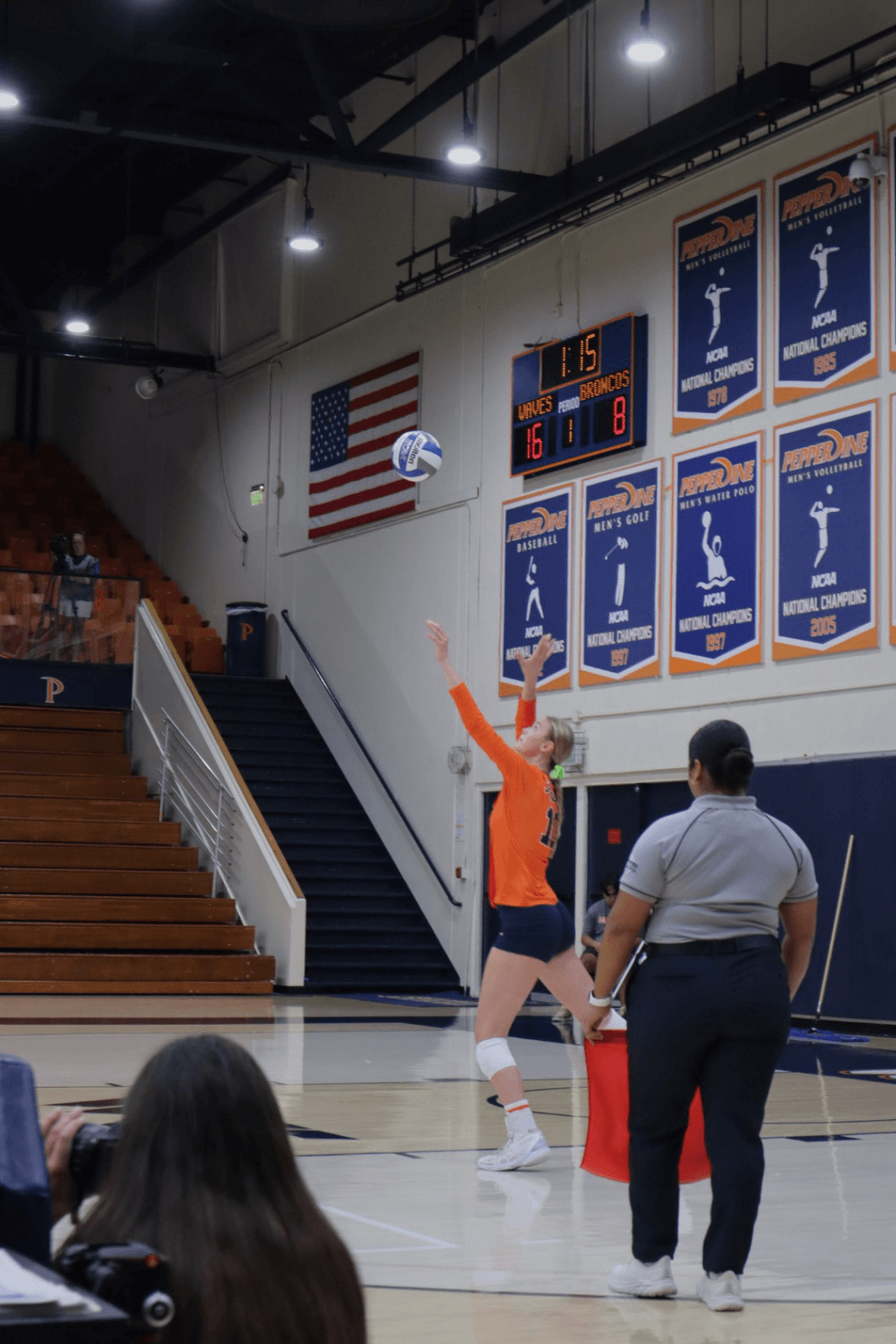 Pepperdine's seventh ace of the game helped Pepperdine gain an early 4-0 lead in the third set.
The remainder of the third set was highlighted by Polk and Shimaitis, who found success both sides of the net. The pair of freshmen combined for a double block and knocked two kills apiece, which pushed the Waves to a 16-9 lead.
The Broncos attempted a late comeback, going on a 4-0 run after the Waves reached match point. The game was finally put on ice after a strong hit by Challingsworth, effectively ending the set 25-20.
"Our attacking was awesome," Head Coach Scott Wong said. "We served really well, maybe our best serving match of the year. From start to finish, putting pressure on the other team. I think it made the match a lot easier."
After a tough loss all the way in Washington, the Waves found benefit in returning to Firestone Fieldhouse, Polk said.
"I think everyone is a little more comfortable at home. I think having our friends here, our family here helps us settle in," Polk said. "We practice in this gym, we do everything in this gym, so to play in our own gym is a really big advantage for us."
Luckily for the Waves, six of their final seven conference games come at home. Pepperdine won't have to wait long until their next home match either, as the Wave return to Firestone Fieldhouse Saturday, Oct. 29 at noon to take on the USF Dons.
________________
Follow the Graphic on Twitter: @PeppGraphic
Contact Alex Clark via email: alexander.clarke@pepperdine.edu