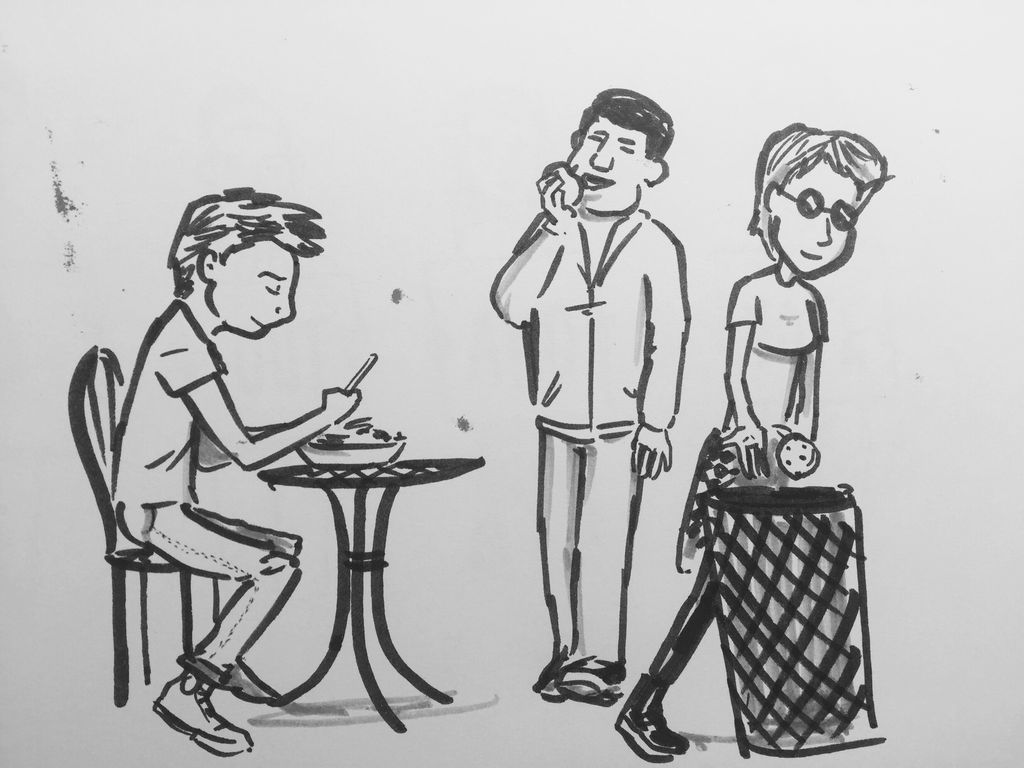 Art by Nate Barton
It can be difficult to establish healthy lifestyle habits in college amidst so much change, particularly freshman year when personal independence increases exponentially. But patterns formed early on in college, be it sleeping, studying, eating, etc., can set the course for all four years and beyond.
A recent study by Oregon State University surveyed 582 college students to compare their food intake to the recommended USDA guidelines, college students aren't eating enough fruits and vegetables — in fact, they aren't even eating one serving per day, a far cry from the recommended five daily servings, according to the article "Food Insecurities Among College Students" by Megan Patton-López, et al.
Proper food choices are essential to our academic, social and physical well-being. Though the choice of what we put in our bodies is ultimately up to us, it would be made significantly easier for Pepperdine students if affordable, healthier options were made more consistently available in the Cafeteria.
The Caf, HAWC, Natures Edge and Drescher/Law school cafeterias are central to the majority of Pepperdine student's eating habits. On a particular night last week, the main Caf offered several choices for dinner, including spinach artichoke soup, chickpea and salad wrap, and a teriyaki bowl with cabbage, onion, broccoli and carrots.
Fruit is offered daily at breakfast time and is later replaced with the salad bar in the afternoon. The premium fruit bar is 89 cents per ounce, the yogurt and fruit bar is 40 cents per ounce and the fruit cups are $3.29. And there are no fresh vegetable options available on their own, other than the few smaller items at the salad bar. If Pepperdine students want to meet the USDA recommended guidelines for their age group, the Caf needs to rethink their structure and strategy.
Students in the Caf expressed their thoughts and concerns on these offerings. Freshman Sydney Adams believes that although the prices are up there, the Caf provides a wide variety of healthy choices. "I got in the habit opting for the healthier options instead of the fried options. I can sometimes tell when the Caf tries to sneak something healthy into a dish that would otherwise be lacking substantial nutrients," she said.
Freshman Lisa Daugherty echoes Wall's sentiment, "I don't eat three consistent meals a day, they're always at odd times," she said. "I find it difficult to get quality food that is tasty, especially the vegan option which I usually have to heat up in the microwave because its served too cold."
Junior Abby George said she also thinks it can be difficult to eat regularly and healthily due to her sporadic class schedule, saying, "Despite having a healthy diet, which includes all the major food groups and regular exercise, I think the cafeteria needs healthier choices since salads can get old after a while."
Several Pepperdine organizations are showing their support for healthy living. SGA donated funds to the Health and Wellness center's program "Healthy Happy Hours," held monthly in Joslyn Plaza as part of their Healthy Campus 2020 initiative to encourage healthy choices and awareness, according to Executive Vice President Hope Hesslen. Fruits and vegetables are served during "Healthy Happy Hours" in an attempt to supplement what's being offered, or not offered, in the Caf.
It's tempting to rely on our fast metabolisms and youthful energy to sustain us, but a well-balanced diet is something that will serve us well long after the other things fade. At the end of the day, it's up to us to choose how we treat our bodies. Still, Sodexo and the administration at large need to do a better job of listening to student's feedback and partnering with other departments to engender lasting change.
This week, try eating an apple with breakfast instead of bacon or grabbing a salad for lunch instead of french fries from The Grill. Making healthier decisions today, no matter how small, eventually leads to a stronger, fuller tomorrow.
___________________
Follow the Pepperdine Graphic on Twitter: @PeppGraphic