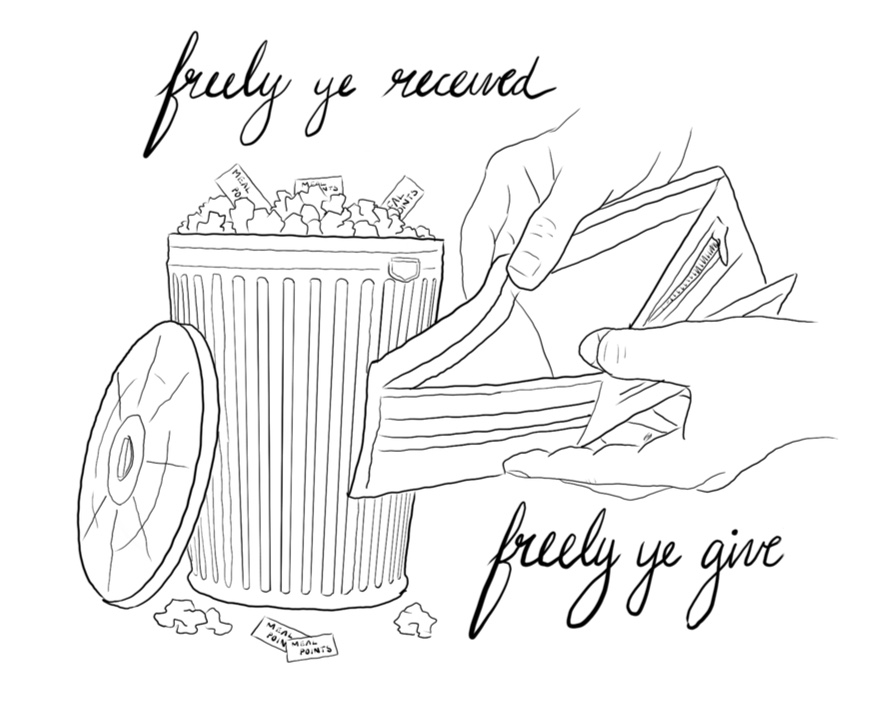 Art by Caitlin Roark
Pepperdine students either have meal points, or they need them. The coveted points have long been a controversial topic on Pepperdine's campus, and some students remain dissatisfied with the school's policies.
Valuable meal points end up going to waste, as students often mistakenly purchase meal plans that are too large for their dietary needs. The non-profit Swipe Out Hunger allows students to donate unused meal points to both Pepperdine students and families in L.A who are facing food insecurity. However, Sodexo caps donations at a 40-point limit. Pepperdine should take initiative to ensure all leftover meal points go to students who need help financing a meal plan. That way money won't go to waste, and students won't go hungry.
Pepperdine offers nine different meal plan options, which allow anywhere from 7 to 21 meals per week. One meal point equates to $1, and they can be used at various spots on campus, including Starbucks, Jamba Juice, the HAWC, and of course, The Waves Cafe.
The meal plans are designed to simplify student life. All food purchased with meal points are tax-free, a special offer that does not extend to credit cards or cash. However, some take issue with the meal plan policies. Students purchase their meal plans according to their eating habits. But many are surprised when they end the semester with a large amount of points leftover. The points don't rollover so any left over is money wasted.
Currently, meal plans can only be decreased before the Add/Drop Deadline is over. Meaning once a student signs up for a meal plan, he or she only has a short period to reduce the amount of points they have. After that period is over, they can only add more.
This policy may become a problem for someone like Seaver sophomore Rae Williams, who signed up for the largest meal plan available as a freshman and said she regretted it as the year came to an end.
"I had so many points left by the end of the year. At one point I was giving my card to the Starbucks cashier to pay for everyone's drinks and buying out the HAWC to hand out free food in the library during finals, but even with that I still had over a thousand points left. I tried to donate the rest of my points, but since there's a $40 cap, I had tons leftover still," said Williams.
Swipe Out Hunger, is an organization active across many college campuses. The organization allows students to donate unused meal points. The donated meal points are then turned into vouchers or checks and used to help both the Los Angeles community and fellow students.
"At the end of the spring semester, Pepperdine students (and faculty!) can donate their unused meal swipes to our organization," explains Swipe Out Hunger on their website. "We then repurpose what would have gone to waste into food items for the food-scarce families of Los Angeles as well as meal cards for our peers."
Donating extra meal points through Swipe Out Hunger is a great way to serve the surrounding community. In college, it can be difficult to donate money or time. But a 40-point cap severely restricts the amount of good Swipe Out Hunger and the student body can do.
"The limit [on points students can donate] set by Sodexo is $40 per student," said Pepperdine's co-president of Swipe Out Hunger, Armando Martinez.
This policy, while still beneficial to the those dealing with a shortage of food, is not enough. Students with an excess of meal points still end up wasting a large amount of money that could have gone to help someone else.
Associate Dean of Student Affairs Stacy Rothberg said there are many people passionate about this issue working hard to find a solution.
"Dining Services has provided 150 $12 meal cards toward addressing food insecurity. These Dining Services Guest Meal Cards are given to the Student Care Team to distribute as needed," Rothberg wrote in an email.
Vice President for Student Affairs Connie Horton recommended students reach out to Financial Aid if their financial situation unexpectedly changes.
"Beyond that [Financial Aid], the Student Care Team can sometimes help in very special, time-sensitive situations," Horton wrote in an email. "They aren't a long-term version of financial aid, but if there is an emergency or particular immediate need (e.g., having no groceries, meal points or money until Friday) the Student Care Team can use the Student Emergency Fund to purchase a Ralphs gift card or add some meal points to a student's card."
While Pepperdine is working hard to assist students unsure of how they'll get their next meal, there is more to be done. Thousands of wasted meal points could be avoided by implementing a program where all left over points are pooled and donated to Pepperdine students who struggle with affording a meal plan. Wasted meal points equals wasted money which equals wasted food. Wasted food is a tragedy, especially when there are students in need on campus who could directly benefit from leftover meal point vouchers.
____________________
Follow the Pepperdine Graphic on Twitter: @PeppGraphic