Graphic by Ali Levens
Prepare yourselves for a tidal wave of spit.
Pepperdine mandated universal weekly testing for all faculty, students and staff using on-campus facilities. The Aug. 11 announcement followed updated LA County guidance delivered Aug. 8, said Chief Business Officer Nicolle Taylor.
The new policy will be in place for the foreseeable future, dependent on local case numbers and community transmission. Testing is just one of the University's COVID-19 safety protocols, Taylor said, on top of masking and vaccination.
"All of these layers are what we're trying to put together in a nice package that helps us to prioritize health and safety," Taylor said.
The county's guidance follows transmission rates in the greater LA area, Taylor said, not the school's vaccination rate.
Pepperdine opened three testing pods in Malibu campus beginning Aug. 15 — one at Firestone Fieldhouse parking lot, one in the Seaver faculty lot and another in the Rho parking lot.
Each of those pods has 12 testing stations with multiple appointment slots offered every 15 minutes, Taylor said. The pods are open from 7 a.m. to 4 p.m., on weekdays and 10 a.m. to 2 p.m., on Saturdays at all locations. Mullin Town Square's pod has extended hours on week nights until 7 p.m.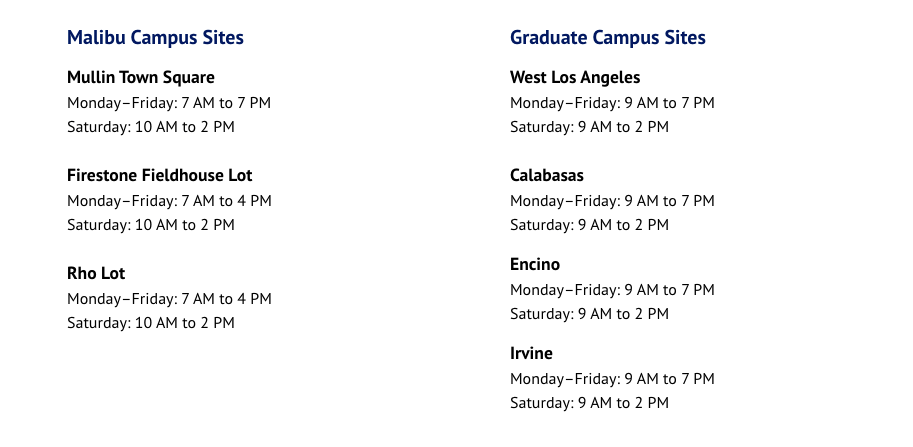 Photo courtesy of Pepperdine's COVID-19 website
Starting Monday, Aug. 30, all Seaver students will receive an email allowing them to sign up for a testing time slot using a web application.
"It's so simple — it takes maybe 45 seconds, it feels like, to do it," Taylor said.
Testing registration and collecting a sample, in total, takes a few minutes, Taylor said.
After receiving the email and self-registering, students will select their pod, a date and time they want to be tested and then the system will generate a QR code. The system will notify the person via email or text with a link to open.
"When you're ready to test, click on this link when you're down at the pod," Taylor said. "When you do that, it brings up your QR code, you'll scan the QR code and the barcode on your little testing tube and then you yourself will, in Malibu, spit in a little tube."
Malibu campus students, faculty and staff will self-administer spit PCR tests. Those at the graduate campuses, such as West LA or Calabasas, will self-administer mid-nasal swabs.
"None of them are like the nasal pharyngeal sort of alien probe that goes all the way up," Taylor said.
The University asks individuals to schedule appointments to reduce wait times at the testing pods, but walk-up appointments are available as well.
Results will be delivered to students through their preferred notification method — text or email. In the event a student tests positive, they will receive instructions to call the Student Health Center. The University will also receive students' test results and can also notify the proper officials in the event a student does not, Taylor said.
Pepperdine partnered with UCLA for the past year's processing of COVID-19 tests and will continue to use UCLA for the upcoming year, Taylor said.
Students who do not comply with mandatory testing on a given week will receive extra email notifications reminding them of the mandatory policy, Taylor said. After two weeks of missed testing, a student cannot attend class and will be referred to the Community Standards Board.
"It's serious," Taylor said. "It's not optional, and we're not going to take it lightly — people won't be able to go for several weeks and not have a test and just keep going on campus as they usually do."
Among being a time commitment for staff and students, the new protocol will be a financial burden for Pepperdine.
"Testing will be millions of dollars this semester for the University," Taylor said.
The county will not be providing specific funding for testing, but Taylor affirmed the University is in good financial standing to bear the costs.
"The one thing I want everyone to know, though, is we are committed to doing this well and to bring our campus together," Taylor said. "And so there is no limit to the effort we're willing to put forth to this to make it successful and enjoyable."
_________________________________
Emily Shaw contributed to this reporting.
Follow the Graphic on Twitter: @PeppGraphic
Contact Ashley Mowreader via Twitter (@amowreader) or by email: ashley.mowreader@pepperdine.edu