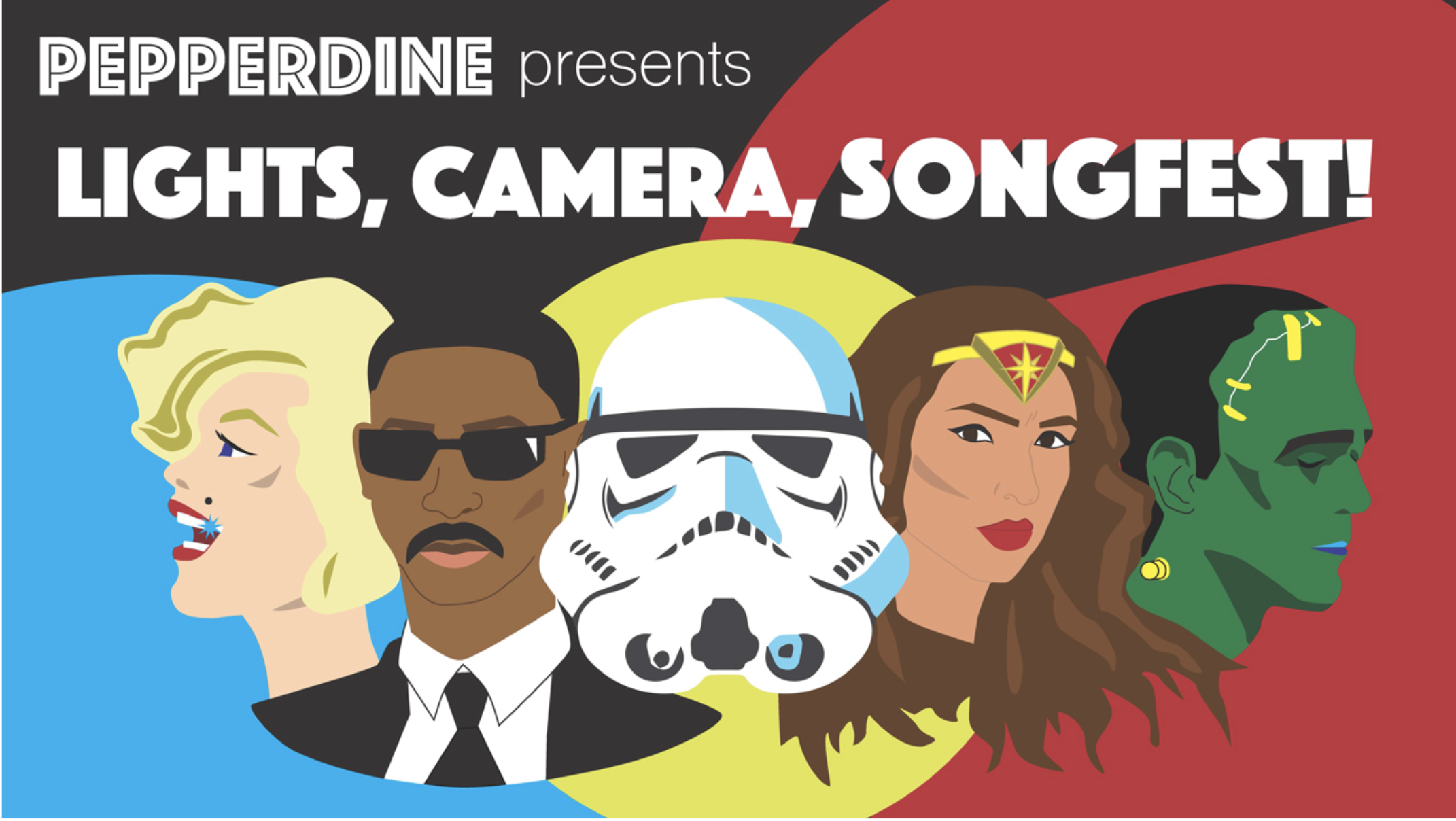 Graphic Courtesy of Nikki Winn
Songfest 2018 kicked off Feb. 15 with its first meeting, where they officially revealed this year's theme: "Lights, Camera, Songfest." This year's movie-themed show marks the 45th anniversary of Songfest and will feature performances from six groups: Sigma Phi Epsilon Alpha Phi, Gamma Ghkkkkket Sigma and Friends, Eta Theta Tau, Alpha Beta Delta and Company, Pi Delta and Friends and a non-competing alumni/staff/faculty group.
Songfest took place for the first time in 1973, the same year Pepperdine's Malibu campus opened, and has been running every year since. Each Songfest group puts together an original musical stage show no longer than 12 minutes that presents a unique take on the year's theme. Five hosts with musical and performance backgrounds perform between the group shows, guiding the audience through the Songfest experience, and all students are welcome to participate, according to the Songfest website.
Group performances are evaluated by a panel of judges in several different categories, and groups compete to win the Songfest Sweepstakes Award, which is given to the best overall group.
Songfest Director and Seaver alumnus Sam Parmelee said there are several new and exciting additions to Songfest this year.
"We have the return of the alumni/staff/faculty group, which is always a really exciting thing that students enjoy a lot," Parmelee said. "We've had The Waves Effect come on board as partners to help market and publicize Songfest …That's been really cool to see a different level of energy and activity and trying some new things on campus."
The Waves Effect is a student-run communication agency "dedicated to building creative, strategic and effective campaigns," according to their website. The agency will be assisting the marketing campaign for Songfest.
In the 46 years of doing Songfest, there have been three "movie-related" themes. However, Parmelee said he thinks this year's groups will present a fresh take on this theme.
"The host material is almost completely different … and the students participating are a totally different generation. Their exposure to media and what they think of movies is totally different than what someone would've thought about pop culture and movies 20 or 30 years ago," Parmelee said.
Waves Effect Junior Executive Director Jazmyne Adeneye, who is a Songfest and Pepperdine alumna and current graduate student at Seaver, fondly recalls her Songfest experience.
"Once you're there and actually commit to the first week, you start to make friendships with people you wouldn't have talked to outside of Songfest," Adeneye said. "It was just a really great experience for me. I did it all four years and directed it one year, and I still have really great friendships with people."
All students are encouraged to participate in Songfest, no matter their performance background or talents, and are welcome to join any group. Further participation info is provided on the Songfest website.
Ticketed performances run Wednesday, March 14 to Saturday, March 17 at Smothers Theatre. All performances start at 7:30 p.m., with an additional 2 p.m. matinee performance Saturday, March 17. Tickets cost $15 for students with a valid Pepperdine ID and $20 for everyone else. Wednesday's tickets cost $7 for students and $15 for everyone else. Tickets can be purchased online or at the box office.
____________
Follow the Pepperdine Graphic on Twitter: @PeppGraphic