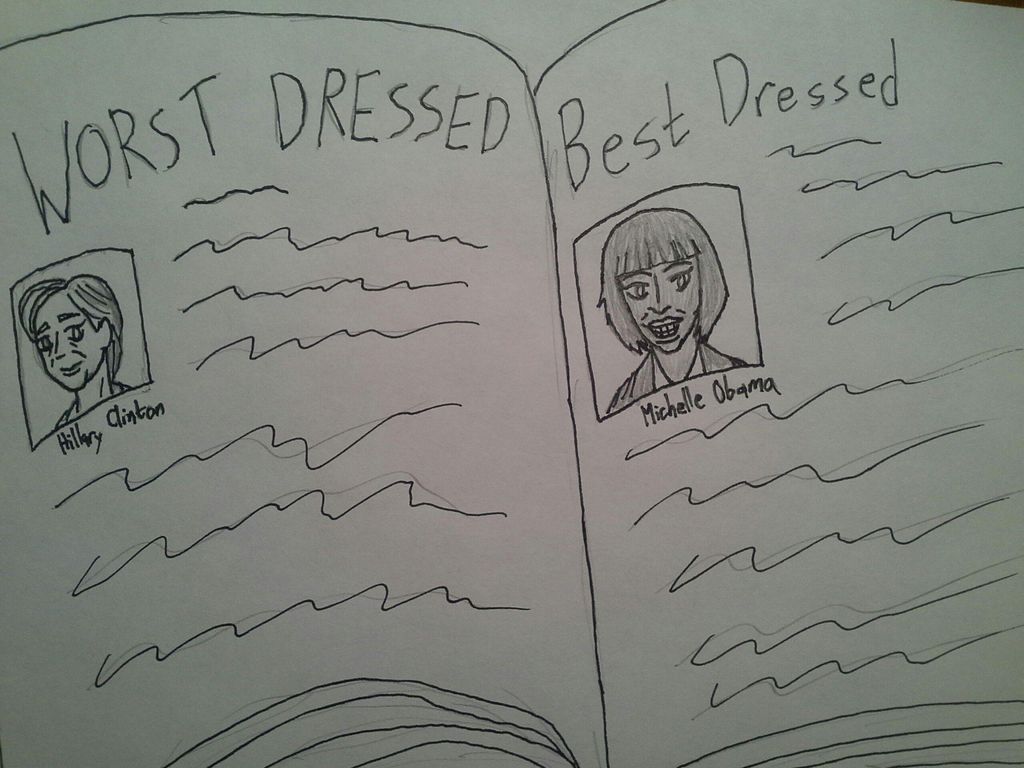 Art by Christopher Chen
"I can't believe she's wearing that outfit again." "Didn't anyone tell her a skirt would make her look more feminine?" While these kinds of conversations sound like they come straight out of a movie like "Mean Girls," they have, unfortunately, increasingly become part of our national political dialogue. While male politicians are scrutinized for their congressional voting records, connections to lobbyists and financial histories, female politicians have been forced to answer questions about their wardrobes rather than their political ideals.
Sadly, the tendency of the media to focus on the clothing of both female celebrities and politicians has become a bit of a punchline, with the 2016 Oscars' host Chris Rock even mentioning movements like #AskHerMore, which encourages style and entertainment reporters to ask women on red carpets about more than the dresses they wear. While Rock joked that since all the men wear the same suit, it is easier to ask them deeper questions, many, including Bustle entertainment writer Martha Sorren, found this explanation lacking. Surely we could ask female actors about their process or political views just as easily as we ask men.
This contrast is even more glaring when looking at politics, since the presidential candidates especially should be sharing their views and goals for the nation rather than being forced to defend their fashion choices. Whether as a first lady, senator or presidential candidate, Hillary Clinton has been forced to deal with criticism ranging from her scrunchies or lack of makeup, to her ubiquitous pantsuits, which have been seen as both an attempt by Clinton to deny her femininity and an attempt to gain power among a field of suit-wearing male candidates.
The truth of the matter is that fashion is used as a means of trivializing Clinton because she is a real competitor with a track record of both education and experience, according to an article in The Telegraph titled, "Why Hillary Clinton has finally embraced the fact her pantsuits could give her a political advantage" from March 13, 2016 by Hannah Betts.
Clinton's team seems to have caught onto this fact and is using it to her advantage by adding funny quips and remarks to her speeches that defeat the comments about her style while allowing her to lead the dialogue back to politics. While Clinton may have found a way to use her enemy's fodder in her favor, even Hatshepsut, Egypt's first female Pharaoh, was forced to dress as a man, including a metal strap-on beard, in order to maintain her legitimacy as a leader, according to a recent book by Robb Young, titled "Power Dressing: First Ladies, Women Politicians and Fashion."
While female politicians such as Margaret Thatcher, Angela Merkel and Hillary Clinton may have learned to play along with the jokes about their appearances, it is clear that as a society, we still have a long way to go before women achieve the level of equality that makes their fashions irrelevant. Once we acknowledge their legitimacy as leaders, we can focus on their ideals rather than their penchant for certain styles or colors. When a woman politician can wear the same two-colored suits every day without anyone batting an eyelash, as President Barack Obama does according to a Feb. 12, 2014 article in FastCompany titled "Always Wear the Same Suit: Obama's Presidential Productivity Secrets" by Drake Baer, then we will know we have reached equality.
________________
Follow the Pepperdine Graphic on Twitter: @PeppGraphic