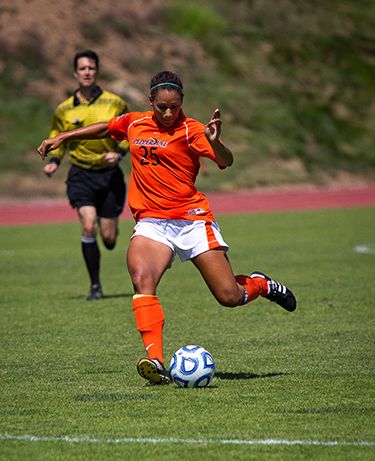 Photo Courtesy of Pepperdine Athletics
The Waves stepped onto Cal Poly's field in San Luis Obispo and swept the No. 20-ranked Mustangs 3-0 on Aug. 17 setting a positive tone early on.
The preseason match tested the relatively young team, which welcomed 11 freshmen this year, eight of whom played during the exhibition game.
"The freshmen did a great job at managing their emotions really well, considering it was their first college game. They did a wonderful job," Head Coach Tim Ward remarked.
Although a young team brings with it the challenge of team cohesion and direction, Ward is confident in the seniors' abilities to lead the Waves this season.
"Traditionally we do look to the seniors for leadership. Generally the team goes as the senior leaders go," Ward said. "These women are capable of leading well, and we will be relying heavily on them in the preseason and throughout the regular season. The seniors played masterfully [against Cal Poly]."
The exhibition game featured two veteran starters, senior Michelle Pao and junior Lynn Williams. Both acquired the prestigious honor of being named to the preseason all-WCC team. They were named to the WCC team in the 2012 season as well.
In addition, Lynn spent part of her summer on the U.S. Women's National U-23 team.  She is also on the 2013 MAC Hermann Preseason Watch List. The MAC Hermann award is the highest individual honor and is annually given to one male and one female student-athlete.
Pao, Williams and freshman Rylee Baisden played key roles in setting up the three goals that secured the  victory.
Senior Katie Gallanes scored the first goal, then Williams and junior Ally Holtz scored the final two goals respectively.
This season, the Waves are predicted to finish fourth in the West Coast Conference, according to the Coaches Poll. The Waves placed third in the WCC last season.
This victory gives the Waves the preseason confidence they may need when they take on the Cal Golden Bears today at home. Last year ended in a 1-0 defeat at the paws of the Golden Bears, but the Waves defeated Cal the year before 2-1.
Ward said he is excited to see how his Waves will respond to a more challenging opponent: "We're talented, but young, and the game against Cal will allow us to figure out what we're about as a team. The matchup against Cal is going to be a good game; they're a strong opponent."
Be sure to support the Waves as they challenge Cal in their second preseason game at 1 p.m. at Tari Frahm Rokus Field.
As published in the Aug. 26, 2013 issue of the Pepperdine Graphic.
_____________________________________________________________________________
Follow Stasia Demick on Twitter: @sdemick12