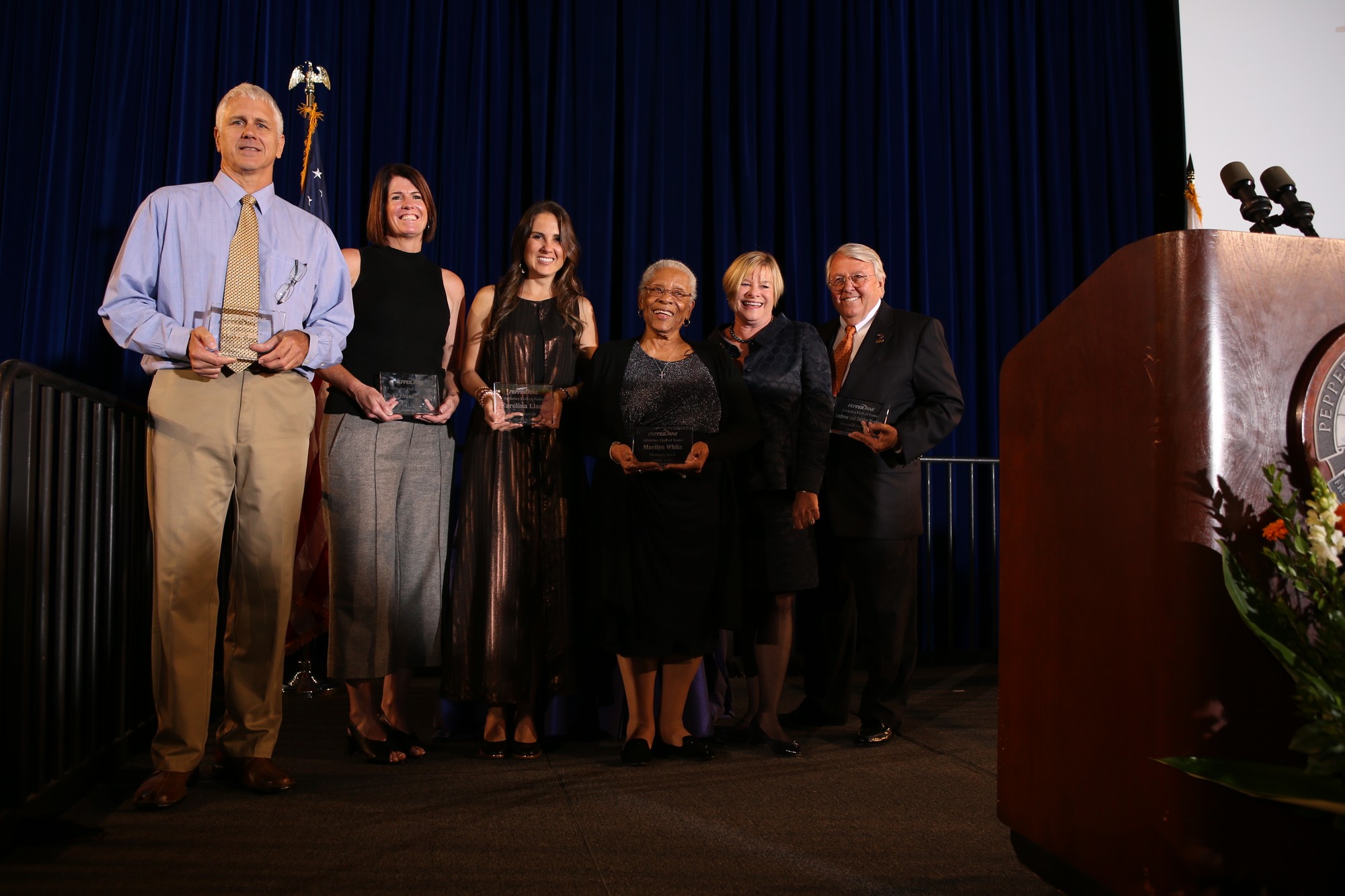 Photos courtesy of Pepperdine Athletics
The Pepperdine Athletics Board and the Hall of Fame committee recognized four accomplished athletes and two new recipients of the Distinguished Service Award during the Hall of Fame induction ceremony in Firestone Fieldhouse on Oct. 14.
All current Waves athletes were invited to the reception and dinner event, which included opening remarks by Athletic Director Steve Potts prior to a special video and speech for each inductee.
The Pepperdine Athletics Hall of Fame program came into existence in 1980. Since its commencement, 125 individuals joined this select group of coaches, administrators, and student-athletes. All of these individuals made resounding accomplishments and shaped Pepperdine athletics to where it is today.
"We all bask in the glow of those who competed so well for their alma mater: the Pepperdine Waves," Pepperdine President Andrew K. Benton said at the banquet.
This year, Pepperdine inducted four former student-athletes into the Athletics Hall of Fame: Julie Evans Castillo ('89), Carolina Llano ('06), Matt Rigg ('88) and Marilyn White ('67). President Benton and his wife Debby were also honored with a Distinguished Service Award for their commitment and service to Pepperdine athletics.
Evans Castillo, a Women's Volleyball player, arrived at Pepperdine in the fall of 1984 as the first big recruit under new head coach Nina Matthies, and she won the first-ever West Coast Conference (WCC) Player of the Year Award in 1985. She would go on to win the award a second time in 1987 and lead the Waves to three NCAA Tournament appearances and two WCC titles.
"My time here at Pepperdine was probably the most influential and impactful of my life, outside of marrying my husband or maybe my children," Evans Castillo said.
Llano, who hails from Colombia, led the Waves Women's Golf team to become the top-ranked team in the nation during her freshman year in 2003. She went on to earn All-American status three times and was a three-time medalist at the WCC Championships.
"Success is a journey not a destination," Llano said as she broke down in tears as she addressed the crowd. "Pepperdine was a journey, a great journey."
Rigg, a native of Hawaii, was one of four brothers to play men's volleyball for Pepperdine. Rigg was both an All-American and a two-time NCAA champion under the guidance of legendary head coach Marv Dunphy.
"My time at Pepperdine started way before my playing days," Rigg said of his family's tradition. "The Pepperdine program and [Dunphy] attracted great guys with a ton of heart and those are the guys I loved to compete with."
White, who attended George Pepperdine College before the move to the Malibu campus, was one of the first female athletes to receive an athletic scholarship from the school. White received a scholarship before the school officially sponsored Women's Track and Field at all, and she went on to earn bronze and gold medals at the 1963 Pan American Games and a silver medal at the 1964 Tokyo Olympics.
"This is the highlight of my athletic career," White said. "Just being able to share the happiness of competing and the strength of competing."
The Bentons, the 11th and 12th recipients of the Special Achievement honor in Pepperdine history, were the final honorees of the evening. During their 35 years in Malibu with unwavering support of Pepperdine athletics, the Waves celebrated 106 WCC titles and national championships in three different sports.
"We have never served an ace in volleyball or tennis … but we are Waves for life," President Benton said.
The Bentons received gifts from the Waves Leadership Council in the form of commemorative jerseys.
"Everyone recognizes that Pepperdine has been known for being a family and producing people of character and leadership," Jalen Frantal, a current member of the Men's Cross Country and Track teams and the Waves Leadership Council, said. "It's really awesome to know that I come from such an awesome tradition."
"It was great to be a part of celebrating the past legends that competed at Pepperdine," Scotland Garapedian, a current senior on the Men's Tennis team, said. "Each honoree made an impact at the university by not only helping their team win, but also finding a way to make everyone around them better."
________________
Follow the Graphic on Twitter @PeppGraphic