Photo by Nicole Spafford
The Student Government Association held an interactive forum Wednesday, Oct. 24 to discuss their overarching goals for the semester, which include extending library hours, funding reusable straws and increasing engagement with the student body.
President Austin Welch, Executive Vice President Mariela Toledo and senators from each grade took to the center of the amphitheater to discuss their leadership positions and answer students' questions.
"We held the forum to help educate and inform students about what it is that we are doing to represent them and make their Pepperdine experience even better," Welch said.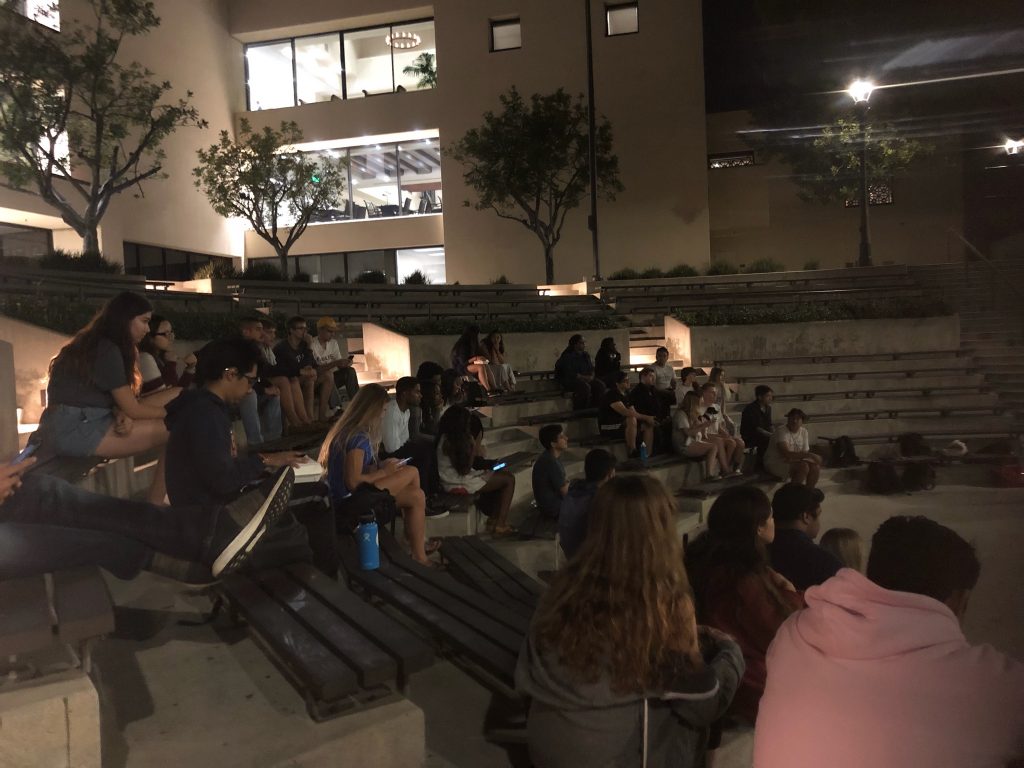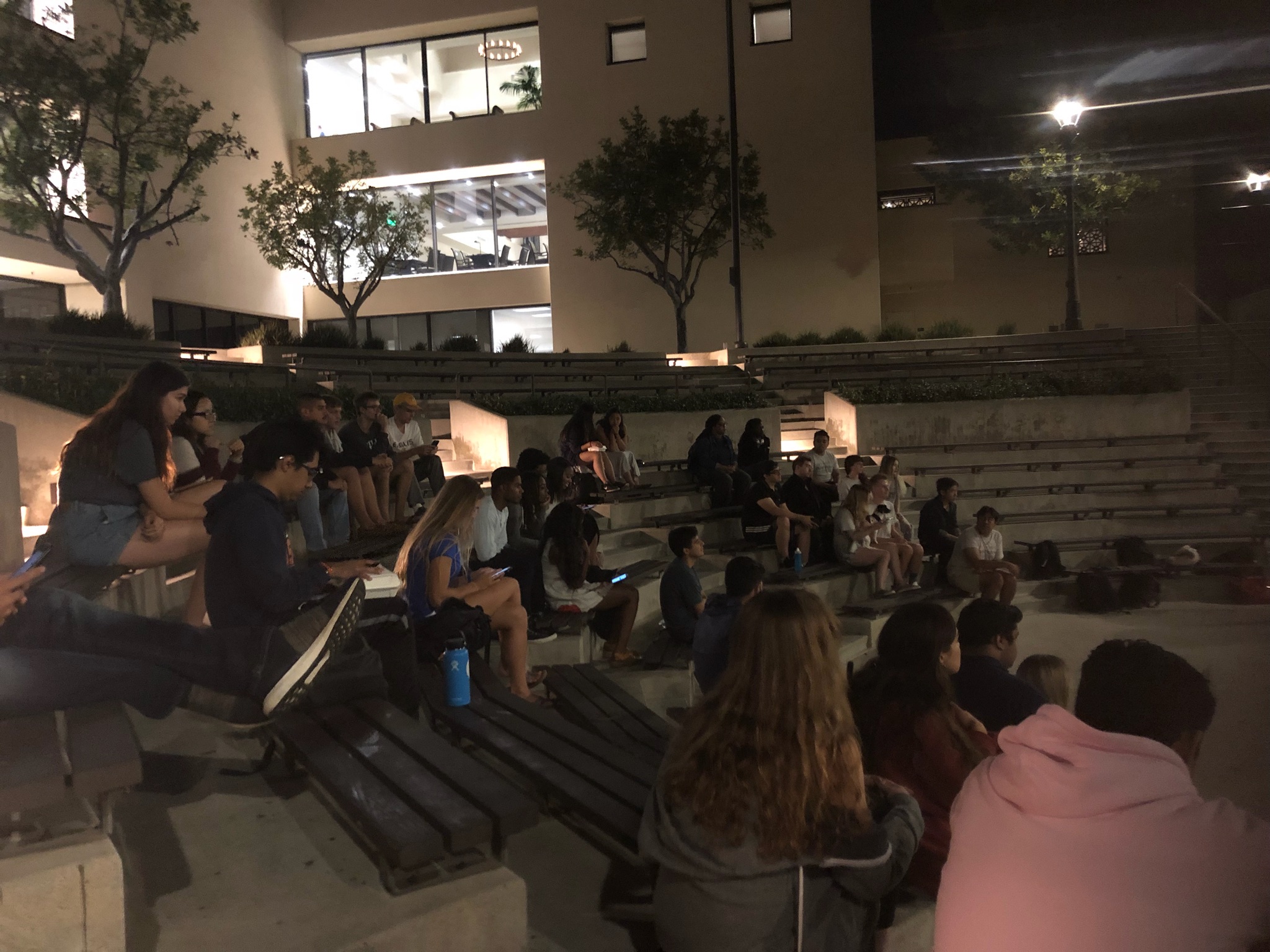 New initiatives
Welch said SGA is working to advocate for extended library hours on the weekends from so that students are able to continue studying and working on academics.
"It's going to extend the library hours on the weekends from 9 a.m. to 9 p.m.," Welch said.
Senior Senator and Inter-Club Council President Grace Wisbey said SGA is also exploring opportunities for reusable stainless steel straws for the student body to help alleviate the need to use paper straws.
"I am writing this resolution because I saw how much people disliked using the paper straws in Malibu and at the campus Starbucks," Wisbey said. "I hope to provide reusable straws for as many Pepperdine undergraduate students as possible as well as promote sustainability and green living on campus."
They also answered questions relating to food accessibility and parking.
"There are technically enough parking spots on campus for each student, but we completely understand that you don't want to park up the hill," Welch said. "We're advocating for more parking, its just a slow process to build things with the California Coastal Commission and some additional constraints on our campus."
SGA's impact
The Student Government Association is a group of 23 students who serve as a bridge between students and administration, Welch said.
One of the best aspects of SGA is how the group is comprised of individuals from different years, backgrounds and friend groups, Welch said.
"What each new individual member of SGA brings is a unique perspective both at that allows us to look at Pepperdine through different lenses," Welch said.
Each senator or president has to pass at least one resolution per semester, so there are at least 20 new ideas coming each semester.
"I think that's one of the most unique things [about SGA] is that it is something that is kind of growing and evolving throughout the years. And we have different inputs and ideas that we work to kind of improve and implement each academic year," Welch said.
SGA and student voice
While those elected representatives are the designated liaisons to the administration, they could not fulfill their responsibilities without student feedback, Toledo said.
"I think the administration sometimes has the right idea in their mind, but they don't actually know how students are going to react to it, or they don't hear about it," Toledo said. "They might think, 'Oh, they're doing great,' but they haven't heard all of this feedback from students. So I think that our job is to pass that message back and forth between the administration and students."
Welch reiterated that sentiment.
"Administration may think did they have a great idea for every single student, but when it gets implemented, it really is just more of a nuisance for students and it's a lot more difficult," Welch said.
That's why SGA has six committees that they want to open up to the student body: Diversity and Inclusion, Dining Services, Health and Wellness, Student Life, Athletics and Fine Arts.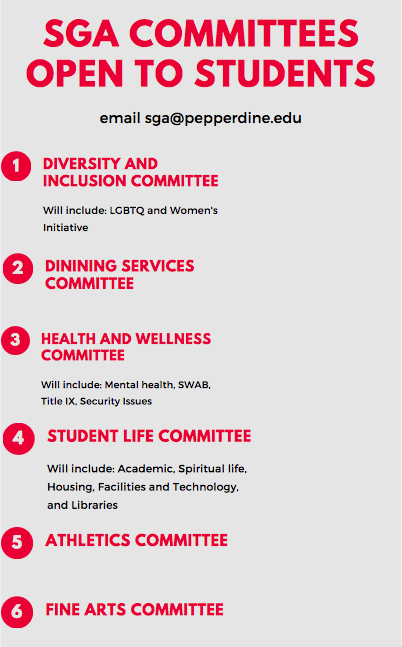 Graphic by Nicole Spafford
The Diversity and Inclusion Committee will include the LGBTQ subcommittee and Women's Initiative and the Health and Wellness Committee will include Mental Health, SWAB, Title IX and Security Issues, Toledo said.
Welch said students are welcome to attend SGA Senate meetings, which take place every Wednesday at 8 a.m.
"Any student can bring a resolution to our meetings and propose it to the Senate, and if it passes, then it'll get more attention from administration," Welch said.
Senior Armenian Student Association President Garen Kosoyan said he is doing just that.
"I am currently working on the Armenian Genocide Resolution," Kosoyan said. "It's a resolution we passed about two years ago essentially asking for a memorial tree donated on behalf of the Armenian Student Association to be planted with a plaque, recognizing Pepperdine's official recognition of the genocide."
Welch said the delay in implementing the resolution is due to a miscommunication on the correct way to move forward.
"I am pleased to say that ASA and SGA are currently working hand in hand to explore the ideal way that the university will be able to recognize the Armenian Genocide," Welch said. "SGA has continuously recognized the Armenian Genocide on behalf of students since the month the resolution was passed and we are hopeful as we work together with ASA to get university recognition in some form."
Kosoyan said he hopes this semester the resolution will finally become reality.
Students can also submit their feedback by emailing sga@pepperdine.edu or by attending SGA's office hours in the HAWC.
____________________________________
Follow The Graphic on Twitter: @PeppGraphic